One evening last week, I worked in the backyard on my little "poolside retreat" area until 9:30!!!  We do have outdoor lights installed to illuminate that area, so I wasn't working in the dark.  At least not completely……
As you can see, both rockers and the table have been moved from the front porch to the backyard.  My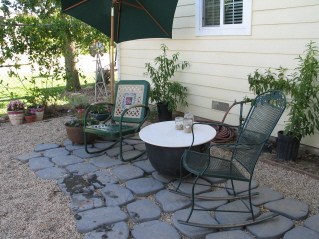 husband is so wonderful to have wrestled that cast iron kettle for me!!!  I've moved things around several times, and I think that I am happy with the placement of everything.
One thing that I did do in the dark was to venture into my side yard.  There's an oak tree just outside the fence next to this area, and that is where I put my potted plants that need a bit of T.L.C.  It's also where I put the empty pots once the spent annuals have gone to the compost pile.  I brought several of those beat up plants around, trimmed them up, cleaned them up and brought them into the back yard and began arranging them.  Most of these plants have been healthy plants, but we had a very severe winter this year.  Even some of my cold hardy plants died way back.  They are coming back, though, and having them next to this area where I will see them when I'm out watching the boys in the pool will help me remember to nurse them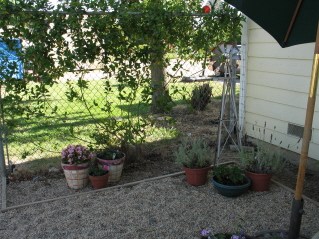 along all summer.
This fun little windmill is something that we brought home from my mother-in-love's house a couple of years  ago.  The two lavendar plants and the geranium were plants that died way back this winter.  They are coming right along, though, and I think they will look great here under the windmill.  (Yipes!  I didn't notice the hose running through the picture!)
This plant hanger was also brought from my mother-in-love's house.   It's iron, I think, but it's a bit top heavy.  When I water I must always be sure to water the pot at the bottom of the hanger first, or over it will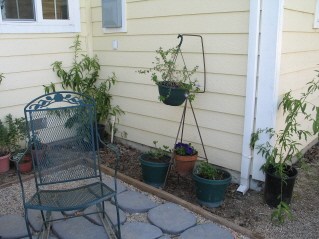 go!!!  I have a gardenia on either side of the stand, and a lantana hanging.  The pot in the base is still empty. Again, all three of these plants are survivors of the Great Freeze of '07.  I am determined, as you know, to do this with as little money spent as possible.  Grouped together these plants do not look quite so forlorn as they would by themselves.
This smaller cast iron kettle also came from Lola's house.  Her mother kept her back patio and yards a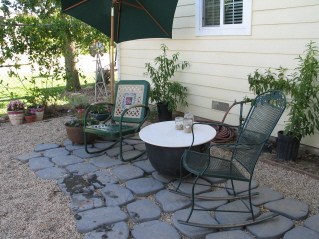 veritable nursery until Grandma was too old to care for the yard anymore.  Lola, my mother-in-love, faithfully cared for all of her mother's plants until we lost Lola two years ago.   They had so many neat garden things there! These are just three of many that I brought home when Lola passed away.
Here's the scary part of working until 9:30.  This smaller iron kettle was upside down in my side yard where I keep all of my "hospital" plants.  I went out there, in the dark, and flipped it over and then carried it into the back yard.  We live in the country remember.  It gets REALLY dark out here with no city lights, and we have CRITTERS.  I thought of the critter factor half way into the back yard, put the pot down and sort of rolled it around a bit before carrying it the rest of the way.  My husband told me later that he'd been cutting weeds over there earlier in the day and that he'd scared up a snake that had taken refuge under that kettle!!!!!! Anyway, I moved the kettle about a hundred times that night before I decided on placing it at the base of the umbrella.  My husband has since drilled holes in the bottom and I will be planting it as soon as I can.
I found four mums that have somehow survived being moved from place to place for two years in their pots.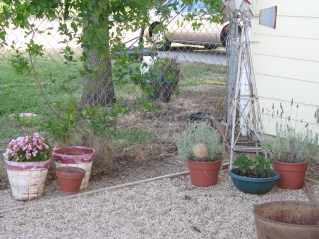 These were all plants we received when Lola passed away.  They really do need to be repotted, but I have them grouped together along the back behind the chairs.  You can see them in the first picture.  Again, grouping them makes for a fuller, nicer look than just the individual potted mums.  I also have a lovely big pot of begonias that are blooming nicely.  I placed them along the side fence, just inside the back yard gate, and placed two other pots with them.  Those, obviously, will need to be planted as well.   For now the chain link fence isn't the prettiest thing in the world to look at, but the vine growing on it has a lot of new growth this year.  I think that this entire section of fence will be covered by the vine in two years.
So, that's it.  It's almost done!!  I do want to wash up my canning jar candles that were on the front porch and bring those to the back for the table.  Then I will have to spend a bit to fill the three empty pots and that kettle with some plants.  I'll post a finished picture and the total cost when the budget allows for me to buy some plants.  So far, though, I've done all of this with no money spent.  My back hurts.  I got a blister.  There's always a price to be paid, but this time it was just hard work and not money.  I'm happy with that!
God bless you as you look well to the ways of your household!
Proverbs 31:27