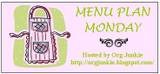 This week's Menu Plan Monday is up over at I'm an Organizing Junkie.  Be sure and visit Laura's blog during  the week, and browse through her archives.  She has some great organizational tips all the time, and she has just launched a new weekly post highlighting a particular organizational tool each week.  Should be great!
As always, if you see a recipe in my menu for this week with an *, I will be posting the recipe.  I usually post the recipe late in the day that the item is made.  Generally that would be in the evening, but Sunday morning's coffeecake will probably show up Saturday night (since we make the coffeecake during the day Saturday).
I've enjoyed your comments on my menus and on the recipes that you're going to try.  Be sure and get back to me on how your family has enjoyed something from my recipe box.  There's only one thing new on our menu this week.  Well, ahem, it really can't be new because the recipe is written down and in my recipe box.  I only put things in the box that we've tried and liked.  But I honestly do NOT remember ever making Chicken on a Cloud!  I'll let you know Saturday night if it was good.
Starting next week I'm going to try to have at least one new recipe for my family every week.  I'll be sure to share the keepers with you then.
MONDAY
Breakfast:  Dad's Monday Morning Waffles
Lunch:  grilled ham & cheese sandwiches, green salad
Dinner:  *Chicken & Dressing Casserole, steamed broccoli, fruit
TUESDAY
Breakfast:  cold cereal
Lunch:  cold ham sandwiches, chips
Dinner:  Mediterranean Meat Pie, green salad, rolls & butter
WEDNESDAY
Breakfast:  Sausage, eggs, raisin bread toast
Lunch:  Crackers, salami, cheese (or left over meat pie)
Dinner:  Tacos, spanish rice, green salad
THURSDAY
Breakfast:  cold cereal (this is usually our hot cereal morning, special day, special breakfast!)
Lunch:  The boys and I are going to a city far, far away to retireve our Dani-girl from the airport!!!
Dinner:  Out on the way home with our Dani!!!  Do you think we'll have anything to talk about on the trip home??
FRIDAY
Breakfast:  Pancakes (with a short stack for Dani!)
Lunch:  Shopping day, lunch in town
Dinner:  Crockpot meal – (Chuck roast, potatoes, carrots and onions),  rolls & butter
SATURDAY
Breakfast:  Cold cereal (Budget buster,  cold cereal three times this week!!  Yeeouch!)
Lunch:  Cheese quesadillas, fruit
Dinner:  *Chicken on a Cloud, mixed vegetables, green salad
SUNDAY
Breakfast:  *Sour Cream Coffeecake
Lunch:  Fellowship Lunch at church – I'll take two dozen baked chicken thighs, sliced peaches and chocolate chip cookies (Dani's speciality cookie and she'll be making them!)
Dinner:  Wild dinner (everyman for himself – left overs, popcorn, buttered tortillas, whatever!)
God bless you as you look well to the ways of your households!
Proverbs 31:27