This is a family favorite in my home. Okay, we have a LOT of family favorites, but that's okay. I like it when I find dishes that everyone likes. Starting with tender, cooked chicken breasts, adding a creamy sour cream sauce, and then topped with a prepared, seasoned stuffing, this makes a wonderful, tasty main dish.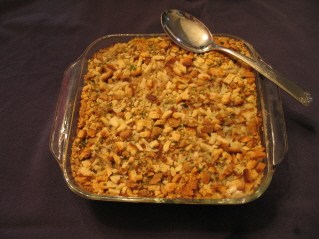 This casserole goes together fairly quickly, once your chicken breasts have been cooked; and there is plenty of time to toss a salad or prepare side dishes while it bakes. This can even be made in a crock pot with good results.
This recipe calls for a box of packaged stuffing mix, and I would not suggest making it with "homemade" stuffing as the results will be less than stellar. I do not usually buy packaged foods like this because they are usually expensive and nutritionally inferior, but I make an exception for this recipe!  My discount grocer carries the Stove Top mixes at a great price during November and December. I stock up then and put them in my freezer where they keep just fine for up to a year.
This dish fed four of us tonight, and there is plenty left over for lunch tomorrow.
CHICKEN AND DRESSING CASSEROLE
4 cooked chicken breasts
1 can creamy chicken mushroom soup (This is sometimes hard to find, but worth the hunt.  Cream of Mushroom is an okay replacement.)
8 ounces sour cream
1 package Stove Top chicken flavor stuffing mix
8 ounces chicken broth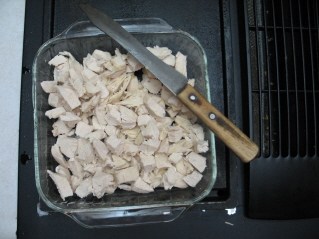 Cut up chicken breasts into bite-sized chunks.  (I cut mine into fairly large bites!)  Spread cut up  chicken in bottom of an 8 x 8 casserole dish.  Combine soup and sour cream.  Spread over chicken.  Sprinkle the dry dressing and seasoning evenly over the top.  Pour chicken broth over all.  Cover with foil and bake at 375° for 45 minutes.
Please note: All original written material, photographs, recipes and tutorials on this blog are the sole property of the author and may not be copied, in whole or in part, or re-printed elsewhere, without the express written permission of the author.  Recipes, of course, may be copied for your own personal in-home use!