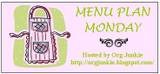 Dani fixes lunch almost every day, and she prepares dinner Wednesdays and Saturdays.  She also makes Sunday's fellowship meal dessert (generally cookies) and our Sunday morning coffeecake.  In planning the meals this week I was sure to add in a couple of Dani's specialties that I've missed while she was away! 
We're planning a late Father's Day get-together with my husband's dad and brother next Sunday, and I'll be asking my sister-in-law and Corin to bring the green and fruit salads to share.
Now that I've been using my menu plan faithfully for more than a month now, I can honestly say that the menu planning has been saving us money at the grocery store!!!  It felt good getting out of Costco last Friday for about half what we used to spend.   My freezer and pantry are well stocked.  In fact, the only meat I bought this time around were lunch meats, and about half of that has gone into the freezer for future use.
I do have a couple of recipes marked with an * this week.  Check in late in the day that those recipes will be served and I should have the recipe posted for you.  The Banana Split Cake is one of my mom's recipes, and it's always a huge hit!
If you're looking for some new ideas for meals for your family, or need some help with menu planning, be sure to check out this week's Menu Plan Monday at I'm an Organizing Junkie!
MONDAY
Breakfast – Dad's Monday Morning Waffles
Lunch – Ham & Spinach Wraps, chips
Dinner – Pork roast, roasted herb potatoes, Vegetables Normandy
TUESDAY
Breakfast – cold cereal
Lunch – Turkey sandwiches, chips
Dinner – spaghetti, green salad, garlic bread
WEDNESDAY
Breakfast – Toast & eggs
Lunch – Cheese quesadillas, fruit
Dinner – Panini, green salad
THURSDAY
Breakfast – Scottish Oatmeal
Lunch – Hot dogs, macaroni & cheese
Dinner – Teriyaki chicken breasts, chicken rice, broccoli
FRIDAY
Breakfast – Pancakes
Lunch – PBJ sandwiches, green salad
Dinner – Kielbasa, *Will's favorite pasta, stir-fried vegetables
SATURDAY
Breakfast – cold cereal
Lunch – Meat sandwiches, baby carrots & ranch dip
Dinner – Nachos
SUNDAY
Breakfast – Audrey's coffeecake
Lunch – wraps, chips
Dinner – late Father's Day Get Together – Grilled burgers, baked beans,  potato salad, green salad, fruit bowl, *Banana Split Cake