After three weeks away, Dani returned home Thursday.  She, and the family she was travelling with, were to
fly into an international airport in a city a few hours from our home.  The city is the home of this famous bridge!  Their flight was due in Thursday evening around 5:30.  My husband was able to take the day off as a vacation day!!  We decided to make a day of it and take the boys to a wonderful hands-on science museum in the city by the bay.
The weather was beautiful, and we had a fabulous time at the Exploratorium.  There were so many, many hands on exhibits and activities.  This is a great field trip for homeschooling families.  We'd been there years
ago when the girls were younger, and we enjoyed it every bit as much this time.  The place is perfect for very busy, very active boys.  In other words, Will was in his element!!!
There were very cool seats in huge concave shapes.  Aaron sat in one…………
…….and could speak in a regular voice to his Dad who was seated in the opposite seat, WAAAAYYY across the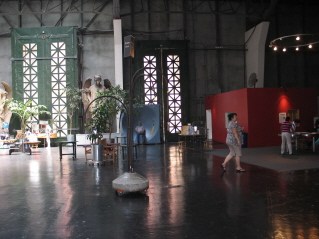 hall from the other!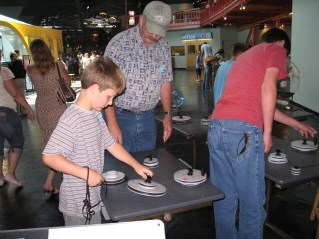 All three of the guys enjoyed working with the wheels  and pulleys.
Our entire family went inside the human kaleidoscope!!!!
Unfortunately, time passed by far too quickly.  We had to leave the museum after exploring only about two-thirds of it.  Afterall, we had a plane to meet!
We arrived at the airport in plenty of time and noticed all of the limo drivers waiting at the base of the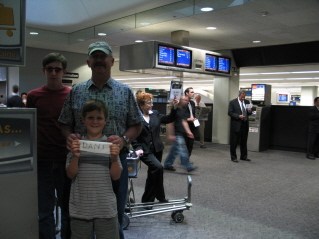 escalator  for their passengers.  Our always resourceful homeschool family quickly found the required components (paper towel and black ink pen) to manufacture our own sign!!!
Dani was expecting the boys and I to pick her up.  She had NO IDEA that her Dad had taken the day off and would be there to meet her as well.  As we spotted their group coming down the escalator we heard Dani exclaim, "MY DAD!".  My girly-girl and I shed some tears of joy as we embraced.  I was soooooo happy to see her!!!  Luggage was gathered, good-byes were said, and we made our way to our car, and settled in for the long drive home.
I'm sure Dani will be posting throughout the coming week about her wonderful trip, and she'll have some great pictures to share, too.  Check it out!!
God bless you as you look well to the ways of your household!
Proverbs 31:27