The uncles enjoyed having a couple of days off from school to play with their nephews and niece . Uncle Will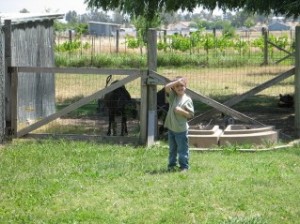 and the grandkids have had a blast on the trampoline.  Uncle Aaron has pushed our sweet princess #1 in the swing a few times.  My oldest grandson even pulled down some weeping willow branches for the goats to munch.  They've had a lot of fun outside playing army, too!
We've been picking berries like crazy around here.  We have a mixture of Young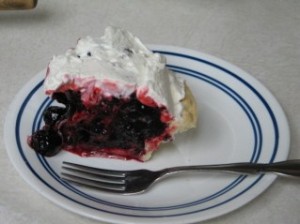 Berries and Boysenberries. My husband has brought in a quart and a half or so every night!!  We did have a fresh berry pie earlier this week, and I am planning on making another one for us Friday evening.  I make these like my momma did (recipe follows).  They aren't terribly frugal, but we only have a few of these a year and we do SO look forward to our fresh berry pies every year!  This looks like a good year for the berries!
While I was on baby watch Thursday, I made two (baked) berry pies for the freezer.  It's so nice to pull one of these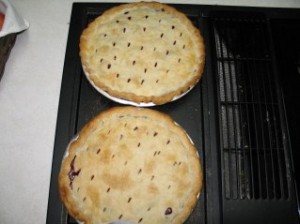 out in the middle of winter when the taste of the summer berries has become a distant memory.  I'll probably make some more freezer pies next week.
The blueberries are ripening slowly, but we are bringing in a couple of hands full every other evening or so.  I have almost a quart in the freezer already.  Most of our blueberries are a later variety, so we will be having them come on faster in the weeks ahead.  We had a wonderful harvest of blueberries last year, and had several quarts in our freezer.  Dani just used the last of last year's blueberries in some smoothies a couple of weeks ago.  I hope this year's harvest is as good.
I've been keeping up with the daily and weekly homemaking routines, but I'm letting the monthly, etc. stuff go while the grandkids are here.  I'd rather watch them play, read them stories, chat with them, etc.  We've been making trips to town to visit Corin and their new baby sister every day, too.  The days have been very full.
I normally do all of my shopping every other Friday.  I usually take the back seat out of my van, load in two big ice chests and make a day of it.  However, I have three car seats buckled into my van now, so taking a seat out isn't really an option! 
I've done the shopping over the course of a couple of days this time around.  Hitting the Costco yesterday after visiting Corin at the hospital, and hitting our favorite discount grocer today after visiting. Fortunately, both the Costco and grocery store are in the same general vicinity of the hospital Corin is in so I didn't have to do too much extra running around with these gas prices!
Through a weird set of circumstances my husband will be off this Saturday!  Hooray!!  We will likely still have the three big grandkids here until at least Saturday, so having Grandpa home will be a huge hit!  I love having my husband home, and having him home on a Saturday is a rare treat! (I must be excited. Count the exclamation marks in that sentence!!)
Saturdays are especially busy with food preparation to be done for our church's weekly fellowship meal.  It'll be nice having an extra hand to help out with kids with all the extra kitchen activity taking place.
It's been a busy couple of days and, in the words of Mayberry's Aunt Bee, "We're no spring chicken anymore".  In other words, I'm bushed!   Still, it's a good kind of tired!
God bless you as you look well to the ways of your households!
Proverbs 31:27