Fresh berry pie is a special treat that my family looks forward to every year.  My mama started making these fresh berry pies thirty years or so ago.  They are an annual tradition for us as soon as our Young Berries (a type of blackberry) ripen.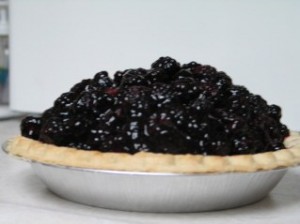 I  know that it's possible to make your own pie glaze, and I have done it in the past. However, since we only have three or four of these amazing pies a year, and only at the height of berry season, we splurge and buy the store bought glaze.  We've also used the strawberry glaze and sliced peaches for a fresh peach pie!
Fresh Berry Pie
1 baked pie crust
4 – 6 cups fresh berries (whole boysenberries, blackberries, sliced strawberries, or even sliced, fresh peaches)
1 jar or tub of strawberry pie glaze (available in your grocer's produce section)
1 cup heavy whipping cream
Sugar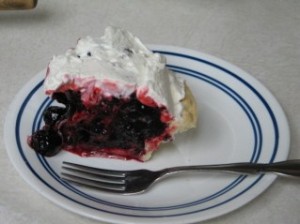 Pre-bake pie crust and let cool.  Thoroughly wash berries and drain.  Mix the berries with the pie glaze.  Spoon into prepared pie crust, mounding the fruit up nice and high!  Put in refrigerator to chill for at least 3 hours.  With electric mixer, whip heavy cream until stiff peaks form.  Fold sugar into whipped cream to taste.  Spread sweetened whipped cream over pie. Slice, serve and enjoy the seasonal goodness!