Whenever I take my Stroganoff Meatballs to a potluck, I always get recipe requests. Kids love them! Most people assume that the "secret"  for these tasty meatballs is in the sauce and that they can just use any old meatball for this dish.  Not so!  The "secret" is in the meatballs themselves!
Making the meatballs takes just a few minutes, and these are well worth the effort.
This recipe is easily multiplied for a crowd.  I've even quadrupled the ingredients for a party, and the results have been great! However, you will need to cook larger batches for a longer time. Just check a couple of the meatballs closest to the center of the pan for doneness. They're done when they are no longer pink in the middle.
Stroganoff Meatballs
1 pound ground beef
½ cup oats (uncooked)
1/3 cup milk
1 egg, beaten
1 Tablespoon dry minced onion
1 teaspoon salt
¼ teaspoon pepper
Scant ¼ teaspoon dill weed
¼ teaspoon garlic powder
1 can cream of mushroom soup
½ cup sour cream
Combine all ingredients EXCEPT soup and sour cream.  Mix well with hands.  Roll into mixture into balls, bigger than a ping pong ball, but smaller than a golf ball.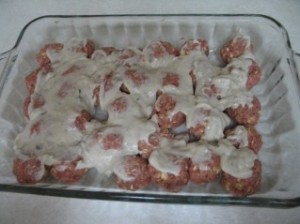 Place meatballs in a 9 x 13 pan. Spread soup over meatballs with a spatula. Bake uncovered at 350° for 35-40 minutes or until meatballs are done. Blend in sour cream and serve over rice or noodles.
Please note: All original written material, photographs, recipes and tutorials on this blog are the sole property of the author and may not be copied, in whole or in part, or re-printed elsewhere, without the express written permission of the author.  Recipes, of course, may be copied for your own personal in-home use!