This is one of my all time favorite coffee cakes.  Hmmmm……you don't suppose it has anything to do with the semi-sweet chocolate swirl do you?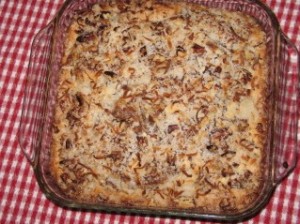 This recipe makes just an 8 x 8 pan, but that's enough for my family of five for breakfast, and for a couple of us to have for a snack on Sunday evening.  I love this moist, fluffy-textured coffee cake with its chocolate swirl. The coconut and nut topping gives the cake a nice crunch and a pleasing brown top.
I didn't intend to share two coffeecake recipes that used Bisquick in as many weeks, but the reality is that Bisquick makes them quick and easy to bake on a busy Saturday. I enjoy the convenience of Bisquick in my pantry, but I have had years where I took the time to make my own buttermilk baking mix, too.  I have some pantry and freezer mixes that I plan on sharing soon, and I'll be sure to include the baking mix recipe when I do.
In the meantime, I hope your families will enjoy this Chocolate Swirl Coffeecake!
Chocolate Swirl Coffeecake
1/3 cup flaked coconut
¼ cup chopped walnuts or pecans
¼ cup sugar
3 Tablespoons butter, melted, divided
2 cups Bisquick
¼ cup sugar
1 egg
¾ cup milk
1/3 cup semi-sweet chocolate chips, melted
Heat oven to 400°. Grease 8x8x2 square pan. In a small bowl, stir together coconut, nuts, ¼ cup sugar and 1 Tablespoon melted butter.  Set aside.
In mixing bowl, combine baking mix, ¼ cup sugar, remaining melted butter, egg and milk.  Beat vigorously for 30 seconds.  Pour into greased pan. Spoon melted chocolate over batter.  With a knife, cut through batter several times for a marbled effect.  Sprinkle reserved coconut mixture evenly over top.Bake 20 – 25 minutes.
Please note: All original written material, photographs, recipes and tutorials on this blog are the sole property of the author and may not be copied, in whole or in part, or re-printed elsewhere, without the express written permission of the author.  Recipes, of course, may be copied for your own personal in-home use!