Today was our once-every-two weeks' shopping trip.  It's always a long, tiring day; but I am so thankful that we are able to take just one day out of every fourteen to do it.  It's been our habit to shop this way since we moved to the country.  I really do enjoy being a keeper at home.  I like shopping, too; but once every two weeks is plenty for me, thank you very much!
I stopped in at the ACS Discovery Shop, but there wasn't much to tempt me today.  I picked up a package of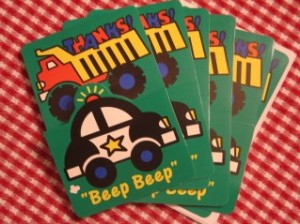 eight thank you notes that are perfect for a little boy's use.  Will was thrilled with them, and can hardly wait for the opportunity to use them!  He opened them up and counted them out and enjoyed them so much all day in the van.  That alone was well worth the dollar they cost!
Aaron stayed home and did a lot of watering for me today, so Dani and I had William all to ourselves.  He was having a very "busy" day today, but he did a fabulous job pushing the cart for us everywhere.  He was so cheerful and it was so much fun watching him run ahead to fetch a cart, always smiling so big at his accomplishment as he waited for us to catch up!  He'd always stand, with one elbow resting on the cart handle, and his chin in his hand, posing as though he'd been waiting for us for HOURS!  He is so tall, and such a big guy, I know that people think he is older than his eight years.  I told him over and over today how much I was enjoying his company and how glad I was that he was with us!
He was the big winner in the bargain department today!  WalMart had two huge racks of boys' short sleeve, button down shirts on clearance.  I found a great red, yellow and blue plaid on white for him.  He has a bright red tie that will be perfect with that for Sundays, worn with his hand-me-down khaki slacks.  I also bought him a handsome solid yellow shirt – not really a pastel yellow, and not a bright yellow, either.  He has a great navy tie with a yellow/gold design that will look terrific with that shirt and his navy slacks.  The shirts were just $5.50 each and are fairly nice quality!  He really needed the short sleeved shirts for Sundays now that the summer weather has arrived.
Dani and I are trying to find ways to pare down the number of cleaning products we use, and to start using  more natural products in the process.  We've been using products from The Clean Team for most of our cleaning.  They are, for the most part, non-toxic; but they're a bit pricey and not really as natural as we'd like.  I bought a couple of things to help us achieve our goal today, and I am so anxious to try them out.  The Lord even blessed with sale prices!  Saturday is usually such a busy, busy day in my home, with lots of laundry and cleaning; but I will be gone all day tomorrow to the homeschool day at church.  Working with the new things will have to wait until Monday.  I feel like a little kid who just can't wait to open a new toy!
Our late blueberries have been ripening ever so slowly.  There are always several ripe berries when we go out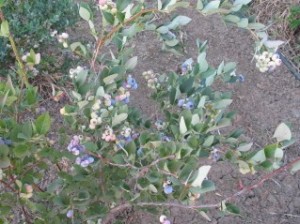 to pick, but the majority are still green.  The early varieties are just about done, though.  The  temperatures are rising here, with days in the triple digits threatening before the end of the weekend.  The heat will ripen the berries quickly!!  We planted all of our blueberry bushes from little scraggly, starter plants in four inch pots.  Some of them are well over three feet tall now, with lots of berry laden canes!  There really are not too many things that taste better than a ripe blueberry, freshly picked and still warm from the sun.
Dani surprised me by making and hanging a lovely paper-crafted garland for the upcoming holiday!  I walked by the fireplace last night and it was already hung.  It's just beautiful!  I had no idea she was even working on it.  She'll have to store it away carefully and save it for her future home!  I didn't get a picture of it, but she has some pictures posted on her blog.
I was too slow getting my camera this morning!  These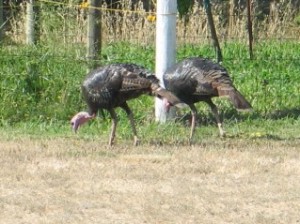 silly turkeys, there were actually three of them, were in my front yard when I turned on the sprinklers.  The silly things just stood there, getting all wet!  Of course, by the time I could come in the house to get my camera to catch a picture of them in the water, they had moved on.  These three were some of last year's babies, and I am amazed at how big they are!  There are quite a few turkey hens with several chicks scampering after them in the nearby area, and two or three big toms, too!  They just come and go as they please, and cause the traffic on our busy road to slow down like nothing else can!  They are big birds!
A dear friend from church will be riding with me tomorrow.  She lives about 15 minutes closer to church than I do, but it is still almost an hour's drive from her home to our church.  I am so thankful to have her company for the long drive there and back.  She's such a sweet spirited lady, I just know she'll keep me from being nervous about speaking later on.  It will be nice to spend some one on one time with her catching up a bit, too.
And then will come Sunday, a blessed day of rest following a busy week.
God bless you as you look well to the ways of your households!
Proverbs 31:27