Our family sent a large spray of flowers to Grandma's funeral.  Because Grandma was interred in a crypt, none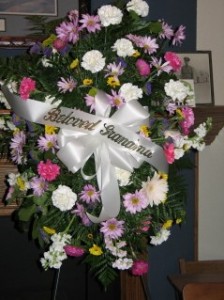 of the flowers could stay at the mausoleum.  They were all taken to my father-in-law's house and we were invited to take our spray home.  Now, this picture I took of the spray is deceiving.  In person the flowers were becoming very wilted and over a dozen of them were broken right at the tops of the stems!  I was going to order these through our normal small town florist, thinking they'd deliver to the city, but they would not.  They were kind enough, though, to tell me who they would have wired the order to had I placed the order with them, and that's who I called for the flowers.  I will be calling my regular florist to let them know that the florist they would have wired to did not do a good job for us.
These flowers, beautiful though they were, were not going to survive another day.  The floral foam they were in was barely damp and most of the flower stems had been so bent near the base that they were unable to take in any moisture.  I took the entire spray to my kitchen and began pulling it apart.  I wish I had more ability in the area of floral arrangments.  Maybe I'll take a class some day.
Here's what I ended up with…..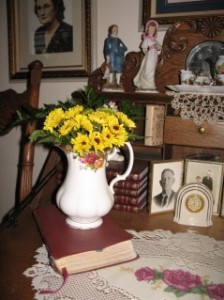 I pulled out all of the yellow flowers and arranged them in a small Old Country Roses pitcher.   I added a few fern fronds from the funeral arrangment, too.  My Old Country Roses is displayed in several places in my parlor, so these were placed on my lady's writing desk there.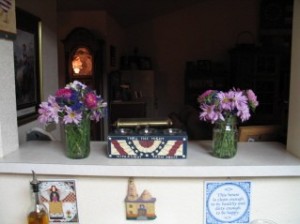 I pulled out all of the lavendars, purples and magentas.  The stems for these were all so broken that I had to cut them all quite short.  I placed these in two pint canning jars and they are now on the window over my kitchen sink (which looks out into my living room).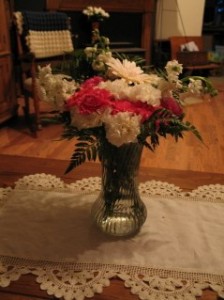 Next, I pulled out all of the various shades of pink carnation, some white carnations, one large pale pink daisy, and a few sprays of pale pink….not sure, stock maybe?  I arranged all of these very fully in a vase, added quite a bit of fern, and placed them on the living room coffee table.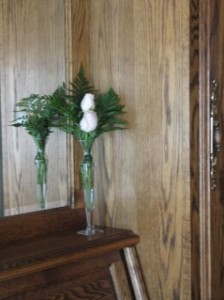 After getting that far, and after having had to throw away more than a  dozen unusable flowers (keep in mind, this arrangment was made Friday morning and I was pulling it apart the same evening), I found two, just two, pale pink rose buds.  I put these two, with some fern fronds, in a crystal bud vase and placed this on our head board.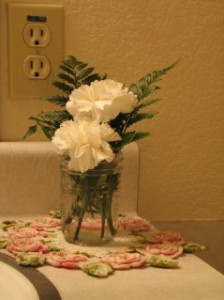 That left just a few white carnations and tons of greenery.  I found two white carnations that were bent and needed to be cut quite short.   I used another pint size canning jar and some fern and these are now by my bathroom sink, on a vintage crocheted doily.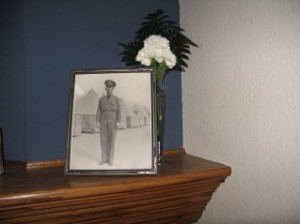 The three remaining white carnations still had nice, long stems, so I arranged them in a bud vase with some fern and put them on the mantel in the living room next to a picture of my dad from WWII.   He was such a handsome fella!  No wonder Mom fell in love with him!
I am fairly pleased with my six flower arrangments.  Some of them will likely last only a day or two longer, but I'm hopeful that the carnations will hang in there for several more days.
God bless you as you look well to the ways of your household!
Proverbs 31:27