Today looked to be an ideal day.  A superb Saturday!  The weatherman called for temperatures in the mid  80's with a lovely, cool southwest breeze.  Though the afternoon's temperatures actually climbed to the mid 90's, that wonderful breeze kept things comfortable.  We ended up leaving the house open all day (lured by the weatherman's faulty prediction), but we were fairly comfortable with ceiling and room fans running all afternoon.  You know, there really is nothing wrong with perspiring a bit when you're working!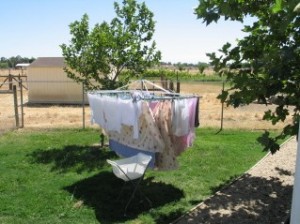 It was perfect clothes line weather, though!  Warm enough that the laundry dried quickly, with enough of a breeze that everything came off the line soft and supple with none of that dreaded clothes line stiffness!  The only thing I put in the dryer were a few pairs of blue jeans and our bath towels.
My clothes line holds about three full loads of wash.  Today, by the time the fourth load came out of the washer the first load was dry and ready to come off the line.  I was able to cycle wash loads onto and off of the line throughout the morning and until the last load went up mid-afternoon.  One of my favorite fragrances is the smell of clean laundry blowing the breeze!  It was great to be able to take that fragrance in all day.
I washed all of the bed linens and whites first so that they could dry quickly in the sunshine.  I love the way the sun brightens up my boys socks!!  Afternoon began to put parts of the clothes line in the shade just as it was time to hang the colors and a few darks.
Since part of the clothes line was actually completely in the shade, I was even able to hang up my husband's  black work t-shirts!  I hung them inside out just to be sure that they didn't fade.  The sunny side of the line allowed me to hang all of our kitchen and cleaning towels to bleach and disinfect in the bright afternoon sun.  Our everyday napkins were washed with this load, and I'm grateful that the sun will bleach all of the little stains right out of them.  I'm amazed, sometimes, at God's creation and the marvelous way that it works!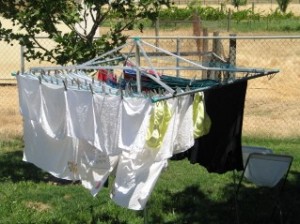 We use a riding mower to mow most of our grass.  However, our fenced in back yard is quite small, and we keep an older gas-powered push mower to do that small area.  This morning, despite all of Aaron's coaxing, it just wouldn't mow.  It started right up, but once the actual mowing started, the engine stopped.  Dani and Aaron checked for clogs of old grass clippings and anything else they could think of, but it just wouldn't go.  I don't like having things lined up waiting to be fixed on my husband's days off. I'd rather he be able to plan his own days off without a lengthy "honey-do" or "fix it" list.  Sometimes, though, it just cannot be avoided. I'm sure he'll have the mower up and running in no time next week!
I hard boiled some eggs and cooked up a big bunch of potatoes early this morning and then put them in the fridge to cool.  Later in the day I made them up into a big batch of potato salad.   Potato salad is on the menu for our week late Father's Day BBQ tomorrow.  We'll have seventeen family members here – the five of us; Corin, Rob and the four grandbabies; Steve's brother, wife and their two sons; and, of course, PawPaw and Grandma Meg.  I'll put the baked beans in the crock pot as soon as we come home from church tomorrow afternoon. Copper will grill the burgers later in the day.  Corin is bringing a big green salad and my sister-in-law is bringing a big fruit bowl or fruit salad.  We'll have a lovely summertime feast!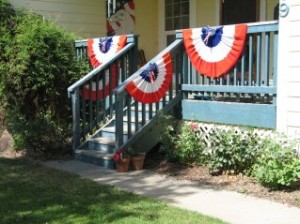 Our roses along the front walkway were getting kind of wild.  Dani dead-headed them this afternoon.  It's  amazing how quickly that one fairly quick and easy job changed the appearance of our front walkway!  She also went out and dead headed the cutting roses out by the pasture.  All of my roses are in that between bloom stage. Dead heading them sooner would have spurred them to put on some more buds sooner, but it just didn't get done. I'm looking forward to their next blooming cycle for more roses to cut for the house.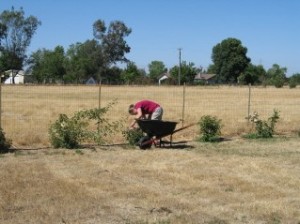 I've noticed quite a few ladies talking about plant propagation on their blogs, and what sorts of plants are easiest to propagate.  My bed of spider plants came to mind today while I was thinking about those posts.  Our neighbor friend, Kay, gave us a nice spider plant for our front porch a few years ago.  Last fall, it had really outgrown its pot and needed a new home, so I had Aaron dig and work the little bed behind the boys' bedroom and set out the big spider plant and her few babies.  Other than watering back there once or twice a week, I've not done much else.
It's sort of an unsightly place – behind the boys' room, to the side of the back porch, and behind the HVAC  unit.  The one big spider plant, which is a variegated variety, is still looking good in the center of the bed; and there are still several of the smaller green spider plants growing around it.  This afternoon I had the boys Webster the side of the house in that area and sweep up around the HVAC unit.  While admiring their hard work, I noticed that even the little spider plants are now putting out runners that will soon have more little plants growing!  I think that in a few years this entire bed will be lush and full and this little eyesore of an out of the way place will actually be quite nice!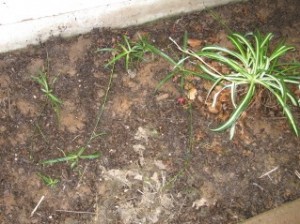 The breeze was strong enough that I enjoyed the sounds of my big wind chimes all day.  I have a lovely set that my family bought me for Mother's Day two or three years ago on my front porch, and another big set around back that were made by a son of a family friend.  I love the sound of the big wind chimes!!  I know that not everyone enjoys them, but I certainly do!  I'd love to, one day, have two or three more sets here and there around the outside of my home.  Being able to "hear" the breeze makes it feel even more refreshing!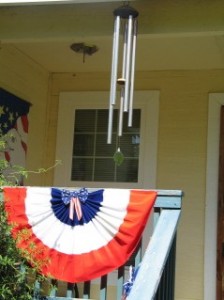 Today's warm weather and outside work tuckered Aaron out.  He had a sweet little Saturday siesta!  He  didn't sleep long, but he slept deeply.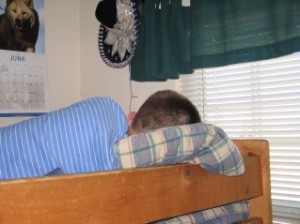 Just before dinner I started the two Banana Split Cakes  for dessert tomorrow evening.  This is one of my FAVORITES from my mom's recipe collection, and I am certainly looking forward to having some.  When I mentioned to my husband that I was making Banana Split Cake, his face lit up!  I guess we all like it!  I sure do miss my parents sometimes.  The recipe for the Banana Split Cake that I use is in my mom's handwriting in one of her homemade cookbooks.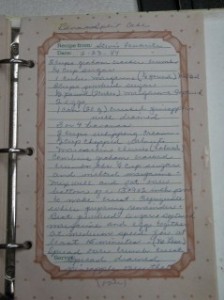 We were still winding things up after dinner and even after my husband came in from work.  I had church shirts for the boys already ironed, but Dani graciously ironed their church slacks for me.  I finished the Banana Split Cakes, and then ironed the napkins, fresh off the clothes line, for tomorrow's BBQ.  They're so fresh and crisp!  I enjoyed that wonderful clean-laundry-on-the-clothesline fragrance all over again as I was ironing them! Mmmmmm…….
I hope your Saturday was productive.  Have a blessed Lord's Day tomorrow.
God bless you as you look well to the ways of your household!
Proverbs 31:27