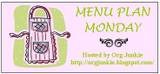 Having my menu plan in place certainly saved the day last week.  Make that several days!  I had my grandchildren here for three full days and it was nice to not have to think about what to make!  I do have one carry over meal from last week – Copper and I got home late from returning Corin's kids to her house Saturday so we brought burgers home from town for dinner.  That night's German Pancake is now on this week's menu for Thursday night.
I have a few items marked with an * on this week's menu.  If any of those marked dishes look good to you, check back late in the day that those dishes are planned and I'll post the recipes then.
If your menus need a boost, head over to I'm an Organizing Junkie for her Menu Plan Monday and check out what some of the other gals have planned for this week.
MONDAY
Breakfast – The guys are fishin' (I'll probaby have a bowl of Special K with berries)
Lunch – The guys are fishin'  (Hey, the guys are gone….I'm heading to town!)
Dinner – The guys are fishin'  (They'll have Taco Bell on the way home.  Me?  Not sure yet
)
TUESDAY
Breakfast – Dad's Monday Waffles on Tuesday this week!
Lunch – Grilled ham & cheese sandwiches, green salad
Dinner – Teriyaki Chicken Breasts, Chicken Rice, Ambrosia
WEDNESDAY
Breakfast – Toast & Eggs
Lunch – Cheese, crackers, left-over Ambrosia
Dinner – Cheeseburgers, oven fries, mixed vegetables
THURSDAY
Breakfast – Scottish Oatmeal
Lunch – Ham Sandwiches, chips
Dinner – *German Pancake, sausage patties (carry over from last week)
FRIDAY
Breakfast – Pancakes
Lunch – Cheese Quesadillas, green salad
Dinner – Mediterranean Meat Pie, steamed broccoli, rolls & butter
SATURDAY
Breakfast – cold cereal
Lunch – PBJ sandwiches, dirty apples
Dinner – left over meat pie, rolls & butter, green salad
SUNDAY
Breakfast – Blueberry Coffeecake
Lunch – Fellowship Lunch/BBQ at church – I'll take a bowl of mixed fruit and a platter of Snickerdoodles
Dinner – Wild Dinner – (Every man for himself – popcorn, left overs, whatever!)
God bless you as you look well to the ways of your households!
Proverbs 31:27