I wanted to share a few of these pictures with you yesterday.  It turns out that xanga (my blog service) sufferred a Denial of Service attack. If you tried to find me yesterday and couldn't, that's the reason why.
Just for fun, here are some of my favorite scenes from recent days at home…………….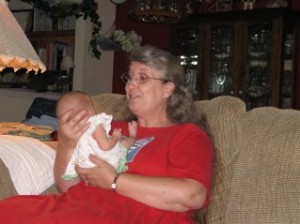 Conversations with my brand new granddaughter!!  She didn't have much to say, but the fact that she stayed awake while I talked was enough for me!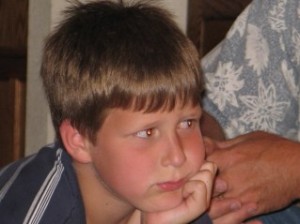 William, brown as a biscuit from his hours in the pool,  pouting.  (Yes, he was being bad.  Yes, he was disciplined for the attitude.  I still can't help loving that adorable face!!!!!)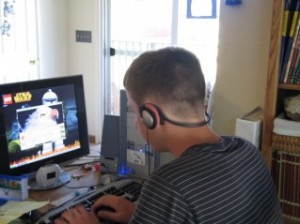 Summer haircuts, and Aaron's determination that he WILL learn to type at 30 wpm.  This typing program will not defeat him!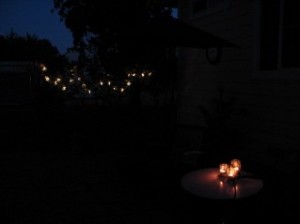 Star shaped lights wound through the vine on the fence, and candles lit on the table out by the pool.
Oooooooo…….aaaaahhhhhhhhhhhh……  Dani brought two strands of the lights home for me from her recent trip, and then she strung them through the vine for me.  I love them!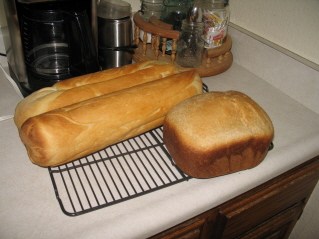 French bread baked in the cool part of the day, and whole wheat bread fresh from the bread machine.  Mmmmmm, did my kitchen smell good!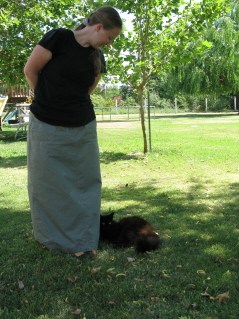 Dani and her vicious, half-wild, psycho cat.  She is a brave girl to let the cat that close to her bare toes!!  Miss Meow (I know, Aaron named her when he was just a little guy) is getting on in years, but she's still a great mouser.  That's why we put up with her psycho ways.
The hanging of the Independence Day decorations!   These stars went up inside, and the buntings and bows were hung on the front porch outside.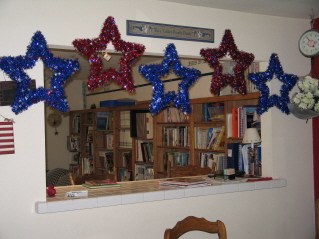 A VERY patient daughter helping Will with his math.  Abstract thought and that boy just do not mix…..hence the trouble with word problems!!  Love his frown!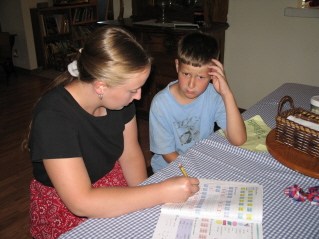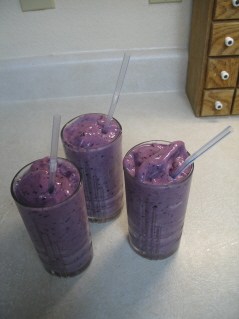 Dani's blueberry smoothies for the three adults to sip last night while we watched Bleak House
.  These were "killer good".  As a matter of fact, they killed the blender.  Copper carried the smoking thing out of the house onto the driveway.  Bummer.  The smoothies were incredibly delicious!
What sorts of scenes are you enjoying in your home today?
God bless you as you look well to the ways of your household!
Proverbs 31:27