My neighbor called first thing this morning.  He and his wife have been wonderful neighbors since the day we moved to the country nine years ago.  We've had a great neighborly relationship with them.  Admiring one another's critters.  Talking about our plans for our places.  They are both trained paramedics and the first year we had baby goats they came to watch one of the does give birth.  When one of the three kids had a bad presentation, he just reached right in there and righted the situation! Good neighbors!
We borrow and loan tools and equipment back and forth.  From time to time, when one of us has run out of hay, the other has just tossed a bale across the fence for the other.  I'm hoping to share some blueberry starts with her this winter.  They, quite frequently, borrow our utility trailer.  In fact, they have a key to the lock in case they ever need it when we're not at home.  We'll just know if it's gone, that Jay has it!  In the course of time, Jay has put new tires on the trailer, and repainted it.  When the floor boards rotted out, my husband bought new wood and Jay had the wood installed by a man he works with.  Like I said, really good neighbors!
A couple of years ago, Jay and his wife became Christians.  We've had some of the best across the fence chats with them about the Lord since that time.  It's been so great seeing how their perspective on life has changed.  I'll never forget the December he sort of danced a jig on my front porch when he was realizing that for the very first time in his life he understood the implications of Christ's birth as a human baby.
Dani frequently helps out over there when they are away, tending the dogs and cats, feeding and watering the horses, mucking out stalls.  They'd called yesterday to see if she could take care of the animals this weekend while they were away, but Jay called today to say that his wife was going to be home this weekend after all.  It seems their beloved border collie has a tumor in her brain, and her time is very short.  You know how it is….pets have a way of working their way into a family's heart.  Bella was a puppy when we met our neighbors and I'm very sad that her end is near.  My kids have thrown sticks and balls hundreds of times for her to fetch and return.  We've laughed at her stalking their horses and barking threateningly at us only to turn around and bring us something to throw for her.  Animals aren't human, and I'm not one to give them human attributes; but my heart is still heavy for our neighbors, our friends, as they face losing a beloved pet.
I love getting the laundry running first thing in the morning.  These summer days I tend to lay the bedding back on our bed for awhile while the windows are yet open, to let the bed air out in the fresh morning air.  So rather than making my bed first thing, I'm now starting a load of wash first thing.  I can put the tea kettle on to boil, sort out and start a load of laundry before it comes to a boil!  I had three loads of laundry done, dried outside on the line, and then brought in and folded before lunch time.  The last load was heavy jeans and such and took until well in the afternoon to dry.  There is a very strong breeze today, and I enjoyed watching the tablecloths, jeans and darker t-shirts blowing from the line while I watched Will in the pool.
It really has been a lovely day.  I believe the high was only about 86.  I wasn't sure this morning, though, so we closed up the house when the temperature on the house thermometer started to climb.  We were able to open the house back up by dinnertime.
I spent just a few minutes this morning spraying all of my kitchen counters with red juice and then wiping them all down, moving countertop items aside to clean underneath.   I missed under the microwave, though.  I always forget to move and clean under the microwave!   I sprayed and wiped the stove top, too, and then used a dry cloth to polish the area around the burners to a nice shine.
I always use a dry cloth to polish my sink handles, too.  Several times a day.  Do you do that?  It sure makes a difference in the appearance of my kitchen sink.  Water spots and drips can make the faucet look dirty, but it only takes a few minutes to wipe it dry every time you do dishes, or otherwise use your kitchen sink.  I've been doing this for years and years.
I finished the second of the two talks I'm to do on Saturday at our church's Homeschool Mom's  Encouragement Day this afternoon.  The preparation of these two talks took much longer than I anticipated.  I have a totally new respect for folks who make presentations on a regular basis, because I found it to be really hard, time-consuming work!  I spent all day yesterday finishing my one hour presentation, and worked until mid-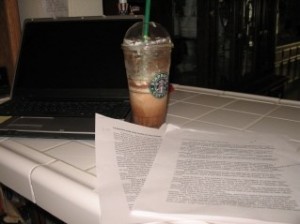 afternoon today on my fifteen minute presentation.  I need to type up the final copies with all of my editing notes added in and then just rest and see what the Lord has planned to do with it all.   I'm not a public speaker, but He can use me anyway.
I've missed doing the normal stuff around my home the last couple of days.  I was anxious to redeem what I could of this afternoon, so I went to work straightaway after finishing the work on my talks.  Dani came home at just about that time (after babysitting my three older grands while Corin took the baby to an appointment), and she brought me a frappucino from Starbuck's! Sweet sustenance!
I brought the rest of the laundry in off the line, folded it and put it away.  The boys things are folded into laundry baskets.  It is one of their after dinner chores to put away all of their clean laundry and put the baskets away.  I love folding tablecloths fresh off the clothes line.  They're so crisp and fresh smelling!  My husband's second uniform was washed and dried today, too.  I appreciate the high-quality permanent press finish that is put on his sheriff's department uniform, as well as the sewn in creases on his shirt!  Into the dryer, then out and onto a hanger.  No ironing required!
Mid-afternoon, I pulled out all of my husband's every-day short sleeved shirts that have been washed in the last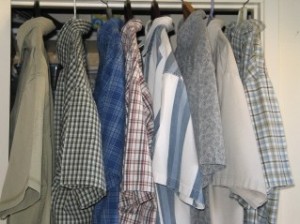 week or so and ironed them all up. Pamela has some lovely thoughts about ironing that she shared on her blog the other day.  I need to read her article again.  And again.  I really have never liked ironing, but I do enjoy seeing my husband's freshly ironed shirts.  I also know that he appreciates having them ironed.  I enjoy the look of my cotton skirts, dresses and jumpers nicely pressed.  I love the boys' church shirts with nice creases on the sleeves and down the back pleat.  I tend to let the ironing pile up a bit, though, hence the eight short sleeved shirts that needed ironing today!
I've even begun ironing our everyday napkins in the last week or so.  I have three dozen cotton, off white napkins that we use with every meal.  I bought them last year at Wal-Mart.  I used to just fold them fresh from the dryer or clothes line and put them away.  However, I really do like the look, and feel, of them ironed, and folded and pressed, folded and pressed, and folded and pressed on the third fold.  You know what?  I've enjoyed ironing those silly napkins!  I've really enjoyed it!  Ironing my husband's shirts today didn't seem the chore that it has before either.  But then, when I brought them to the ironing board to iron this afternoon, I did it with the idea that I was glad to be tending to things in my home rather than working on those two talks.  I was glad to be ironing!  If the Lord brings nothing else about from the time I've spent this week preparing those two talks, then I will be glad for the confirmation that working in my home and caring for my family is where my joy and happiness really are found!
We've had some weird bird stuff going on around here the last couple of days.  Will found a dead baby sparrow in my begonia bed yesterday morning.  It looked like it might have either fallen from its nest in the sycamore tree above, or been attacked by a blue jay.  We scooped it up and disposed of it.  Then yesterday afternoon, another baby bird appeared in the same spot!  The mama and daddy birds were pretty frantic for the little guy.  Will was in the pool and Dani and I were nearby chatting, reading and watching Will swim when it happened.  Dixie, our lab, picked it up a couple of times, but she never bit it.  Dani rescued the baby bird and put it on a branch in the tree.  We've not seen it since, so I'm thinking that perhaps the two babies' first flying lessons were just not going well.  I've really enjoyed the sounds of Mr. and Mrs. Sparrow nesting in and raising their babies in the big, backyard Sycamore.  It is just outside our schoolroom windows, and very near the pool so we can hear them fussing and scolding and carrying on all day long.
At the same time that all of that was going on, I heard one of our almost grown chicks hollering.  I can see the chicken yard from my little poolside retreat, so I looked over just in time to see a hawk trying to nab one of those birds.  My baby chicks are almost full grown.  They are not little anymore.  The hawk was not necessarily a very big hawk either.   We've never had a hawk bother our chickens before.  Ever.  Owls, fox and racoons, yes, but never hawks.  I hollered and it flew up into the nearby weeping willow tree; but it returned again just moments later.  This time I really hollered and ran toward it waving my arms like crazy.  I think we might have to try to hang some netting or something over the small yard that the chicks are in for awhile.
I've missed having my menu plan done this week.  Sunday we had company and we were gone all day Monday, so it just never got done.  Tomorrow is our every-two-week grocery shop so we'll be in great shape to get back to menu planning for next week!  If menu-planning is new to you and you haven't a clue where to start, hop on over to The Deputy Domain.  Jodi (who comments here as JCDeputy)  is working on a wonderful how-to menu planning series that will walk you through all of the steps.
Dinner tonight was Corn dogs.  Corn dogs!
I told you I was missing having our menu planned out!   Copper, of course, is working this evening so he didn't have to suffer our Corn dog supper!  He did, however, miss out on the first zucchini from our garden – steamed and topped with butter, sea salt and coarsely ground fresh pepper.  That's okay, there will be plenty more!!  Next time we'll dress the steamed zucchini with butter, garlic salt and grated parmesan cheese (the real kind, not canned!).
God bless you as you look well to the ways of your household
Proverbs 31:27