Guest blogging today is Dixie, our faithful, wonderful lab mix.  She is the family dog, of course, but she is very  devoted to Dani.  A certain turn of events yesterday was quite upsetting to her, and so we thought it would be therapeutic to let her blog about it.  Here's Dixie!
*************************************************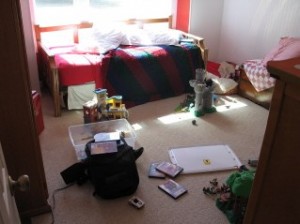 Oh!  Those boys!!!!  Dani keeps her room so tidy and neat all the time, but those boys!!!!!  They played in Dani's room yesterday.  I told them not to.  Repeatedly.  I barked and barked to no avail.  The toy cabinet in the hall way was thrown open wide and there were pirates and knights of the round table and what looked like Robin Hood's band of merry men.  They even ate lunch in there!!  I did my best to clean up the crumbs.
Will has been sleeping in Dani's bed and he's not been doing a very good job of making it up in the morning.  And will you just look at the mess they've left on my bed in the corner?  How's a dog to get her beauty rest.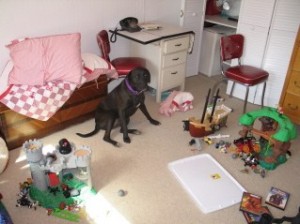 As you can see, I am not at all happy about the state of affairs in my our Dani's room.  Those boys!!!