Yesterday was a busy day.  I spent most of the morning tending to the normal, everyday things around the house.  Laundry, dishes, meals, straightening up, watering and irrigating outside.  Just my normal stuff.  My husband has taken a few days off this week, so we took yesterday and today off as a vacation from homeschooling.  Tomorrow, of course, will be Grandma's funeral.
Not wanting my boys to be complete idlers, I gave them each some work to do in our side yard.  This area is sort of to the side of and slightly behind our house.  It's an open, grassy area with my husband's small shop to one side, with our wood shed attached.  The gates to our chicken and goat pens are reached from this area.
A few years ago I planted yellow Euryops daisies along the chicken pen fence.  They grew into enormous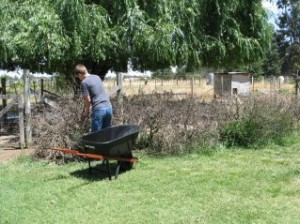 shrubs.  The best part about these shrubs is that they flower all winter long.  It was so lovely to look out there in January and February, when everything else was dormant, and see those beautiful yellow flowers!!!  They are cold hardy to about 25°.   Every winter they have rewarded me with hundreds and hundreds of bright yellow flowers all winter long.  That is, until this winter.  While Copper and I were gone in January, our area sufferred an very unusual and very devastating freeze.  I lost three citrus trees to the freeze.  My Euryops daisies also fell victim to the frost.  However, as spring approached I watered them anyway.  Turns out, they were only "mostly dead".  I've let them go now for about three months, waiting to see where the live branches were and where the dead branches were.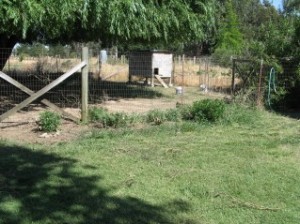 Yesterday I put Aaron to work cutting out all of the dead growth.  Some of the branches were so thick he had to saw through them!!  Will picked up the branches as they were cut, and used the wheelbarrow to take them way out back to our burn pile.  When Aaron was done, this area looked much better!!!!  There are still some scraggly weeds along the front edge, but he'll get those on Saturday when he does the weekly mowing.  Within two or three years, these shrubs will again, hopefully, be as high as the fence.  Good job my son!
Late in the day I found that I had about an hour and a half that I could work on my poolside retreat.  Aaron was a peach and let me drag him away from his job trimming the shrubs to help me.  We carried the picnic table out to the front yard.  He hooked up the leaf vacuum/mulcher and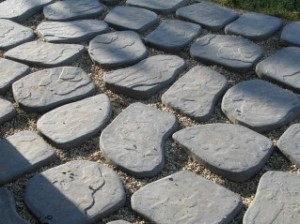 showed me how to use it.  I sucked up the piles of leaves that had collected under the table and around the edges of the area.  Once it was all cleaned up,  I was able to stand back and evaluate things a bit.  We have done a bit of infrastructure in our  backyard.  A few years ago, my husband built pathways, and we filled them with small rock.  We've been, bit by bit, buying pavers to put down into the rock to finish off our pathways.  Unfortunately, we started laying the pavers at the opposite end of the yard from where I want to set up our retreat!
Since I want to put my metal rockers from the front porch back here, I knew that they needed more than just rocks under them.  So, I started moving the pavers.  Two by two.  Back and forth.   I smoothed out the rock base with my hands so that they pavers would lie flat.  They are, more or less, level.  My husband did not realize what I was doing, but he came out and moved the last dozen or so pavers for me while I smoothed the rock and set them into place.
I have four peach trees in pots that were given to us last year.  The hired hand at the horse ranch where Dani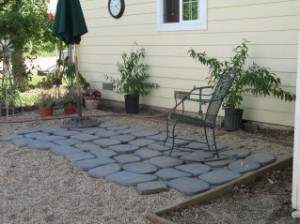 sometimes helps out started them and graciously gave us four.  We will not be able to put these in our orchard until they are dormant next winter.  In the meantime, I thought they might help give this area a nice green backdrop, so I carried them into the back yard.  I'm not sure I'm happy with their arrangment just yet.  I moved the umbrella stand up onto the edge of the newly set pavers, and carried one of the rockers around from the front porch before I ran out of time.
It's not done yet, but I certainly have something to show for my hour and a half of hard work!  I'm looking forward to spending some more time working on this!
God bless you as you look well to the ways of your households!
Proverbs 31:27