I finished up my Poolside Retreat Saturday evening!  Before I give all the details, let me say that I know that it's not "magazine" pretty, but it did meet the goals I set.   What I wanted was a pretty little sitting area in the back yard close to the pool so that I could watch the boys swim.   I started this project with what I had on hand, and I was determined to finish the project with very little out-of-pocket expense.   (If you're interested in how this project came about, check the posts here,  here and here.)   I also finished up an area in our side yard and had a few left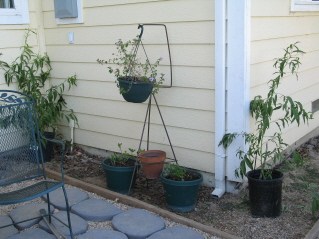 over annuals to put in pots for the front porch.  All in all, the total amount spent for the poolside retreat and the side yard was just $6.67.  How??  Good question!  First of all, let me show you what I bought and planted.  (I'm sorry for the dark pictures – this is all very shady in the late evening!)
I planted a few purple Petunias in the pot under the hanging purple Lantana.  I think that these purple plants in  the stand will be pretty flanked by the white blooming gardenia.
I planted several pink Impatiens in the large pot, and 
some pink and purple Asters in the smaller pot that I'd grouped with my big pot of pink Begonias.  Yes, the Impatiens and Asters are small now, but they'll soon fill their pots and be covered in beautiful flowers.
I planted a lavender Lantana in the center of the iron kettle and then surrounded it with variegated purple  Alyssum.  The hummingbirds have already been flitting about the Lantana blossoms in this pot even while I was sitting in the chair next to it!  I love it!
Remember this area that my son, Aaron, worked on
for  me in March?   The old Lantana plants just did not make it through last winter's very unusual hard freezes.  I was happy to be able to buy two yellow Lantana and four-six packs of Dahlias to fill the planter.  This tiered planter rests between the gates to our chicken yard and our goat yard.  As these plants grow and fill in they will make this a beautiful looking area, which is nice because it can be seen from our driveway as guests arrive.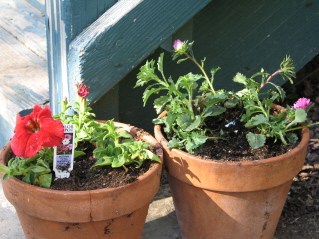 The left over Asters and Petunias went into a couple of pots for the front porch.
Three Lantana @ $2.97 each, and eight six packs of various other flowers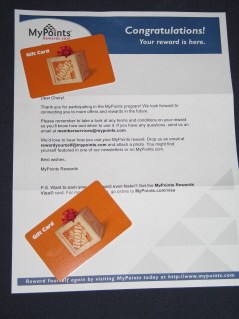 @$1.98, plus sales tax came to  $26.67.  However, I only paid $6.67 because I cashed in some of my My Points points early last week for $20 in Home Depot gift cards!!  I was so thrilled on Saturday to show my husband the Home Depot cards that arrived in the mail!!  Woo hoo!!!  It's not everyday that the mailman brings me $20!
If you're not familiar with My Points, you can   read my post about the program .  It's a great way to stretch your family's buying power.  I have earned the majority of my points from just reading the My Points e-mails.  I also take the time to respond to about one survey a week for an additional 50 points or more.  The only purchases I have made through My Points have been E-bay or abebooks.com purchases, or to purchase gift cards that would have been purchased anyway.  Last year, just before the holidays, I completed this project with a gift card from My Points.   Coincidentally, that project cost $6.60 out-of-pocket!
It's very easy to sign up by simply going to www.mypoints.com However, I would really appreciate it if you would, instead, send me (via a private e-mail – my address is in the side bar) your first and last name, as well as your e-mail address, and give me the pleasure of referring you to My Points.  Yep, I'll get some extra points for doing it, but you can then invite your friends to join and earn points for yourself. Check it out; it's a great program that has allowed me to finish two projects in my home with very little out of pocket expense!
God bless you as you look well to the ways of your household!
Proverbs 31:27