The notation in my mom's handwriting at the top of this recipe indicates that it is Copper's favorite.  A rich, creamy filling, on a graham cracker crust, layered with pineapple and bananas, covered with whipped cream, nuts and a cherry on top make this one of our all-time favorites. It's especially good in the summer.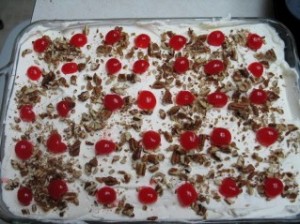 The copy of the recipe that I have from my mom is dated 1984, but I remember her making it long before that.
I must, must caution you though; this recipe does contain two raw eggs.  If you are at all concerned about that, do not make this recipe for your family.  For the rest of you, though….Oh, my word, is it good!
Banana Split Cake
2 cups graham cracker crumbs
1/4 cup sugar
1 cube (1/4 pound) butter, melted
2 cups powdered sugar
2 cubes (1/2 pound) butter, softened
2 eggs
1 – 20 oz. can crushed pineapple, WELL drained
3 or 4 firm bananas
2 cups whipping cream
1/2 cup chopped walnuts (or pecans)
Maraschino cherries, halved
Combine graham cracker crumbs, ¼ cup sugar and 1 cube melted butter.  Mix well and pat into the bottom  a 9 x 13 pan to make a crust.  Refrigerate while preparing next step.
Beat powdered sugar, softened butter and eggs together at medium speed for at least 15 (fifteen) minutes.  No less!  Spread this mixture over the graham cracker crust.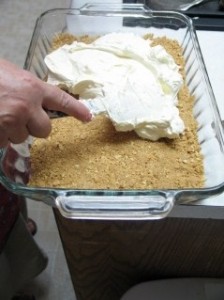 Using your fingers, sprinkle the well drained crushed pineapple evenly over the filling.  Slice bananas and place so that they cover the pineapple.
Whip the two cups of whipping cream until stiff peaks form and lightly sweeten with a bit of sugar.  Spread  sweetened whipped cream over all.  Sprinkle with chopped nuts and garnish with maraschino cherry halves. Refrigerate for several hours or over night.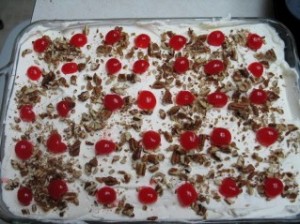 Keep refrigerated.
Please note:  All original written material, photographs, recipes and tutorials on this blog are the sole property of the author and may not be copied, in whole or in part, or re-printed elsewhere, without the express written permission of the author.  Recipes, of course, may be copied for your own personal in-home use!