Copper's dad belongs to a motorcycle club for current and retired police officers.  His group had an outing
Father's Day weekend, so we weren't able to celebrate and with him then.  However, we had a wonderful time celebrating Father's Day a week late last night!   My husband BBQ'd hamburgers as everyone was arriving.  Our sister-in-law and oldest nephew weren't able to join us, but the rest of our extended family was here.  Plates were filled and then re-filled.  Not that I was counting, but some of the young men even re- re-filled their plates!  We visited and took turns loving on the very newest member of the family.   Here's Copper's Dad, "PawPaw", holding his fourth great-grandchild.
After our dinner digested a bit, I served up the Banana Split Cake.  I'm not sure if it was the sugar rush or what, but all of the men-folk under 50 headed outside to kick a soccer ball around for awhile.  The evening was warm, but a lovely breeze kept it from being too hot.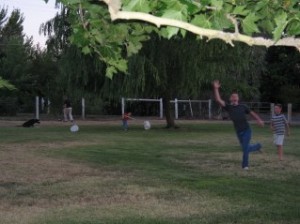 The day was a bit bittersweet for me.  I lost my Dad in 1993, but yesterday would have marked his 100th birthday.  Though he's been gone almost fourteen years, I still miss him.  My dad was my age, 50, when I was born.  He was well into his 70's before he ever looked old, and in his 80's before age, and illness, slowed him down much.  While I appreciate the gray hair that the Lord has added to my head with the years, I also appreciate the fact that He gave me an earthly father that knew that "being old" was just a state of mind.
The weather today is a bit warmer, but there is still a nice breeze outside.  The laundry is drying on the line quickly.  The house is closed up and cool still, without the need for the air.  No dryer.  No a/c.  No huge electric bill!  I consider it a part of my job, as a keeper of this home, to try to keep the utility bills as low as possible.
I have some meat marinading in a mixture of equal parts soy sauce, Worcestershire sauce and olive oil, with a couple good spoons full of minced garlic for good measure.  These are the last of the chuck steaks that I bought a few weeks ago.  They were run as a loss leader by a local store and were cheaper than ground beef!!  I'm going to cook them on the BBQ, and I will savor each and every bite!  We'll also have the rest of last night's potato salad and baked beans, which we'll have cold with our steaks.  No need to turn on the stove!  We even have some left over Banana Split Cake for dessert!
Copper and Aaron have been working at Corin's house all day.  Rob & Corin bought a play set for their backyard for the kids to play on, but time has not allowed Rob to set it up.  My guys worked on it all day and got it done!  Sort of.  Almost.  Kinda.  It seems that the two swings that are a part of the set were missing from the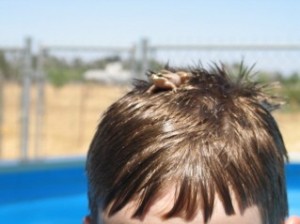 box!  I'm sure that Corin and Rob will be able to have the store take care of that and the grands will be enjoying their new set in no time!
Will stayed home with Dani and me and spent a good portion of the afternoon in the pool.  He found a  swimming buddy, too.  This goofy little frog was his constant companion in the pool today!  It rode around on his head.  It perched on his shoulder and walked around on his chest.  You might think that the poor little thing was being mis-treated, but not so!  Every time that my son tried to set the frog aside, the frog would return to him.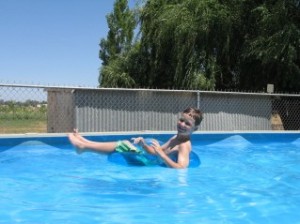 The silly frog floated all over the pool, happily seated atop my boy's head!

It even jumped off the ladder with him. Once.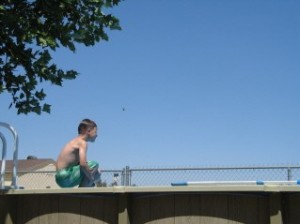 Twice.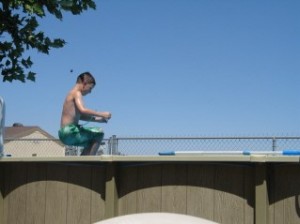 Three times.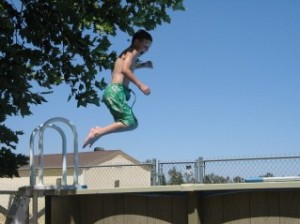 My day was spent with the normal Monday tasks of my household.  Washing the blue jeans, t-shirts and church clothes.  Cleaning up the kitchen after meals.  Irrigating the vineyard and watering the citrus trees and side yard.  Listening to the tap, tap, tap, tap, of the rain bird sprinkler in the goat yard.   I do so enjoy the sameness of this life.  The Lord gave me an increased love for these everyday tasks while Dani was on her trip.  I can't explain it, really; but I am thankful for it.  There were extra dishes to be put away from last night's celebration this morning, which I had washed last night and left to air dry overnight.  Picking up and straightening throughout the day as I went.  No weekly or longer term cleaning is planned for Mondays.  I try to leave Mondays free of too many scheduled tasks so that I'm free to do things with my husband on his day off if he asks.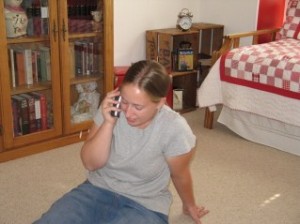 Dani received a long distance phone call from her long-time gal-pal this afternoon.  These two met when they  were about ten, and they became fast friends.  At church family camp that same year we two moms became a bit distressed upon discovering that the girls were "missing".  We'd each assumed for most of the afternoon that our daughter was at the other family's campsite!  We searched and called and looked.  At last we found the two of them, dressed in sweet summer dresses, reclining on rocks in the middle of the river quietly reading together!  The site of the two of them so quietly and innocently occupied made both sets of parents forget our displeasure at them for not telling us where they'd be!  The friend has moved several times now, but the long distance phone calls find them giggling and talking as though no miles separate them at all.
I spent some time today working on a couple of talks I'm to give this Saturday to some of the ladies from my church.  The elders have put together a homeschool moms encouragement day, and several of us will be giving talks on various topics related to homeschooling.  I'm speaking on teaching with living books and building a Heritage library.  I'm nervous, but just praying that the Lord will lead me in saying what needs to be said.  Nothing more and nothing less.
We were supposed to go fishing today.  We just changed around things a bit and will be going tomorrow instead.  I have several books and a couple of projects that I'll be packing up to take to the mountains with us tomorrow.  The worms are waiting in the fridge!
God bless you as you look well to the ways of your households!
Proverbs 31:27