Yesterday was a profitable day.  My husband and the boys came home with five beautiful rainbow trout.  He remembered to take the camera with him, but forgot to use it.  One of the other men and his two sons took home seven, but the third man and his son were disappointed.  That's the way it goes when you're fishing, I guess.  My husband cleaned our fish and fileted them.  They're in the freezer until Dani comes home.  She's the real fish lover in our family.
After spending too much time flitting around on the computer yesterday morning, I finally got myself busy!  By 1:30 I had done three loads of laundry, cleaned all of my kitchen counters, cleaned two of our bathrooms and mopped the back hall, kitchen, entry way and two of our bathrooms.  (Aaron does his own bathroom cleaning!).  I also had about half of the day's watering done.
First off, I made a quick stop at my favorite thrift store. It's an American Cancer Society Discovery Shop.  I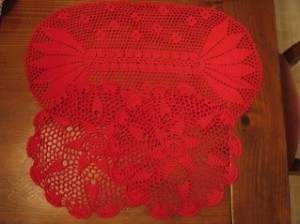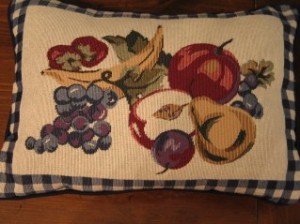 found a lovely brand new pillow for $3.00 that will look great in my living room on the couch, and three matching red doilies – two round and one oblong, just $3.00 for the set.
After my planned stop at Starbuck's
, I headed to WalMart.  It was nice having the time to browse.  I found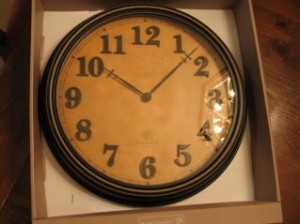 a great old-fashioned looking clock for the boys' room, and an affordable outdoor clock with a built in thermometer for out by the pool.  I bought a couple of pairs of p.j.'s for each of the boys. I also picked up all of the other little odds and ends that were on my grocery list from last week.
Jo-Ann's was great!  I got there about 3:30 and had the super store almost to myself!  I found a fabric I really liked for the gift I want to make within minutes of entering the store.   I love it when that happens!  All of their yard and garden stuff was half off so I browsed through that area for awhile.  I did buy a wrought iron shepherd's crook for 1/2 off (just $7.50!) to hang our bird feeder from.  I'm hoping my husband can get it into the hard ground under the begonia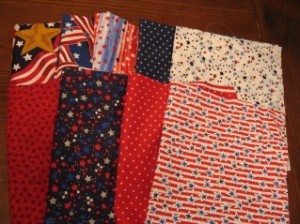 bed just outside the schoolroom windows.  It will be fun to be able to see the birds at the feeder from the schoolroom windows.
Jo-Ann had all of their patriotic fabric half-off, so I was able to buy what I need for the project I want to work  on for my home.  I bought 1/2 yard each of nine different fabrics, all featuring stars.  Aren't they great?
And my, oh my, I used my 40% off Jo-Ann coupon for this bit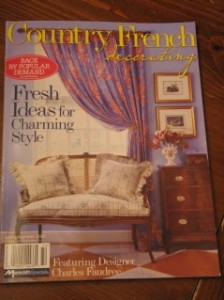 of eye candy.  French Country Decorating…..nothing in my home is decorated in this style, but there are lots of wondeful ideas nonetheless.  There are several lovely things that caught my eye – the use of flowers and plants, bedding.  I'm particularly paying attention these days to framing and picture arrangment ideas.   And why am I so drawn to the kitchens in this magazine?????
My fellas rolled in around 7:30.  I was waiting for them in the front yard, finishing up my dinner at the picnic table and looking at my new magazine.  The dog loves her evening romps in the front yard and just runs herself silly out there.  She, and I, were both glad to have the guys home!
Corin has done a lovely tribute to her great grandmother.  She found some wonderful pictures of Grandma to include!  Dani is doing well, considering everything that has happened in her absence in the last few days.  Her faith is strong and she knows that the Lord is in control.  I also know that she appreciates your prayers for her.  I appreciate your prayers for her, too!
God bless you as you look well to the ways of your households!
Proverbs 31:27