I have had this large Tupperware Season Serve container for a long time.  Twenty years maybe.   It really has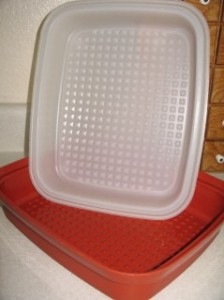 become my favorite piece.
Obviously, it's primary use is for marinating meat.  The bumps inside the bottom and lid of the container serve two purposes.  The bumps on the bottom hold the meat up a bit so that the marinade can get under the meat.  The bumps on the top, once the container has been flipped, allow the marinade to drip down onto the meat.  Once the meat and marinade have been sealed into the container, it can be turned repeatedly throughout the day without leaking.  When I have meat marinading in this container, I make it a habit to turn the container everytime I open my fridge.  That might mean that it's turned once every couple of hours, or it might mean it's turned several times in an hour.  The key is to keep the marinade soaking both sides of the meat as much as possible.
I love being able to buy inexpensive cuts of meat and then marinade them all day to make a wonderful meat entree for my family's dinner.  Recently I found a great loss-leader sale on chuck steaks for $1.69/lb!   I marinated the steaks in equal parts water, soy sauce and olive oil, with a couple of cloves of minced garlic.  The steaks marinated all day and then were broiled for dinner.  They were tender, juicy and flavorful.
Tonight we are having  teriyaki chicken breasts.  I am marinading them all day today in a mixture of soy sauce, a bit of vegetable oil, minced garlic, brown sugar, and ground ginger.  Our BBQ needs new grills, so I'll cook these in the broiler.  By dinner time, the marinade will have worked its way deep into the meat.  Yum!
I have also marinated garden vegetables in my Season Serve container.  It was nice not having to constantly stir the veggies in the marinade.  I just flipped the container every time I opened my fridge, just like I do with marinating meats.
Another nice thing about this container is that it is nice and tall.  Ours has been used many times to carry several dozen cookies, piled high inside, to a gathering.  We've used it to carry frosted cupcakes, too.
These are readily available for a good price on e-bay.  Keep your eyes open for them at thrift stores and yard sales, too.  Meredith (Like Merchant Ships) has several great posts on using Tupperware, and she's bought all of hers used for a song!
God bless you as you look well to the ways of your household!
Proverbs 31:27