I don't live in the mountains.  In fact, I've lived my entire life in a valley.  As a child, I can remember my folks  taking me on occasional trips to the mountains for a summer picnic or a winter romp in the snow.  Going to the mountains, though, has always been a special treat.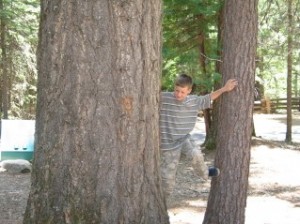 Last year, my husband began taking us to a state park in the mountains to go fishing.  We've enjoyed our trips to this particular state park   The boys always pull at least a couple of trout out of the river, and the days are always remembered with a smile.  The guys went up a few weeks ago with a couple of other men and their boys from church, but today was our first family fishing trip of the summer.
It really was a lovely day!  The temperatures at home were expected to be in the mid – upper 90's again, but it was a bit cooler in the mountains.  Dani and I were  settled in the picnic area, and the guys headed down to the river by mid-morning.  When they rejoined us at lunchtime they'd already caught three good-sized trout and had released a fourth that wasn't quite "eatin' size".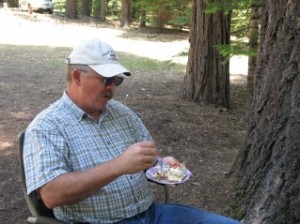 We had a lovely lunch of smoked turkey & spinach wraps (which Dani made last night), fresh fruit, chips, hard boiled eggs, and homemade cookies.  The last of the left over Banana Split Cake even made the journey in the ice chest!!  After lunch, the guys took the van and headed back to the river.
On the weekends, this park is a very busy place.  During the week, however, it is very quiet.  Dani and I had the entire picnic area completely to ourselves.  Oh, cars would drive through the picnic area from time to time.  A few folks parked a ways off and hiked down to the river.  Two park workers spent the better part of an entire day installing a sign near by.  One sign.  Just one.  Two guys, all day!  We giggled about that. We saw folks, but no one really hung around.
We enjoyed watching the squirrels busily scampering about.  There was a male blue jay that sat close by most of the day singing to us.  Okay, okay….he was probably begging for goodies, but we enjoyed his serenade anyway.  In the background always was the sound of the river rushing downstream.  It was such a blessing to just be outside and enjoy the peace and the lovely sounds of God's creation.
I read more today than I have for a very long time.  I finished one book (review coming soon) and read a  chapter in another.  I spent a couple of hours fleshing out some more of my outline for my upcoming talk on building a heritage library.  I spent some time looking through old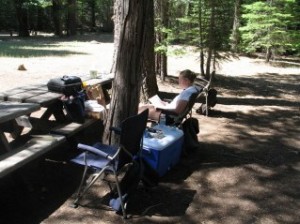 home decorating magazines and tearing out pages to file away.  Sometimes I just sat and watched the squirrels, or looked high up at the pine branches ruffling in the breeze.  I relaxed, I really did, and it felt good.  The hours passed very quickly.
I felt like Dani and I were in our own little mountain retreat.  Comfortable folding chairs to sit in.  Using the picnic benches as footstools.  The ice chest between us serving as a side table.  We had plenty of cold water and Diet Pepsi in the ice chest.  Our only work was moving everything from time to time so that we could stay in the shade!
The guys ended up with seven nice trout.  My boys caught one apiece, and my husband caught his limit of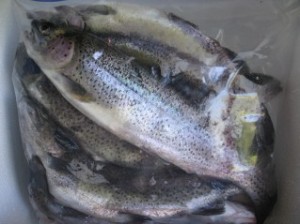 five.  I'm happy that the new rod and reel we bought him for Father's Day were helpful!  My husband is cleaning the fish as I type this, and the boys are showering and getting ready for bed.  It's already past my littlest guy's bedtime! We'll put today's fish in the freezer with the  fish from their last trip, and I'll fry them all up early next week on one of my husband's days off.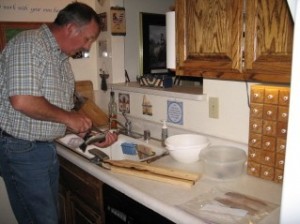 As lovely as a day like this is, though, I'm glad to be back home.  I've already begun planning the things I want to take care of in my home tomorrow.  I love day trips with my family, and I love staying home.  I loved being out today in the mountains relaxing and enjoying nature, and I love being here working in and enjoying my home. My family, of course, is central to both loves!
God bless you as you look well to the ways of your household!
Proverbs 31:27