We are blessed to have a large, above ground swimming pool.  The summers here are hot.  It is not unusual for us to have a streak of several days of temperatures at or above 100°.  We are able to keep the electric bill down by heading to the pool in the afternoon rather than turning down our thermostat.  My boys are old enough now to enjoy the pool without adult supervision.  Yet, there are several windows in my home that look out on the pool, so I can still keep my eye on them.
However, my boys love it for mom to be out poolside with them.  The shouts of, "Hey, Mom! Watch this!", "Will you time how long I can hold my breath underwater", and "Who made the biggest splash?" are so much fun, how can I resist?
Last summer, Aaron and I wrestled one of our folding picnic tables into the back yard.  We set up the umbrella in the middle, and I sat at the picnic table to read and watch the boys swim all summer long.  The picnic table is a comfortable enough spot to sit for a meal and to visit for a bit afterwards, but it's really not the place that I want to spend the afternooon.
This year I am hoping to set up a nice little poolside retreat that is comfortable and pretty.  What I'd like is a comfortable, padded chair, something to put my feet up on, and a small table to hold my cold drink, a couple of books and maybe even a radio.  Two chairs would be even better!
If money were no object my poolside retreat would look something like like this or like this.
At times like this, it is very easy for me to be tempted to think back longingly on my home in the city.  After almost 20 years in the same house, the back yard there was beautiful with mature, lush landscaping and trees.  There were double porch swings hanging from the large covered, brick patio; and the brick planters bordering the patio held lovely flowering shrubs.  The patio had a sweet fountain and there were beautiful potted and hanging plants everywhere.  Like I say, it is easy to be tempted to long for this…..
…..but the Lord gave us our home in the country nine years ago and we are thankful and so happy here.  We prayed long and hard before the move came about; and the Lord brought us here at just exactly the right time.   His timing is perfect!
When we moved out here, we chose to plant an orchard instead of planting landscaping.  We chose to plant vineyards and berries instead of flowers.  Those trees and vines are now loaded with grapes and apples and pears and plums
and peaches.  We are swimming in blueberries!   Slowly but surely, our landscaping is getting done, but in the meantime we are harvesting the fruit (literally) of our prior labors!
Here is what my poolside area looks like now.  You will notice that I did not clean it up before taking the  picture!! 
The second shot is a bit closer view of the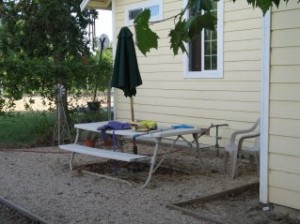 same area.
Since money to create a poolside retreat is definitely an issue, I will need to pull something together with little or no out of pocket expense.  Time to get creative!  Time to have fun!  What do I already have that I can use in the backyard?  Is there anything just sitting about not being used?
I took a little tour around our home, outside and in.  I peeked on the garage shelves, and even checked out the contents of our storage barn.  Even though I am determined to not spend much, if any, money, it does not mean that a sacrifice will not be required.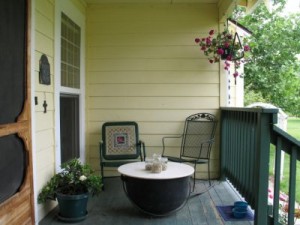 This is my front porch.  I put this together last summer, and I love it!  I had romantic visions of my husband and I sitting on the porch in the evening by candlelight, sipping a glass of wine and listening to the sounds of the night as we chatted.  Well, we did do that.  Two or three times.  These chairs, though not padded, are still very comfortable rockers.  One is quite old, and Dani painted it for me a couple of years ago.  We brought both of these home, along with a couple of metal motel chairs,  from Copper's mom's house when she passed away.  The table is actually a huge cast iron kettle that my grandmother boiled work clothes and sheets in.  My mother had a Corian (yes, I said Corian!!) top made for it several years before she died and she used it in her family room as a lamp table!
The cost of my poolside retreat will be giving up my beautiful front porch sitting area.  One day, perhaps, I will be able to set this area up on the front porch again.  For now, though, the chairs and table will be more useful to us in the backyard near the pool.
I hope to start working on this project in the next day or two.  I will have to find the time to work on it around my other homeschooling and homemaking responsibilities, so the going might be a bit slow.  I'll be sure to share the results with you!
Are you longing for an outdoor living area, yet lack the funds to make it happen?  Be creative!  What can you pull together with what you already have on hand?
God bless you as you look well to the ways of your households!
Proverbs 31:27