Frugal living is a tricky thing.  Sometimes we can be penny wise and pound foolish.  I have found this old saying to be true over the years.  Here is just one example.
When my husband and I were married, the girls on the drill team that I was directing pooled their funds and bought us a really nice ironing board as a wedding gift.  That ironing board was sturdy and held up through three moves and about 25 years of use before it finally broke.  I replaced it with a cheap ironing board from Target that lasted about two years.  I replaced that with a cheap ironing board from Wal-Mart that has lasted about two years, but is now on its last legs.  If I would have taken the $17.99 and $19.99 that I spent on the two cheap ironing boards, I could have bought another sturdy board for the same price that may have lasted for another 20+ years.  The cheap ironing boards wobble, and just feel flimsy when I'm working on them.  When my current board gives up, which will probably be soon, I'm springing for a good quality, sturdy model.
Several years ago my husband and I were visiting a local business that did a lot of factory service and recall work for various appliance manufacturers.  While we were waiting for a recalled item to be repaired, we browsed through their store.  One of their main product lines was factory reconditioned Kitchen Aid appliances.
The factory reconditioned appliances are, in fact, used.  They were purchased as new and then were returned to the manufacturer within their original warranty period.  The factory then completely reconditions the appliances and resells them with a full six month warranty on all working components.  The reconditioned appliances are sold for a fraction of the retail price, making them a wonderful buy!
At the time we visited this store, I had just completed serving as the trustee and administrator for the estate of a gentleman who had been a dear friend of my parents.  I had just collected my fees for performing this service, so we splurged a bit and purchased a reconditioned Kitchen Aid stand mixer, a food processor and  a blender.  We knew they would be put to constant use in our busy kitchen and that we'd know well within the six month warranty period if there were going to be any problems.
All three appliances were purchased in 2000.  The mixer and food processor are still running and working very well.  I have had absolutely no problems with either of these appliances.  The blender, likewise, served us well, but did give out on us a few weeks ago.  However, I had been so pleased with the blender, I knew I wanted to replace it with another Kitchen Aid.  A new Kitchen Aid blender, identical to the one that wore out, retails for 129.99.  I have seen them for sale in stores in my area priced from $99.99 – $119.99.  Costco and Amazon.com both sell the blender for $79.99.
However, Amazon.com also carries some of Kitchen Aid's factory reconditioned appliances.  I was able to by a new-to-me factory reconditioned blender
from Amazon for $39.99.  That's less than one-third of retail, and just half of the already deeply discounted price offered through Costco and Amazon.com.  The blender also qualified for free shipping from Amazon.
Our new blender arrived today, and the appearance of it is brand new.  It even had that new appliance smell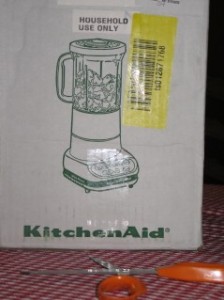 about it!  At first we thought that it was not running quite right, but on closer inspection I discovered that Dani's smoothies were just very, very thick and just needed a bit more liquid added.
I would definitely recommend Kitchen Aid's factory reconditioned appliances.  Frugal living means a lot of cooking and food preparation from scratch.  Having good quality appliances, in my opinion, actually saves money in the long run because they out perform and out last their less expensive counterparts.  (Remember my ironing board example!) I will gladly replace my other Kitchen Aid appliances with reconditioned models if and when they ever wear out.
God bless you as you look well to the ways of your household!
Proverbs 31:27