I finished up the apron I've been working on this morning.  I took a picture of Dani wearing it for those of you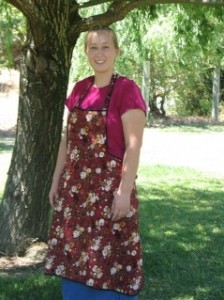 who asked to see it.  It is a belated birthday gift for a dear friend, but I gave her a sneak peek of t it last Sunday so I'm not ruining the surprise with this picture.  I fell in love with this fabric when I saw it.  I thought right away of her beautiful Victorian home, the huge kitchen with it's rich taupe walls, and her lovely dining room with it's fantastic black furnishings.
William and I headed to town this afternoon for our eye exams.  No surprises, really.  Will's eyesight is wonderful, almost 20/15!  My eyes look very healthy; but my vision has changed, which makes new glasses necessary.  Like I said, no surprises.  I've known for several months that I would need new specs.  It was just a matter of waiting for the two year interval since I got my last glasses in order for my husband's medical insurance to help pay for them.  My exam was today, but I have to wait until the 25th for the two years to be up so that I can order the new ones.  I'm so thankful for my husband's job and the fact that his health plan does give us a little bit towards our eyeglasses.
The eye clinic was running almost an hour behind today, so Will and I really had to hustle to get our in town errands done so that we could be home in time for dinner.  Gasoline prices in our part of the country continue to inch downward.  At least they're headed in the right direction!  It wasn't qutie so painful filling up the gas tank today as it was a few weeks ago.
I've almost finished the second cotton wash cloth.  I worked a second one in the basket weave pattern; and I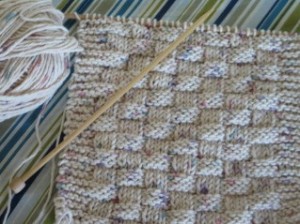 was right, it does look better in a more solid color yarn.  I am hoping to get a stack of these made up to use in my kitchen for dish washing.  My dish sponge is brand new, so I have a bit of time to get a nice stack made up before it wears out!  Small knitting projects are just the thing to take along to a doctor's appointment or while riding in the car.  They can slip easily in and out of a purse, and make the waiting time productive.  With the optometrist running so far behind, I worked about a dozen rows while Will and I waited to be seen.  I'll be able to finish this wash cloth up this evening.
I picked Dani's thread up while we were in town , too.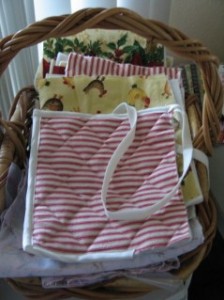 Saturdays are busy days around here, but I'm hoping that she might be able to find the time to do a bit of stitching on her skirt tomorrow.  Next up on my sewing agenda is to finish the stack of potholders that has been languishing in a basket for far too long!
Dani and I need to work out a system for putting one another's things aside when we have the chance to sit down and sew.  Ideally, we would each simply put our own things aside as we finish each sewing session, but that's not always practical.  If I get up to tend to one of my children, I may intend to return to the machine and just never make it back.  Dani could have a similar situation.   I have several wayward projects on the table in the sewing nook.  I think that I will take some time tomorrow to find a new place for those projects to wait their turn for completion.  Dani and I would then be able to each use one side of that little table for our current sewing projects.  Sounds like a plan!
My family is having way too much fun the living room without me.  I'm off to join them!
God bless you as you look well to the ways of your household!
Proverbs 31:27