It struck me today how much of homemaking is made up of teeny, tiny tasks repeated over and over again each and every day.  Straightening the throw rug just inside the front door, as well as those at the bottom of the garage steps.  Neatly re-hanging the kitchen hand towel, as well as the dish drying towel.  Wiping crumbs and spills from the counters.  Picking up little things from the floor that have been tracked in from outside.  There are two ways of looking at those types of tasks.  They can be a source of irritation to you, or they can be a source of joy.  Joy in keeping your home tidy.  Joy in looking over your home and appreciating the beauty of things nicely kept.  Joy in serving the Lord by serving your family.
I have, in years past, looked at these things with a critical spirit. Irritated that the hand towel or dish towel were just sort of crammed back onto the towel hanger all bunched up.  Aggravated that the children didn't wipe up the crumbs after fixing themselves a sandwich.  Annoyed that the drips from pouring a glass of juice or iced tea weren't wiped up when they happened.  Bugged that shoes weren't thoroughly wiped clean at the door before coming in.  All that irritation in my heart and directed at my family robbed not only me, but also them, of joy.  And what was I saying to my family about what I considered the most important?
I'm not perfect.  I'm afraid my sinful nature still tends to cause me to lean towards irritation.  However, I am choosing joy.  It is a choice, and you do have control over it.  I can do all things through Christ who strengthens me, even tending to the same thing over and over again throughout the day with a cheerful heart!  Will you choose joy today?
Aaron's math was a source of amusement for me today.  No, not the actual math lesson, but how we handled getting it done.  Copper has always taken care of math instruction in our home from about the pre-algebra level on up.  I am capable of teaching higher math, but it just works better for Dad to take over the math instruction at a certain point with each of our children.  A problem arises, though, when help is needed during a day that Dad is at work.  Like today.  Aaron started working on his lesson, but could not finish.  He needed help from Dad.
My husband calls home at least once during the day to check in with his family.  When he called today, I let him know that Aaron was stuck and would need help with his math after he came home tonight.  Here's what my husband said for us to do…..FAX the lesson that Aaron needed help with to his office!  My husband's job assignment is one of those situations where he works like a crazy man for hours, and then it can be dead for long stretches of time.  He was able to look over the math lesson during one of those dead times today, and then call home and help Aaron over the phone.  Voila!  It was a great solution, but it did cause me to giggle all day.  I feel so high tech!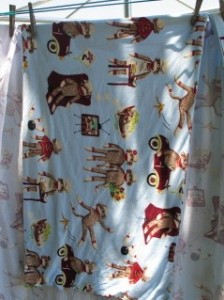 Dani is house sitting for our good friend and neighbor Kay this week.  She feeds the cat, tends to the mail and  keeps all of Kay's lovely gardens watered and happy.  Kay always leaves the most wonderful gifts behind for Dani to discover, and always a lovely hand-written note.  This time Kay left Dani a Target gift card, among other things.  Dani went to town to run some personal errands yesterday and found a great set of sheets on clearance at Target that only used up half of her gift card.  My Dani has the most wonderful style – it's quite unique to her and suits her perfectly. Just a touch of whimsy and just the right quirk factor!  The jersey sock monkey sheets are just so….so…..Dani!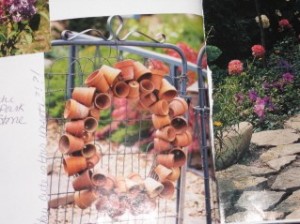 My girlie-girl also picked up a few things from Jo-Ann's for me while  she was in town –  four dozen little terra cotta pots and an 18' grapevine wreath.  I saw this picture of an amazing wreath made with the little pots in a magazine recently; and I thought it would be just the thing to hang on the gate just inside my "poolside retreat".
I made quick work of the scheduled monthly and longer term tasks in the parlor, front hall and entry way this afternoon.  I still have several of those types of jobs to do on my front porch, but the front porch was in the full HOT sun this afternoon.  I'll head out and take care of that tomorrow morning while the sun is on the other side of the house.
Scheduling tasks like straightening closets, etc., really pays off in the long run.  If you remember back awhile, I needed to spend the better part of an afternoon cleaning out my linen closet.  Because I have tended to that closet once a month since that day, it only took me a minute or two to straighten it back up today.  In fact, all I needed to do was re-fold a couple of afghans.  I also put a small jar of rose potpourri on a shelf and added a bit of refresher oil to it.  Now the linen closet will not only look good, but smell good, too!
After tending to all of the other tasks on my list (lots of baseboard cleaning, dusting of door sills and tops,  changing out throw rugs, vacuuming upholstery, etc.), I found myself with a bit of extra time and decided to change things up a bit in my parlor.  Oh, one of these days I'll be able to really fix this small front parlor up just so, but for now I enjoy changing things about in there from time to time.  Here are a couple of before shots.  You can see Dani busily doing some deep cleaning in the kitchen in one of them!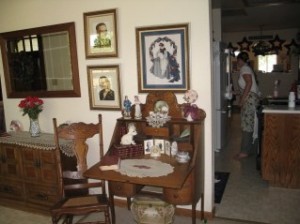 The coffee table, which has a battered finish, has been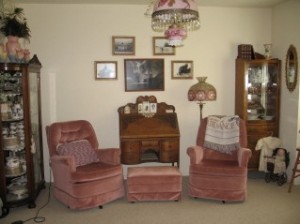 carried out to our storage until I find a new use for it.  I moved my mom's antique ladies' writing desk over between my two upholstered chairs, and pulled the ottoman up to it to use as a seat while I'm writing at my desk.  The ottoman can very easily be pulled over in front of one of the rockers if I want to put my feet up and read in there. I love using this writing desk to send out little notes and cards to folks, and I have the drawers and inside nooks filled with stationery, thank you notes, pens and an old Bible for just that purpose.
I moved the small round table over to where the desk was, and played around placing different little things on
top until I found an arrangement that pleased me.  It didn't take too long!  This little sitting area is located just in front of our Grandma Bettie Wall of Fame.  Do any of you subscribe to An Encouraging Word magazine?  My copy of the current issue has not arrived yet, but I've been told by folks who have seen it that the article I linked above is in the current issue.
The tiny little tea set was given to me a few years back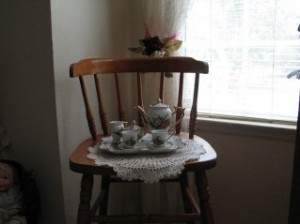 when Corin was expecting her third child.  Grandma Meg was just sure that after two boys, baby number three would be a girl.  She was right!!  Now that I have two granddaughters, it was time to put the miniature tea set down where it could be enjoyed.  I put a doily on the little maple toddler chair she uses when she eats here, and then set out the tea set on that.  I think it looks charming.
"Kozimom" asked yesterday how I use my vacuum to do my routine household dusting.  I had Dani take a few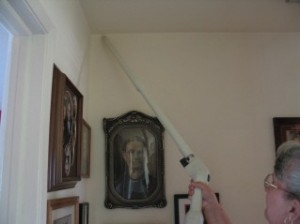 pictures today so that I can show you.  It's very simple, really, you just need to take advantage of those wonderful attachments that came with your vacuum.  Don't let those tools languish unused and unloved in a closet somewhere!  Get them out and let them serve you!
The extension pole is perfect for reaching the cobwebs up high and in the corners.
I use my round soft bristle brush on the extension pole to reach picture frames, door sills and door tops up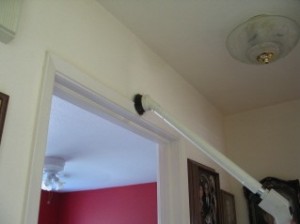 high, and to reach baseboards down low to dust them.
The same round brush without an extension pole is perfect for dusting table tops, lamp shades and knick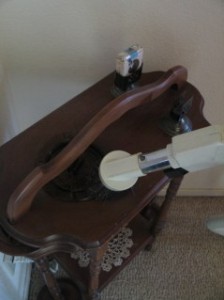 knacks.  The suction of the vacuum pulls the dust out of the little crevices of picture frames and other little pretties around your house where a feather duster or cloth would leave the dust behind.  It does take just a bit longer to dust, for example, a table this way; but the dust isn't just moved from the table into the air.  It's removed entirely! Get those vacuum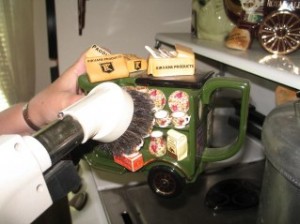 attachments out and put them to work for you!
I had about a half an hour before I started dinner this evening to work on my terra cotta pot wreath.  I had it about 1/4 of the way done by the time I needed to start dinner.  While the spaghetti sauce simmered on the stove top and the garlic bread warmed in the roaster oven in the garage, I kept working.  I put the water for the pasta on and then worked on the wreath some more until the water came to a boil.  By the time I put the pasta in to cook, I was almost done.
Dani came to my rescue and served up plates for the boys and herself while I secured the last piece of wire and then took the wreath outside to hang on the gate.  It is very heavy, so I secured it to the top support of the gate in two different places, and also wired it to the gate on each side.  I am actually quite pleased with it!  The grapevine wreath was on sale for just $1.99 and all of the little pots were 50% off.  The whole thing was done for under $12!
We started off very hot this morning, but by mid-afternoon a nice breeze was blowing in.  As the afternoon
progressed, we could feel that the breeze was bringing more and more cool air into our valley with it.  I think we might have hit 100° early in the afternoon, but we were able to open the house up right after dinner tonight.  Oh, that lovely fresh air and wonderful breeze are so refreshing after the last few very hot days!!  I think I might light my candles and lights and sit out in my little backyard retreat this evening enjoying the cool of the evening. Sounds good!
God bless you as you look well to the ways of  your households!
Proverbs 31:27