We had a wonderful Sunday.  For the second Sunday in a row our van refused to start for us; but my husband just rolled the van out of the garage onto the driveway (with all of us seated comfortably inside) and used the jumper cables from his car to get us started and on our way.  We were a few minutes late, but most of us were settled before the service started.
After worship and our weekly fellowship lunch, we enjoyed the hour drive home.  Our friends joined us for supper later on, but we had the privilege of bringing one of their boys home with us.  About half way home I wondered why it was so quiet in the very back seat, and I pulled down the mirror on the sun visor to see what the two little boys were up to.  They were sharing a set of headphones and listening to a Jonathan Park
CD!!  They were awfully cute – the two boys sitting shoulder to shoulder, heads leaned toward one another, with the head set stretched out to cover both heads!
We surely enjoyed our friends company for the evening, and talked and talked and talked.  The children enjoyed the pool for a bit before dinner, the girls first, followed by the boys; and the boys played hard outside after dinner and until well after 9:00!  I enjoyed their visit very much!
Today has been a different sort of Monday for me.  I've not felt well all day.  Not really sick, but not feeling well either.  I know that I'll be fine tomorrow.  Not feeling well left me with a couple of choices on how to spend the day.  I chose to handle the necessary things – meals, laundry, and only the absolutely necessary watering outside.  Rather than answer the oh so appealing call of my bed to lie down for a bit this afternoon, I decided to head to my little poolside retreat to read for a spell.  There was a lovely breeze blowing today, and I was able to look up and see my laundry softly blowing in the breeze.  The big wind chimes by the back fence were ringing merrily.  It wasn't long before Dani and Aaron landed in the pool, and I was able to enjoy watching them swim for a bit.  In fact, though Will was still in the house tending to his math (he had a tough morning!), I couldn't resist popping my head in and "ordering" him to suit up and head for the pool, too!!
There would have been nothing wrong with napping today, of course; but I'm glad that I didn't.  I rested quite comfortably outside while the children swam.  I enjoyed the breeze. I read a few chapters in Home Comforts
and skimmed a few more.  I read two full chapters in Idols of the Heart: Learning to Long for God Alone
,  I chose a couple of other books off the shelf and took those outside to skim and to think about adding them to my reading basket.  It really was an enjoyable time, and though I still felt puny, the time spent resting out in the cool, fresh air was wonderful.
Towards evening my wonderful husband suggested that we all jump into the van and head to town for a "cheap" dinner.  We headed to the small town just south of us.  Though the budget is often tight, I do so appreciate his generosity of a meal out when I really don't feel well.
The laundry was finally brought in from the line, folded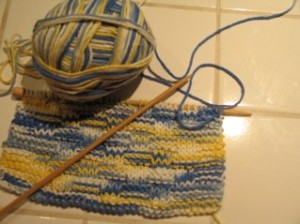 and put away towards evening.  For the first time in  awhile, I did not iron the things that had been laundered today.  That's okay – they'll patiently wait until tomorrow.
I'm planning on a quiet, early evening.  I'll work a bit on my basketweave washcloth, I think.  My husband is hoping to start watching Oliver Twist
this evening, and I'm happy for a knitting project that I can work on while watching a movie.  I'm looking forward to a good night's rest and, Lord willing, waking in the morning feeling more my old self.
God bless you as you look well to the ways of your households!
Proverbs 31:27