Our Saturdays are very full here.  I like them that way, though.  Staying busy all day and enjoying the fruits of our labors as things are finished makes for a pleasant day.  Aaron does all of the mowing on Saturdays, and it's such a treat to hang clothes on the line while standing on the freshly mown lawn.  I love seeing the clothes line on Saturdays completely full with four or five loads of laundry hung out.  The clothesline is used most every day, but only Saturday finds it completely full.  The large grassy area out front and in our side yard just look so nice and neat when he's finished mowing out there, too.
I had three different concoctions to mix up in my kitchen today.  I made up my first batch of lavender linen and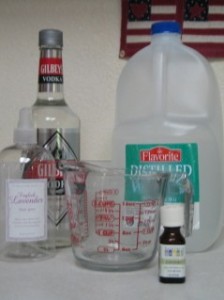 ironing spray this morning.  Keep in mind that I mentioned yesterday how badly I need new glasses.  I totally misread the directions for making the spray on line the other day, and I'm totally blaming the old glasses!!
I read the instructions as using equal amounts of distilled water and alcohol!  Yikes, it was supposed to be 3 cups of distilled water to 3 ounces of alcohol!  Fortunately, my error was easily corrected by just adding more water and then more essential oil to fragrance the larger batch!!  I used the recipe from Brocante Home, and it turned out wonderfully (once I followed the directions correctly).  I made a bit more than a double batch.  I poured part into a bottle with a fine mister on it for spraying our linens when I make up the beds, and the rest into a bottle with a regular mist for ironing purposes.  Besides spraying our linens as they went back onto the beds, I used the spray on the liners of our empty hampers, and Dani sprayed a bit about her room (spritizing her bed, the carpet, etc.) to fragrance her room a bit.  The scent is very light, yet is just enough to make our home smell fresh and wonderful.
I also remembered the other day that we have a can of an instant mocha mix on the pantry shelf.  Dani and I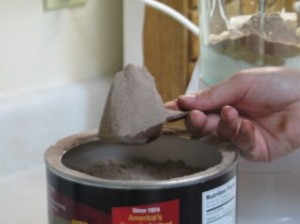 really do love our Starbuck's frappuccinos, but they are soooo pricey and we don't have one close enough for a splurge even if we wanted to splurge.  I suggested the other day that she and I should indulge at home on Saturdays and make the instant ones up.  She made up a big batch in the blender at noon, and we had our wonderful homemade frappuccinos for lunch.  I remembered that when I made them up before that the directions on the can were not quite as rich as I would have liked.  The directions say to measure "heaping tablespoons", but we decided that "heaping" was in the eye of the beholder!  Adding just a bit extra of the mix makes all the difference in the world. Oh! They were so good!  This will definitely be our Saturday "lunch" from now on!
I do not have a green thumb, but I have had some really good success with my houseplants by using the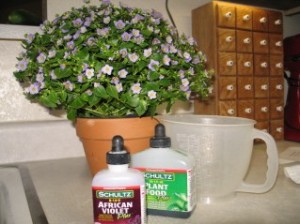 Schultz's plant food every time I water.  I use the Schultz All Purpose
for the normal houseplants, and the African Violet formula for my violets.  The directions for using with every watering call for just eight drops of fertilizer per quart of water.  I never need to worry about remembering when I last fertilized this way, because a highly diluted amount is applied with each watering.  One less thing to keep track of!  I mix mine up, batch by batch,  in a small quart pitcher on Tuesdays and Saturdays so that it's easy to pour without spilling when I water my plants.
When I was cleaning out one of the cabinets in my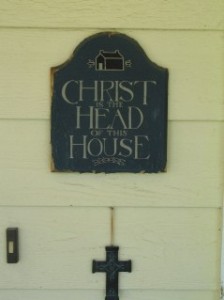 bedroom this week day, I found a pretty little welcome sign that my sister-in-law gave me as a gift awhile back.  It is a lovely shade of green, with a cute little cherub amongst some flowers bidding everyone "Welcome".  I remebered that the wonderful sign that we've had hanging by our front door for many years was looking very shabby.  I took the old sign down, scrubbed the wall and the cross that hung below the sign, and then re-hung the cross and the new sign!  The front door area looks so much nicer now.
I straightened up the little side table in the sewing nook today.   I cleared it off, put everything we weren't using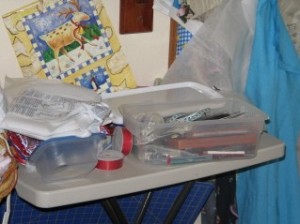 just now away, and then scrubbed it clean.  Dani's skirt project  is now on one side of the table,  and my basket of potholders on the other.  I worked a bit longer and cleaned out my little handwork project basket, too.  It still had the remnants of some completed knitting and embroidery projects.  It took awhile, but I put away the partial skeins of yarn, the bobbins of embroidery floss, knitting needles etc.  There are only three projects left in my handwork basket – the yarn and instructions for the wash cloths I'm knitting, a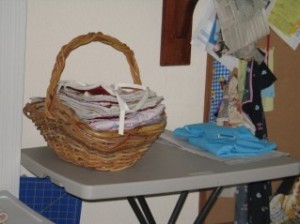 long term counted cross stitch project, and another of my knitted lavender sachet bags.  Things look much nicer over there now, and Dani and I will be able to keep our projects neat and in order even though we are sharing the sewing machine.
Dani was able to start work on her skirt today.  She's doing very well and I'm so proud of her.  She's an expert at crochet, but sewing is a relatively new skill.  The skirt pattern called for some top stitching on either side of the center front seam, and she did a lovely job of keeping her stitching line straight.
We've just a couple more weeks left before our new batch of hens can be taken off the starter feed and put on
the laying hen feed.  It's a good thing because they are a bit cramped in our smaller coop and small yard.   We only have nine of our older hens left.  We replace our hens every three years, and over the course of the last three years we've lost quite a few to predators.  We still are blessed with two or three eggs a day from the older hens.  I found these two eggs, one brown and one blue, in a nesting box today.  It's one of Will's Saturday jobs to put fresh cut grass in the boxes for the girls, and this simple task really does help keep the eggs clean.
A few of our older hens.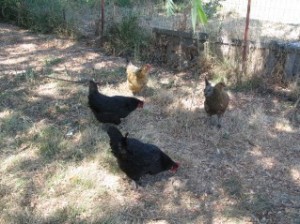 Some of the new girls.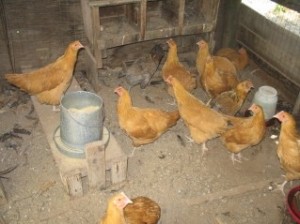 I am so amazed at how well my Dahlias have been doing!  I was sure that it would take all of this summer and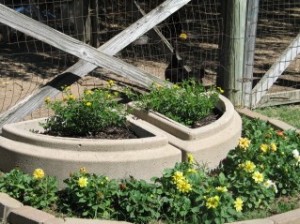 part of next before they would completely fill in the area where I planted them, but they have already filled in quite nicely.  I think that they must be happy where they are.  They have been growing like crazy and blooming non-stop since I planted them.  The lantana has just begun blooming, but both are absolutely covered in buds!  What a riot of yellow there will be out there soon!  (Here's a before picture if you want to see the difference.)
All of our Sunday preparations have been made.  The food for our fellowship lunch at church is made, wrapped up and ready to go.  The church basket is packed with everything ready to go, save for our Bibles.  Everyone's church clothes are hung and ready for morning.  I do need to pack a set of play clothes for William yet this evening, and I will set my knitting by the back door before bed so that I will have that for the drive to and from church. Have a blessed Lord's day tomorrow!
God bless you as you look well to the ways of your household!
Proverbs 31:27