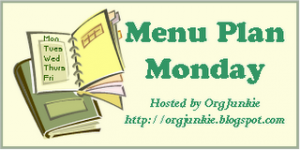 Boy, did I miss having my menu plan done last week!  We function okay without it.  It's not like we missed any meals!
My days are just very, very full, and having the meals for the week already planned is just such a wonderful tool to have in my hand.  It gives me more time to think about and plan and do other things.  Time that I would have otherwise spent figuring out dinner each evening, or standing in front of the freezer in the morning wondering what to thaw out for dinner.  It saves us money because we are using what we have in  the freezer, fridge and pantry before it spoils or is otherwise rendered useless.  It eliminates those panic trips to the store for some needed ingredient.  It also helps me to remember to incorporate the goodies from our garden now that it is beginning to produce nicely.
I was so thankful on Sunday afternoon to spend a few quiet moments with my notebook planning out this week's menus.  My husband will be home for all of his meals with us on Monday, Tuesday and then again on Sunday; and my menu planning always takes that into account.  It only took another 10 minutes, or so, to use my trusty old Print Shop
program to print up a pretty menu to post on the fridge for my family.  Honestly, my boys love checking it out and looking forward to favorite dishes; and I love seeing it there, too!  Knowing that the meals for the entire week are already planned makes me smile!
As always, any recipe marked with an * means that the recipe for that item will be posted later this week, most often late in the day that it is prepared.
Be sure to click the Menu Plan Monday banner above to see all of the many, many other menu plans for the week that are linked at the I'm an Organizing Junkie site!
MONDAY
Breakfast – Dad's Waffles (I love that man!!)
Lunch – Panini, green salad (with cucumbers from the garden)
Dinner – Pan Fried Trout, fried potatoes, fresh garden zucchini (with melted butter, garlic salt, and grated parmesan)
TUESDAY
Breakfast – cold cereal
Lunch – Meat sandwiches, chips
Dinner – Meat loaf, *scalloped potatoes (just like Mom made), steamed broccoli
WEDNESDAY
Breakfast – turkey bacon and eggs
Lunch – PBJ Sandwiches green salad
Dinner – Wraps, chips and *caramel corn (taken as a picnic supper to a park in the near by city while we wait for the big fireworks show that evening)
THURSDAY
Breakfast – French Toast ala Jodi
Lunch – hot dogs, macaroni & cheese, sliced garden cucumbers with Ranch dip
Dinner – grilled pork chops, basmati rice, steamed zucchini (with butter, sea salt and fresh ground pepper)
FRIDAY
Breakfast – Pancakes
Lunch – Double Decker Cheese Sandwiches, chips
Dinner – Spaghetti, green salad, garlic bread
SATURDAY
Breakfast – Scottish Oatmeal
Lunch – Cheese Quesadillas, veggies and dip
Dinner – Cheese burgers, green salad
SUNDAY
Breakfast – Orange Coffee Cake
Lunch – Fellowship Lunch at church, we'll take baked chicken thighs, fruit and Melt-in-Your-Mouth Cookies
Dinner – Wild Dinner!  Every man for himself – left overs, popcorn, whatever!