We had a very full, very busy day today.  Saturdays are full of outside chores for the boys, lots of laundry for me, baking and cooking for Dani and I for our Sunday meal(s),  and many household tasks.   I fell behind a bit on all the watering and irrigating this week, so that had to be caught up today, too.
Busy, full days are always good days though!  Now that it's evening I can look around me and see that everything in the house is clean and tidy and ready for a restful Sunday.   The only dirty clothing in our laundry hampers are the things we wore today.  Church clothes are hung out ready to go in the morning.  The beds have clean, line dried linens on them.  The bathrooms are clean, and fresh towels have been hung.  The floors are clean and the carpets freshly vacuumed.  All of today's laundry has either been folded and put away, or ironed and hung up.
There is a crock pot in the fridge filled with already baked chicken thighs ready to take to church to be heated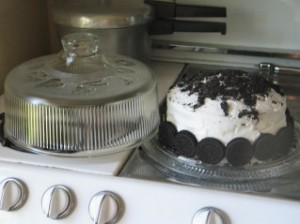 for the potluck lunch tomorrow.  A big bowl is ready to fill with fruit in the morning to take as well.  Dani has a beautiful platter of cookies covered with plastic, all ready to pack in the car in the morning.  My fridge is filled with green salad and lots of fresh fruit to cut up to share with our evening meal guests tomorrow.  The Cookies and Cream cake for our evening dessert has been finished and placed in a beautiful, vintage covered cake plate that once belonged to my mother-in-love.  Our kitchen table has moved to the school room, the leaves have been added, and the table set for fourteen.
While I worked today, I found so many things that made me smile!  Unexpected things.  Simple things that are simple pleasures.  Even some silly things!  I took pictures of some of the many, many things that made me smile today.  I hope the pictures give you a few smiles as well.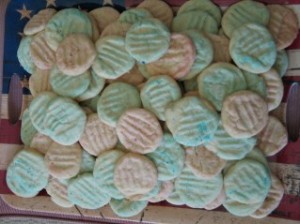 Dani's normal Saturday baking includes making a huge platter of cookies to take for our church fellowship lunch.  I get a kick out of the kids all waiting to see what sort of cookies Dani has brought this week!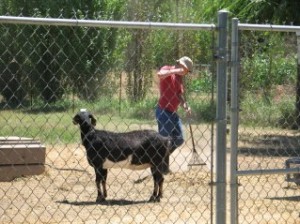 Aaron is raking up the goat yard.  This made me smile because he was wearing his hat to protect his face and ears from the sun WITHOUT my reminding him to put it on!!!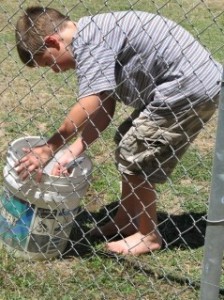 Will, with a toilet brush, scrubbing the sheep's water buckets.  He was quite serious about his scrubbing!  That boy is out there with no shoes on.  In the mud and the everthing else that is in the sheep yard.  No shoes.  And yes, that does make me smile!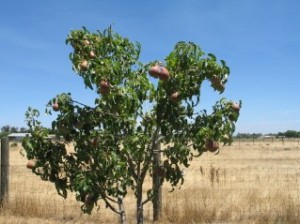 One of our pear trees.  This one is just loaded with pears!!!  I believe these are D'Anjou pears.  The Lord is preparing quite a harvest for us this year!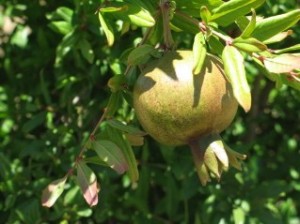 We have several really large pomegranates this year.  I'm smiling because this bush has produced about a million flowers over the years, but never any fruit!  What a joy to see these beauties out there today!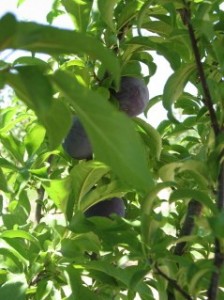 Last time I checked, all of our plums were still green.  I was thrilled today to find they are all ripe and ready to pick.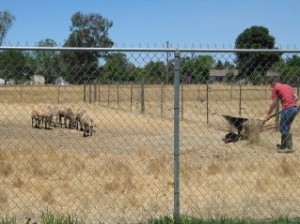 Aaron was raking up the sheep yard while I was hanging clothes on the line.  I looked up and laughed right out loud.  All nine sheep came in from their big pasture in the background and stood there and watched that boy scoop up their manure.  They just stood and watched!  What were they thinking?  (You'll notice the hat is gone – not smiling over that.)
All that manure raked out of the goat and sheep yards is being deposited into our newest compost pile.  The old pile is huge and we're just letting it cook until next spring.  My husband had the boys start a new pile a few weeks ago.  I smiled today as they were dutifully emptying the lawn mower bag and several wheelbarrow loads of manure into the pile.  If you garden, you understand how a compost pile can bring a smile!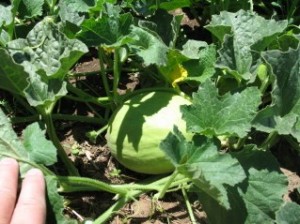 Last year's compost is growing some pretty melons!  We have several honey dew and cantaloupe coming on and growing nicely.  The thought of sweet melons from the garden…..Mmmmmmmm!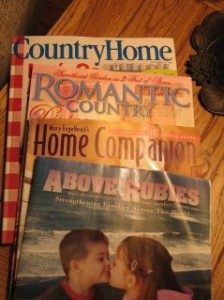 Four new magazines (some gifted, some purchased) ready and waiting for that first opportunity to sit down and enjoy!
Thompson seedless grapes growing in huge bunches.  These are still a bit tart, but oh, we will have so many of them!!!  I'm excited that we'll be able to share some this year.  The red flame grapes are oh, so juicy and sweet and they are definitely table ready!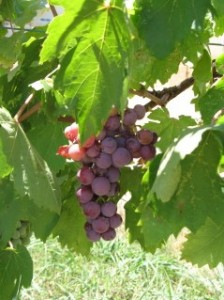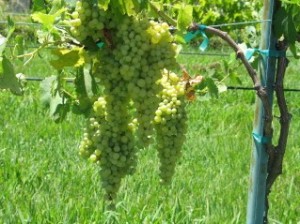 This boy!  He never fails to make me smile.  Will is wearing green and tan camouflage shorts, and a gray, orange and white striped shirt.  And it works for him!!!  Okay, that was smile number one.  Check out his feet.  He's still barefoot.  He's out emptying the lawn mower bag into the compost pile, which is in stubble that he got to by walking over hot, dry dirt.  He's been all over our property with a skinned up big toe on his right foot and a broken middle toe on the same foot.  He's so funny!  What a boy!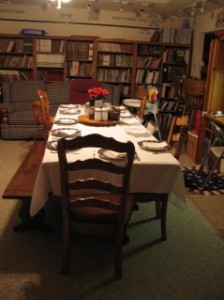 Our big table all set and ready for company tomorrow evening.  What a treat to share a Sunday evening with friends.
Oh, I'm tired, but it was a good day!  Have a wonderful Lord's day tomorrow.
God bless you as you look well to the ways of your households!
Proverbs 31:27