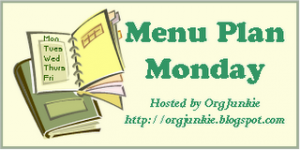 I have missed sharing our menus with you these last couple of weeks.  The weekly menu plan was something that I was doing on Sunday late in the afternoon or early evening as I relaxed at home with my family.  I have now decided that I need to plan my menus a bit sooner, Friday or Saturday, so that the menus will be done whether or not we have the opportunity to fellowship with other families on Sunday afternoons!  Homemaking is always an evolving process of adapting and making do with what you have – be it time or resources or both!!  This is such a fun job!
As the weather continues very warm, and even hot, here; we will use the roaster oven
in the garage as often as possible, and even the barbecue, rather than heating up the house with the range oven.  I know it looks like pizza overload on our menu this week, but the BBQ Chicken Pizza and the Taco Pizza are really quite different from one another.  Having taco pizza for dinner and sausage patties for breakfast the same week, allows me to buy the 2 pound chub of Jimmy Dean sausage which is quite frequently priced really low at my normal grocery.  Items with an "*" will have their recipes posted late in the day that they are prepared (Lord willing).
If you are looking for some new menu ideas, or some great family-tested recipes to try, be sure to click the Menu Plan Monday button at the top to find plenty of both!
MONDAY
Breakfast – Dad's Waffles
Lunch – Nachos (ground beef, cheese, etc.)
Dinner – Roast chicken, Chicken Rice (with basmati & Wild rice), Vegetables Normandy, green salad
TUESDAY
Breakfast – Cold Cereal
Lunch – Grilled ham & cheese sandwiches, chips
Dinner – *Mexican Short Ribs (crock pot meal), spanish rice, refried beans, salad, tortillas
WEDNESDAY
Breakfast – Sausage patties, eggs and toast
Lunch – Baked potatoes (with bacon, cheese, etc.)
Dinner – *BBQ Chicken Pizza, green salad
THURSDAY
Breakfast – Oatmeal
Lunch – Peanut Butter & Jelly Sandwiches, applesauce
Dinner – Ham steak, fried potatoes, green salad
FRIDAY
Breakfast – Pancakes
Lunch – Chef Dani's Choice
Dinner – Taco Pizza, green salad
SATURDAY
Breakfast – Cold cereal
Lunch – Left over taco pizza
Dinner – Burgers, oven fries, fresh fruit or green salad
SUNDAY
Breakfast – Blueberry Coffeecake
Lunch – Fellowship lunch at church, we'll take a couple dozen roasted chicken thighs, baked beans and oatmeal cookies
Dinner – Wild Dinner (left overs, popcorn, what have you)
God bless you as you look well to the ways of your household!
Proverbs 31:27