What a difference a day, or two, makes!  Thursday it was 107, and today our high temperature was about 87! We were able to give our air conditioner a rest today.  The temperature in the house never hit 80.  A small fan running on low speed was sufficient to keep the kitchen cool while Dani baked cookies for our fellowship lunch at church tomorrow.  We were supposed to have Melt-in-Your-Mouth cookies, and I fully intended to post the recipe for you.  However, we did not have enough powdered sugar to make them, so that recipe will have to wait.  The cookies she made instead are from an absolutely delicious cookie recipe from the back of the Craisin bag.  They are a wonderful oatmeal, white chocolate chip, dried cranberry cookie.  Moist, nice texture, and absolutely yummy!
I worked quite a bit on the front porch this morning.  I folded all of the bunting and bows and stored them away for next year's patriotic holidays, carefully shaking the loose dirt off and gently brushing them clean.  The patriotic door wreath was likewise put away until next year.
Then I tended to the monthly and longer term tasks for the front porch.  I swept the front porch and steps off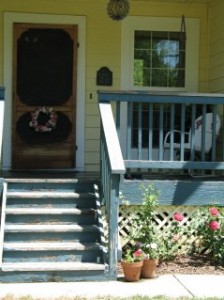 and then used the spray nozzle on the hose to rinse it all down.  Next, I sprinkled a bit of laundry soap and some Oxi-Clean on the front porch and went to work with my broom.  I swept and brushed with the grain, against the grain, and then with the grain again.  I also used some soap and a good scrub brush to wash down the screen door.  I finished by spraying everything down with the spray nozzle again. The paint may be peeling on our front porch, but it is clean!
I had an old placemat sent out from the house, and I put the cat's food and water bowls on that.  It looks sweet to have her dishes on the mat, but that wasn't my primary purpose.  The cat's food had left greasy stains on my painted porch that I had to work and work to scrub off.  The placemat, you see, is combining beauty and function!
My pretty pink rose wreath that I was going to re-hang on the front screen looked pretty sad.  It had a large bald spot on it.  I guess it has lost a few of its pretty flowers over the years.  I didn't make the wreath, so I wasn't sure how it had been put together.  I turned it over and found out that all of the flowers were attached to the wreath form with twisty ties.  I sat down in the shade on my nice, clean porch and took all the twisty ties and flowers off, and then redistributed the flowers fairly evenly all the way around and tied them back on.  The pink rose wreath was rescued, and it is back on the front screen door!
I trimmed the philodendron that is on the front porch and pushed it back into a corner.  I brought one of the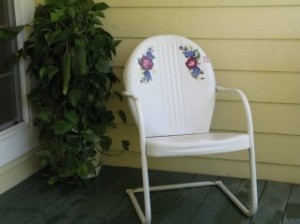 motel chairs that Dani painted for me a few years ago up onto the porch and situated it near the plant.  I think that the plant, which used to be next to the front door, and the chair off to the side make the porch seem a bit more welcoming.  I'll have to keep my eyes peeled for something small to use as a little side table next to this chair.
The other side of the porch has a lovely garden bench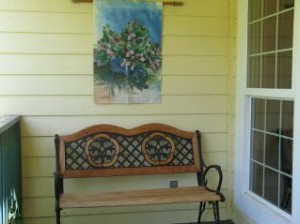 situated under our seasonal banner.  I took down the American eagle banner this morning and hung the floral one in its place . I've been thinking all day about that bench, and what I might be able to do to pretty it up a bit.  That's my standard operating procedure around here.  I see something that needs a bit of a boost, but it will take awhile for me to think just what it is I'd like to do.  In the meantime, I have visited that spot several times today just to look and ponder it a bit.
I only have two potted plants at the foot of my front porch steps right now.  I usually have several, but most of the pots were moved to the back yard last month when I finished up my poolside retreat.  I do have a few empty pots so, perhaps, next payday I can put out a few more annuals (or, better yet, some potted perennials) by the porch steps.  I'd like to have a couple of nice hanging plants on the front porch as well.
It was so nice to be outside working a bit today with the cooler weather.  The long walk out to irrigate the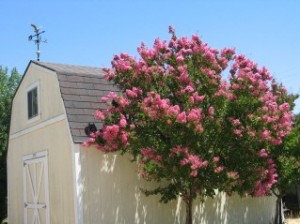 orchard seemed quite short today compared to how it felt on those very hot days earlier in the week.  I lingered a bit, here and there, admiring our garden, or the millions of apples and pears on the trees.  My crape myrtle trees by our little front barn have really begun to bloom nicely!  I love crape myrtle and this color especially.  One of my long range plans is to have several bright pink crape myrtle trees lining the side of our driveway with under plantings of Hawthorne and Agapanthus.  I can picture it in my mind's eye and it is so pretty!
The laundry, baking chicken for our fellowship lunch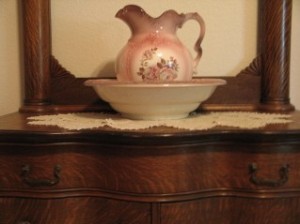 tomorrow, dishes and such had me in and out of the house all morning and into the afternoon.  Once I had finally finished everything up outside,  I came in to stay.  I hooked up the vacuum and thoroughly dusted the master bedroom and bathroom.  I brought our sheets in from the clothesline and sprayed them with lavender linen spray as I made up the bed.  I refreshed the potpourri in our room (kept in an antique pitcher and bowl set, situated on an antique washstand) with some refresher oil, too.  I love scenting my bedroom!
The breakfast bar (Mom's command central) was looking pretty trashed, so I went to work on that next.   This is here where I keep my laptop which holds all of my household schedules and lists, homeschool information, etc.  Unfortunately, it's also where anything that needs my attention gets piled!  I try to deal with this on a daily basis on the days we have school, but we've been on a bit of a break for the last week and the breakfast bar has been neglected.  I filled the wastebasket that is always right by my seat there, and stacked a few books and catalogues into a wire basket to look at next week while the boys are working on school stuff.  I searched my home for an available basket of the right size and shape for a project I'm working on, and found just the one holding old magazines under the coffee table.  Perfect!  I threw away most of the old magazines; but a few of the pretty ones, the ones I refer to as my picture books, were able to stay in that same basket.  Everything else belonged at the breakfast bar, so I neatly arranged my things and then sprayed and wiped down the whole counter.  I'm ready for business come Monday!
I pulled out all of my own ironing after dinner and ironed several things up.   I am so glad to be getting the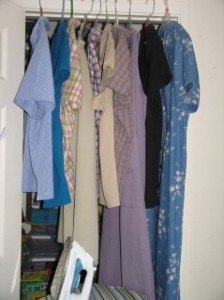 ironing caught up again.  I must admit, I felt a bit selfish ironing only my things, but it will be nice to have them all pressed and ready to wear next week.  I won't have to take the time each morning to iron something to wear that day.
I got tangled up with our cat this morning while I was cleaning the porch.  She got behind me when I didn't notice and I stepped back and fell over her.  I didn't fall down, but I certainly stumbled and bumbled about until I caught myself.  As I have slowed down for the evening, I'm beginning to feel the twist in my back and the turning of my foot that resulted.  Both are feeling a bit sore and stiff.  Goofy cat!  She actually looked up at me as though I were the one assaulting her!  I'm glad that tomorrow is a day of rest.  It will give my foot and back a day to get back to normal before next week.
Have a lovely day of worship and rest tomorrow.
God bless you as you look well to the ways of your households!
Proverbs 31:27