My grandbabies did not come for their library day with Grandma today.  We were all so disappointed!  My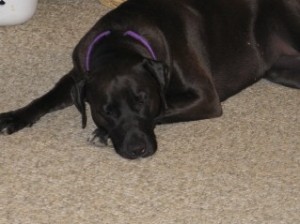 oldest grandson has an easily disturbed tummy.  Boy was it disturbed this morning!  It's really not anything to cause too much worry.  His momma was the same way when she was a little girl.  I prayed that his little tummy would settle by his nap time today, and it did.   He's known for bringing our dog, Dixie, a particular type of dog treat that look and smell like brownies.  Poor Dixie looked absolutely depressed that "the brownie boy" would not be coming to see her today.
We were so excited when the mail lady pulled into the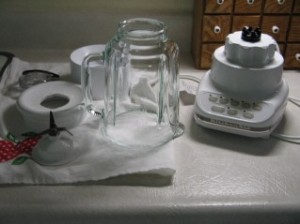 driveway and blasted her horn!  I'd love to say that she "beeped" her horn or "toodled" her horn, but nope, she blasts it when we have a package!  We knew that our new blender would be here today and that would mean smoothies for lunch.  We were supposed to have the smoothies earlier in the week, but the blender didn't arrive until today.  I quickly washed it all up so that Dani could make the smoothies for our lunch today.
With our library day cancelled, I quickly changed gears and re-planned my day.  My normal, daily tasks were done by late morning, so I checked my list of monthly, quarterly etc. tasks for my kitchen, laundry room and back hall areas (where I work a bit extra during the second week of each month), and went to work.  In just a few minutes time, I was able to clean the glass fronts of all of the photographs and pictures hanging in those areas, the mirror in the hall tree by the back door, and the glass on the outside of the hutch.  I used that same damp rag to wipe down the baseboards back there as well.
After lunch, I sprayed and wiped down all of the doors, door tops and door sills in the back hallway.  Before I ran the dishwasher with the breakfast and lunch dishes, I opened up my kitchen drawers looking for any organizers and bins that had gotten dirty.  I put all of the bins' contents (measuring spoon, spatulas, etc.) on a clean dishtowel on the counter and then put the little bins and organizers into the dishwasher.  With the drawers empty, I sprayed and wiped them all out, being careful to clean well into the corners and along the top edges of the drawers, too.  I left the drawers open a few minutes to air dry.
Remember, I do not clean every drawer and/or cabinet in my kitchen each and every month.  By working my way around my kitchen each month, I systematically clean out every cabinet or drawer quite thoroughly a couple of times a year.  I simply make a note of where I left off the last time, and begin at that point the next month.  It's not a huge job at any one time, and my kitchen drawers and cabinets still get straightened, organized and cleaned a couple of times a year.
I moved back to the laundry room and checked the cabinets back there.  The cabinet with the cleaning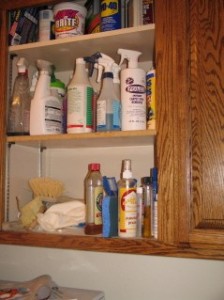 supplies was looking a little jumbled, so it was obviously time to tend to that.  Since we are in the process of paring down our chemical based cleansers and trying to move, as much as possible, toward more natural cleaning products, I anticipate that this cabinet will not be as congested in the future.  We will, of course, finish up with the products we have already purchased, but we will not be replacing them.
The first thing I noticed is that somehow I have failed to corral all of the sponges, brushes, etc. in this cabinet! Fortunately, I still had one of my favorite organizing tools available – an inexpensive, small plastic dishpan!  For less than a dollar, these handy tubs contain a variety of things in my home from light bulbs to toys, vitamins to first aid supplies, and now cleaning sponges, brushes, etc.  I label these tubs with a marks-a-lot or sharpie marker so anyone can tell at a glance what is inside without taking the tub from the shelf.  If the tub ever needs to be recycled to hold something else, a bit of nail polish remover and some elbow grease will remove the ink, and the tub can then be relabeled.
With the various cleaning brushes, sponges, etc. now in the tub, I emptied each shelf, one by one, wiping the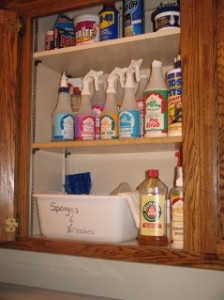 shelves and the sides of the cabinet down as I went.   I threw away three or four bottles of cleaners that we have not used for quite awhile and that only had a small amount of product left in them.  The only things I replaced on the bottom shelf are those items that we tend to grab in a hurry, like the upholstery stain treatment kit. The cleaners we use most frequently were put onto the middle shelf, with the refill bottles directly behind the spray bottles.  The top shelf holds the silver and brass polish, a can of WD 40, and two different types of drain cleaner.
I do so enjoy keeping my home!
I had everything finished up for the day, including the ironing, by about 4:00.  I was then able to treat myself to 45 minutes of sewing, and then another thirty minutes or so of quiet reading out back by the pool before heading in to start dinner.
It was such a pleasant day today.  A bit warmer than yesterday, I think, but we still enjoyed keeping the windows open all day; and sitting out by the pool in the late afternoon was especially lovely.  I have a window in my little sewing nook and I looked up from my sewing once just in time to see the most beautiful yellow butterfly pass by.  I believe it was a Swallowtail Butterfly.   I watched him flit around the Sycamore tree just outside the window for a bit, and then he flew on.  It was such a treat!
Tomorrow is our trip to town for shopping and errands.  My Dani-girl will be helping out at the Arabian horse ranch around the corner tomorrow and the next day, so it will just be the boys and I out for the better part of the day.  Shopping Fridays are always very full, and we always come home tired; but it's fun, too, for us to check in at our favorite thrift shop, and to stop in at one or two shops that we don't visit every time we shop.  I'm looking forward to it!
God bless you as you look well to the ways of your households!
Proverbs 31:27