We were a week late getting it started, but today was our first ever, weekly (Lord willing) library day at Grandma's house.  I don't know about Corin and the grandbabies, but this Grandma had a wonderful time!
I started my day off by working quickly to get as much of my day's work behind me as I could before lunch time.  I got a couple of loads of laundry done, and I hung the clothes and table linens on the line outside and popped the bath towels into the dryer.  I put a last load of my cleaning towels in to wash long and hot just before lunch time.
I did my morning kitchen routine, as well as my other morning tasks – straightening up the living room, spraying and wiping down my bathroom, mailing out a few cards, and several other little things here and there.  Aaron sweeps for us in the morning, and Dani vacuums carpets several times a week, so I don't need to do either of those tasks.  This morning I also changed the bath towels in the master bathroom.  The ironing board cover was looking a bit soiled so I took it all apart and put the cover in the washer with my first load.  The thin, foam pad was dirty, too, so I filled my bathroom sink with hot soapy water and hand washed it in there.  The ironing board cover and pad both dried on the line quickly, and I had the ironing board all put back together before noon.
The boys worked a bit on math and reading from their baskets this morning, but I know that they were both eagerly waiting for the kids to come out this afternoon.  My boys love spending time with their nephews!
Dani laid out her fabric and pinned and cut out her skirt this morning.  She didn't need my help at all, but I
checked from time to time to see how she was doing.  Her fabric is a linen/rayon blend, and it has a lovely hand. However, it will fray, so I advised her to overcast the edges of all of her pieces before starting the skirt construction.  Unfortunately, the bobbin winder gave her a bit of trouble; but after a couple of false starts, and quite a bit of wasted thread, the bobbin was finally wound.  The overcast stitches on my machine do a great job, but they do take a lot of thread.  After the bobbin mishap, and then overcasting all of her skirt pieces, both of her small spools of Gutterman thread were gone!  I will pick up a couple more spools for her tomorrow when I am in town so she can get started putting the skirt together.
My husband's Aunt Bonnie called this morning to say that she had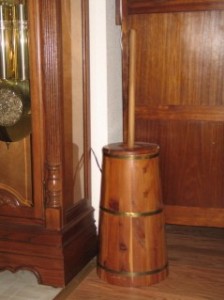 some things to bring out to me, and that she was also stopping by Corin's house.  I told her that Corin was coming out here this afternoon, so she and Uncle Tag just stopped by Corin's house and dropped off the things for us there too, since they only live two or three miles apart.  I'm bummed we missed the opportunity for a visit with them, but I'm happy they were able to save the gas that would have been necessary for them to drive all the way out to our place.  They sent out a bunch of recyclables for Aaron, some egg cartons for me, a cast iron fajita pan for Dani, and Grandma Golda's beautiful butter churn for our home.  I knew right away that it would stand in the corner between the entry way and living room, next to the Grandfather clock and beside my side board.  I am so pleased to have it!
The best thing Corin brought out today, though, was herself and the grandbabies!  I haven't seen them for a couple of weeks, and I've missed them terribly!  They all came in and we excitedly talked and visited for a few minutes while Corin nursed our newest grandbaby.
Dani had some wonderful gifts for all four children.  You must click on over to Dani's blog to see all of the wonderful and fun things that she has crocheted for her nephews and nieces in the last few weeks. They were all just thrilled with their new things, and I enjoyed seeing the three older ones enjoying their Aunt Dani's fun creations.
By and by, the little ones began bringing books to me to read.  I had, of course, picked out a couple of nice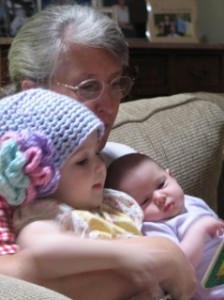 picture books to read to them; but we read their choices first.  We moved on into the schoolroom and settled onto the couch; and I read Henny Penny
and The Three Little Kittens
, both by Paul Galdone, to the three older kids, while Aunt Dani cuddled the baby and Corin browsed the book shelves for books to take home.
I resisted all temptation this morning to over plan the day.  The children enjoyed the two picture books I read to them, and they would have easily enjoyed at least one more.  Perhaps next week I'll choose three or four read alouds, instead of just two.  Corin chose some phonics resources and some short vowel/consonant books that I had on my shelf.  It was so fun to see the very first books that my boys read going home for my grandbabies to practice with.  Corin chose a few resources for herself, as well as some hands on educational materials to take home this week.  Each of the three older grandbabies chose three books from the picture books bookcase to "borrow" and take home, too.
When our little library time was over, all of the kids suited up and headed for the pool.  Corin, Dani and I
enjoyed our time poolside chatting and laughing and watching the kids in the pool.  The two littler ones wore life jackets and spent their entire pool time floating in inner tubes.  Uncle Aaron and Uncle Will enjoyed "driving" the inner tubes all over the pool with the little ones in them.  My oldest grandson was much more cautious, and spent his entire afternoon seated atop the ladder.  He looked like a life guard up there!  Aunt Dani held the napping baby through it all!
I raided my freezer and brought out ice cream bars and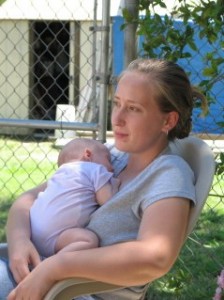 ice cream sandwiches for all of us, and then the kids all headed back to the pool for more swimming and playing.  I brought my knitting out and worked a few rows on a wash cloth until my three year old grandson missed his step coming down the pool ladder and fell.  Hard!  We didn't see any owies right away, and he was too upset to tell us where it hurt.  I scooped him up, wrapped him in a big, thick towel and cuddled him on my lap.  (I hate that he got hurt, but I loved the post-owie cuddle time!). Before too long, Corin looked over at him and noticed that he had a pretty good goose egg rising up on his forehead.  Poor little punkin' head!
I worked and worked to coax a smile from my newborn granddaughter today.  At last, I was blessed with half a smile, and it was so precious!  It is such a pleasure to hold your own children, but it is an entirely different pleasure to hold your grandchildren.  Both are delightful, both are great; just each in its own way.
All too soon, it was time for the children to get dried off and dressed and ready to leave.  Corin and Rob have just the one vehicle, so she dropped him off at work after lunch, and then had to be back in town by 5:00 to pick him up from work.  It's a bit of a drive, so she was on the road before 4:30.  Oh, today was fun for this Grandma, and I can't wait to do it again next week!
Once they left, I made a pass through the back yard to switch the pool filter back on and to collect up stray glasses, ice cream wrappers, etc.  I picked up the life jackets and put them up to dry.  When I came in I had a couple of e-mails to answer; and I finished a small section of the wash cloth I was knitting so that I could end at a place that was easy to pick back up from next time.  Then the laundry came in off the line and was folded and put away.  The towels were taken out of the dryer and likewise folded and put away; and the load of cleaning towels were put into the dryer.
I opted for a quick and easy supper tonight of smoked sausages and fried potatoes.   While the potatoes began cooking, I opened up my giant package of sausages and repacked half of them for the freezer.  The house got a little warm while we were all out by the pool today, so it was nice to have a dinner that cooked so simply in the electric frying pan and in one pot of boiling water.  Not the most nutritious meal, of course, but it filled our tummies and it was yummy.
I had just one jumper and a couple of dozen napkins to iron from today's laundry, so I filled the iron and heated it up and did that little bit just before my husband came home from work.  While the iron was hot, I used it to steam the bias tape around the curve on the apron pocket I'm working on.  Now, it's all pinned and ready to sew.  I straightened up a bit at my breakfast bar and shelved a few books that the grandbabies had looked at and finished up before my husband called us together for family worship.
The boys are in bed, and I'm ready to get cleaned up and settle in for an evening of knitting and watching a few more segments of Oliver Twist.  Oh, it was a good day, a grand day!  I am so thankful that my grandchildren live close enough to make days like today possible.
God bless you as you look well to the ways of your household!
Proverbs 31:27