Today was golden.  It really and truly was.  Despite a late start to the day (don't ask!), we worked quickly and efficiently and accomplished quite a bit before lunch time.  All three bathrooms were thoroughly cleaned, with Aaron, Dani and I each cleaning one.  My morning kitchen routine was completed.  Two big loads of laundry were washed and hung out to dry, with the third load in the washer while the children ate lunch.  Floors were vacuumed (Dani), desks were cleaned (Aaron), porches were swept (Will), and various little jobs of straightening and arranging were done here and there (me). We were working hard to finish by lunch, because Thursday is Grandma's Library Day and we were expecting Corin and the children by 1:00.
My bunch were just finishing up their lunch when Corin drove up!  There is always such excitement and a lot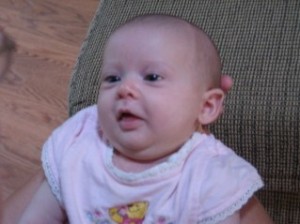 of activity in my home when they come.  My boys are so excited to see their nephews and nieces, Aunt Dani and I just can't wait for our turn at hugs and kisses from the babies, and I am always so glad to see Corin!  We let the dust settle a bit after they came in and I worked and worked to get a few beautiful smiles from my two month old granddaughter.  She was convinced she was starving, and Corin said that it was probably so.  Still, I managed a few smiles from that beautiful little girl before surrendering her to her momma.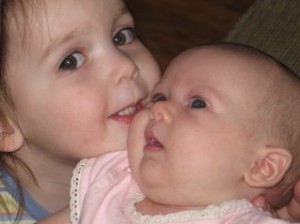 Sister love!!!
The three older grandbabies and I made our way to the schoolroom couch for our reading time.  I had chosen three books to read, but my two year old granddaughter brought me one more with the sweetest, "Grandma, you weeed dis one", that I put her choice at the top of the stack.  I sat in the middle of the couch, with a grandson on either side and a granddaughter on my lap.  By and by William joined us and took his perch lying down across the back of the couch behind me.  I love reading aloud, I always have!  It was so much fun today.  In our first book, The Strange Disappearance of Arthur Cluck
(my granddaughter's choice) we encountered an owl.  Now, apparently, despite her vast repertoire of animal noises, somehow the sound of an owl was never learned.  I quickly taught her that the owl says, "hooooo, hooooo", and she dutifully made her very sweet sounding owl sound everytime we encountered that owl from then on!! Katy No-Pocket
also features an owl, and she Hooooo, hooooo'd for us then too!
I loved watching my grandson's faces as I read.  They were oh, so sad as poor Katy No Pocket cried about having no way to carry baby Freddy.  They were very concerned when Obadiah's
brothers locked him in the closet while playing pirate and then made him walk the plank!  And we all giggled together as Michael and the other policemen stopped the Boston traffic so that Jack, Kack, Lack, Mack, Nack, Ouack, Pack and Quack
could safely cross the street behind Mrs. Mallard!  And my William!  He was nested, remember, on the back of the couch behind me, and I could feel and hear his gentle breath in my ear as I read, hearing him hold it ever so slightly when the story took us on a bit of a dangerous journey, and hearing him exhale with relief when things resolved happily.  It was wonderful!
My almost four year old grandson is a puzzle boy, and he announced that he should have three puzzles to work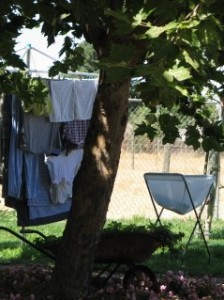 before swimming time.  Uncle William happily supplied not only three puzzles, but the exact three puzzles requested from our HUGE stack of Lauri puzzles.  While he worked his puzzles, I pulled the last load of laundry out of the washer and took it out to hang.  My oldest grandson accompanied me and held the box of clothespins for me, dutifully handing me another each time I reached down for one, talking, talking, talking away as we worked.  Why are the towels wet?  Why am I hanging them on the clothes line?  Uh-oh, Grandma, there's only one more clothespin.  Why are you taking down the apron?  Why is it dry?  Oh, now you have more clothespins!  My work went so quickly with his company!
I fixed myself a
bite of lunch (as I'd worked steadily right up to the time that Corin arrived) and everyone else  suited up for the pool.  May I just say, I truly enjoyed seeing all four of my children laughing and playing together this afternoon in the pool!!  The three older grandchildren were in the pool, as well, and they all had the best of times!  They littles love floating in the inner tubes, or even just on
their backs with the life jackets on.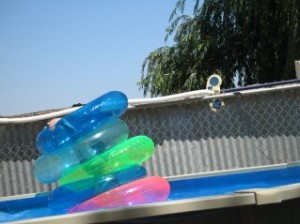 Uncle William makes like the Michelin Man!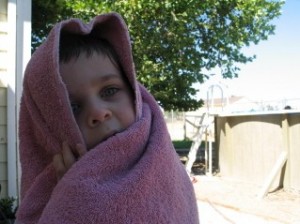 Warming up a bit wrapped in a cozy towel in between rounds of swimming!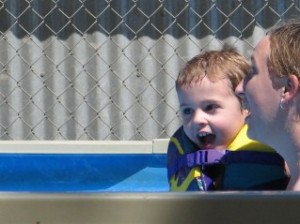 They made whirlpools (which is not so easily done in an oval pool).   They played Marco Polo (or Marco Pillow, as Will would say), and I'm not sure who laughed more, my  children and grandchildren, or me!  My heart was so full watching them all together, having such a wonderful time.
Dani and my younger grandson calling out "Polo", to Corin's "Marco"!
I sat poolside with my camera always at the ready.  My youngest granddaughter fell asleep in my arms and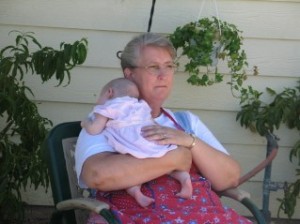 then snoozed away the afternoon hours on my lap.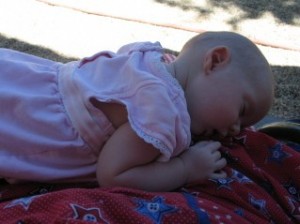 What perfect peace there is in a new baby's sleep!  I watched her perfect little hand twitch and move as she  slept, and watched her eyelids flutter as she dreamt her sweet baby dreams.  I can't imagine a more wonderful life than the one the Lord has given me!
All too quickly the afternoon hours passed.  Since baby girl was sleeping so soundly in my lap, Dani was the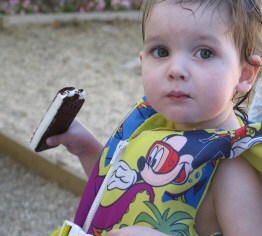 first out of the pool to bring around ice cream bars from the freezer for us to enjoy.  I love watching the little ones as the ice cream begins to melt faster than they can eat it!  No one fusses or is the least bit concerned because they are still in their swim suits and we are in the backyard.  We won't even have ants after the drips because our dog, Dixie, is happy to lick any drips and spills right up!  The children are picked up and held over the side of the pool to have their little faces and hands washed up afterwards.  No problems!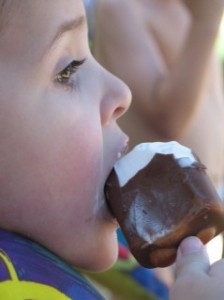 Corin loaded up her babies and headed back toward the city to pick her husband up from work.  I spent the rest of the late afternoon doing a bit of watering and chatting a bit with a friend on the phone who is just beginning her own Heritage Library for her family.   (I will be sharing more about Heritage Libraries very soon.  Several have asked me to do so, and I just need to work out the particulars and then find the time.  Soon, Lord willing.)
Dani is so close to finishing her skirt!!  She has never put in a zipper before, and the instructions for the pattern were not too good.  She found instructions she liked in one of our sewing books, but I am sorry to say that I did not make the time to encourage and oversee her the first couple of times she worked on it.  Last night, though, I watched as she put in her zipper.  Step by step.  She really did not need my help, but I think maybe it helped that I was there "just in case", and to tell her that it was going in right.  The instructions in the book had her stitch the second side of her lapped zipper application to far from the zipper, but by the time I told her how I would fix it, she'd already made the same decision for herself.  The next zipper she puts in will be easier, and the one after that easier still!   She's finishing up the waistband facings now, and then will just have the back slit and hemline to finish off.
I am so proud of her for tackling this project.  The skirt featured a front slit for the style she wanted, and the slit was far too high for our tastes.  She simply modified her pattern to have the slit in the back, and measured a couple of skirts from her closet that were similar to adjust the length of the back slit.  I'm hoping that her pattern for her top arrives over the weekend so that she can start it early next week.
My children are out playing basketball and the sun is quickly setting.  The love of my life came home from work with the beginning of a migraine headache, and he is lying on the bed, boots off, hoping to shake it before it takes hold.  I will close this and spend the last bit of daylight outside watching my children shoot hoops.
My day was so full, but they all are.  I would not trade my life for any other.  I know fully that my life, my family, my home are all from the Lord and that I am exactly where I should be – growing, loving, and living right here.  I love my beautiful home in the country, even though we cannot make paint stick to the front porch no matter what we try!
I could whine, I suppose, about my front porch needing paint yet again; but instead I do my best to keep it clean and neat and to find the charm in its peeling paint!
I remember so vividly "casting my fleece" before the Lord when we were first driving to this house nine years ago and asking Him for a front porch.  And there it was……no paint at all, and the screen door hanging off its hinges!!  I can tell you that this city girl was almost gleeful at that screen door hanging so precariously by just its top hinge!  It's almost perfect that the screen door we installed hangs just a little crooked!  You know, if you hold your head just right, it looks straight!
God bless you as you look well to the ways of your household!
Proverbs 31:27