I've been posting in the evenings here lately, and I think that I will continue that way.  For now.  It fits my household routine well.  Today, though, I just wanted to share a bit about our Fourth of July, typing as I eat my lunch.
Since my husband is a deputy sheriff, he does not get holidays off the way most folks do.  If a holiday falls on one of his normal days off (Sunday, Monday, Tuesday or every other Wednesday) then he gets it off.  If not, he has to work.  That goes for the "big" holidays like Thanksgiving and Christmas, too.  That said, and the 4th of July falling on the wrong Wednesday, my husband worked his usual 7 – 7 shift yesterday.  All that to say that most of our holiday yesterday was spent just tending to our normal household routine.  We had a lazy morning, and we did not have school, but otherwise it was just a wonderful, normal, lovely day.  Really, really hot, but lovely.
Around 4:00, with the ice chest packed, folding chairs loaded and my red wagon in the van, the kids and I headed to a large, regional park about twenty minutes away.  We enjoyed browsing through all of the commercial booths and spinning their wheels for free prizes!  My boys received a grand total of two water bottles, a yo-yo, a mini-soccer ball (which they think will be just the thing for the pool), two wrist bands and a rubber band rocket! By a little after 5:00 the 104° heat was beginning to make us feel quite uncomfortable.  We headed back to the van, unloaded everything into my red wagon and headed for the clearing that would afford the best view of the evening's fireworks.
I think the heat kept a lot of people home until late.  The crowd was very light in the early evening and we were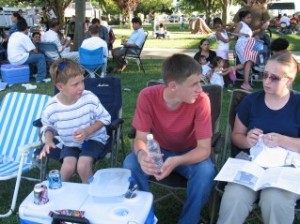 able to find a terrific spot that was already in the shade.  Oh, it was still plenty hot, but the shade made it comfortable.  The kids played cards for awhile, and I worked on my embroidery.  As time passed, a few other families filled in the shade around us.  Nice families with well-behaved, polite children.  We had a very pleasant time.  By and by we ate our picnic supper, and enjoyed some cold drinks from the ice chest.  My husband called as he was leaving work and offered to bring us all smoothies!!  We gladly placed our orders!
Will had a tremendous time playing with his prizes, and I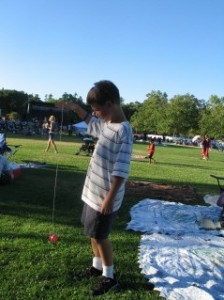 had a fabulous time watching him.  You know, I live with this boy day in and day out, so I sometimes forget that one of the hallmarks of his various "qualities" is the fact that he is a bit….well, uncoordinated.  He learned how to use his new yo-yo yesterday, and he could really keep it going for a bit; but it took his WHOLE body working, stretching, bending and moving to do it!!  It was adorable!
The rubber band rocket was a huge hit for William.  He has a lot of strength and was able to get some pretty good distance with the rocket.  As the crowds trickled in throughout the evening and began to fill in more and more around us, I suggested just shooting the rocket straight up into the air so as not to hit anyone.  Up, up, up it went and as it came down he would give his best effort at catching it.  He never did, but Oh! How he tried!!  The whole while my son had the biggest, widest, happiest smile on his face.  I'm sure that I was smiling just watching him.  He had the best time.
Oh, I did notice the little boys two and even three years younger than him, launching and catching their rockets without difficulty.  You know what?  Not a one of them was having as much fun as my guy!  He had a blast, and that was what we were in the park to do – have fun while we waited for the fireworks.  I am so thankful for the days that he is able to spend so many hours smiling and just having fun.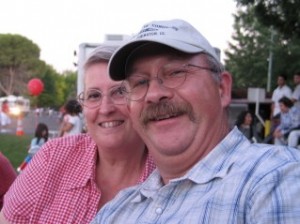 My husband joined us before 7:30, smoothies in hand.  I was so happy to see my husband and have our family all together for the rest of the evening.  The evening remained quite hot, but we were in our comfortable folding chairs with smoothies and caramel corn and ice cold water in the ice chest.
I worked quite a bit on an embroidery project and have it almost completed.  Aaron took an evening siesta.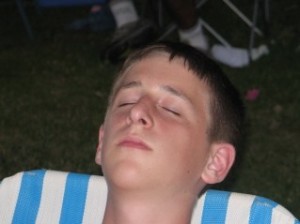 Dani worked a bit on a crochet project, and conquered an area of the project that has given her some grief.  Her crochet work is exquisite!
There were live bands on the stage.  We sat far enough back from the stage that we could listen or not as the mood struck us.  The second of three bands gave us an hour of very lively, very festive Latin music, which Dani and I enjoyed very much.  As the music played and as the evening wore on, more and more and more people flooded into the park.  By dusk the grass was covered as far as the eye could see.  There were thousands of people there, but crowded as it was, it was a peaceful, relatively quiet crowd.  Did I mention it was really hot? Despite the heat, we enjoyed a very pleasant, relaxing evening.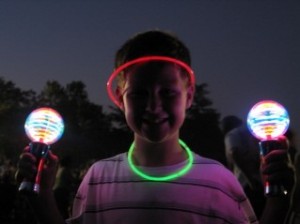 A local church was selling glow in the dark toys of all sorts.  Their prices were amazingly cheap!  Early in the  evening I sprang for a couple of battery operated spinners, and Copper used a buy one-get one coupon to buy some glow stick necklaces later on.  Aaron, I guess, has outgrown his love for this sort of thing; but Will was in fine form and entertained us with his fancy light show for quite awhile!
The fireworks display was wonderful, and completely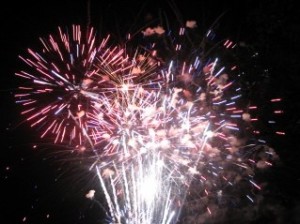 coordinated to a sound track of America's history and wonderful patriotic music.  The finale was spectacular, with the Star Spangled Banner as its music.  Our family stood, and those immediately around us followed suit.  As we stood, there were pockets of folks here and there, properly standing in honor of our national anthem, but the vast majority of the crowd kept their seats.  I was so disappointed in them.  I'm not sure that I agree with using the national anthem as part of a fireworks show; but since it was used, those in attendance should have "risen to the occasion".
The boys rode home with Dad in his car, and Dani and I made our way home in the van.  We came home, fed animals, and then fell into our beds happy and tired.  We'll do it all again next year!
God bless you as you look well to the ways of your households!
Proverbs 31:27