The Lord graciously granted me a good night's sleep, and I woke up this morning feeling rested and well!  It's a complete turn around from yesterday.  I am thankful!  After breakfast I was able to jump right into all of the daily morning tasks about my home.  Oh, it felt so good to be doing these things again today!  My Dani-girl left before 7:00 this morning to help her sister with a project.  I imagined them working together, chatting happily away as sisters do, as I worked about my home this morning.
William did his math this morning with 25 Mozart Favorites
playing softly in the background.  It was so pleasant to listen to that playing as I worked in my kitchen.  Aaron was in his room working on math and he was listening to Gershwin's Rhapsody in Blue and An American in Paris.  My children have been exposed to a wide variety of music as part of their home education.  It's fun to see what they choose to listen to when they have the choice!
My husband took advantage of the cool of the morning and tilled between the rows of our Young berries and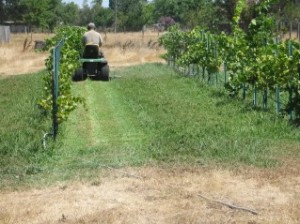 blueberries.  He walked the rototiller out to the garden and tilled the edges and paths out there, too.  This has proven to be one of our best lines of defense against weeds, and it's a great organic method, too!  He also mowed the entire vineyard and orchard area before lunch.  Things look so pretty out there now!
Last week I mentioned that I might be ordering some Charlies laundry soap.  I want to thank all of you who use it for giving me such great recommendations.  It does sound like a great product, and I may give it a try one day.  However, I ended up not ordering any Charlies. Since I needed something to tide us over with the new washer until I could order and receive the soap, I checked things out at the store and found something I like very much.  It's called ECOS laundry detergent
and I am, so far, quite happy with it.
ECOS is a natural laundry detergent, manufactured by Earth Friendly products.  It is scented with natural essential oils.  The fragrance is very pleasant, and very light.  No fabric softeners or all fabric bleaches are necessary as those are built into the detergent.  The softeners are soy based, and the optical brighteners are sugar based.  I found a 210 ounce bottle at COSTCO for $12.99 . Here's the fun part – the $12.99 ECOS runs just a penny per load more than the Kirkland brand in a top loading machine.  In my front loading HE machine, I use only half of the top loader detergent amount, which means the ECOS ends up costing 50% less per load than the Kirkland (COSTCO store brand).  How great is that?!?!?!  So far we've been very pleased with the way our clothes have been coming out of the washer.  I've seen smaller bottles of ECOS on the shelf at Trader Joe's, and I'm sure it must be available at places like Whole Foods, too.
This is the third week in July, which means that this is the week that I focus any extra, deep-cleaning efforts (the monthly, quarterly, semi-annual, etc. chores), on my bedrooms and bathrooms.  What usually ends up happening the third week of every month is that I end up spending way too much time deep cleaning and re-organizing my boys' room.  Not this month!  Today I made a separate list of all the long term scheduled cleaning tasks in their room.  From now on, I will have them each do just two or three things per week from that list.   At the end of each month they will have accomplished all of the monthly, quarterly, etc. chores that needed to be done in their room.  It will take a bit more time for me at the beginning of each month to come up with their list for that month, but I will no longer be spending so much time working in their room on those tasks.  They are big boys now and are more than able to handle window washing, cleaning woodwork, etc.  I will be keeping a watchful eye on things and lending a hand as needed.
This means, of course, that I will really be able to concentrate on some of the neglected drawers and shelves in the master bedroom from now on!  I have a couple of very scary cabinets in there, and I'm hoping to bring them back into good order this week!  The same can be said for the back of my closet!  Oh, I can't wait!
One of those scary places is the cabinet on my side of our headboard.  The middle shelf is where all of our old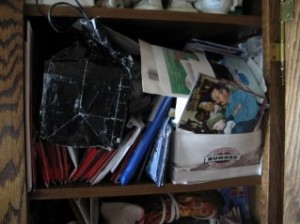 photographs have been stored.  Today I pulled out the two shoe boxes that I had full to overflowing with photographs, as well as dozens of folders of photographs, and put them all into archival safe photo boxes.  I have done a wee bit of scrap booking with photographs in the past, but this is just not a season in my life that there is time and money enough to go back and take care of all of these old photos.  Instead of letting them be ruined the way they were, they are at least, for now, safe in these photo boxes.  I found the photo boxes on a clearance rack at Wal Mart a few weeks ago.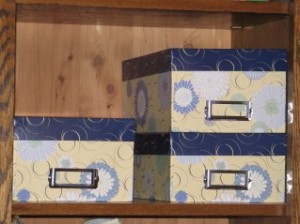 I had to resist the temptation to stop and look at all the photos as I put them away, or I would have been all day working at it!  As it was, just a stray picture here and there caught my eye and had me wandering down Memory Lane for a bit!  Pictures of my girls being silly for the camera on Corin's 18th birthday.  Pictures of Corin and Rob the Valentine's Day evening he proposed.  Will's 2nd birthday party.  Pictures of departed loved ones. You can see the mess I would have been in had I not just put the pictures away without looking!  All in all, it took me just under an hour to get all of the photos neatly stored into the new boxes.  I feel so much better now knowing that they will be protected until the day (year) arrives that I can give them a more permanent home.
By late afternoon I was able to put my feet up for a bit and do a bit of work on my laptop.  Of course I chose to do this sitting in the back yard at my little poolside retreat.  My wonderful husband brought his glass of lemonade and his book out and sat with me.  He even went into the house, fixed me a diet Pepsi and brought it out to me! It was cool, quiet and lovely just sitting together as I typed and he read.
We had a wonderful, easy supper tonight!  I used the roaster in the garage to re-heat the left over pork roast and rolls from Sunday night.  I rounded out the meal with some fresh corn on the cob and a green salad.  The corn was not from our garden.  Our corn won't be ready for a bit yet.  It was very sweet and very good, though, and we can hardly wait until our own corn is ready.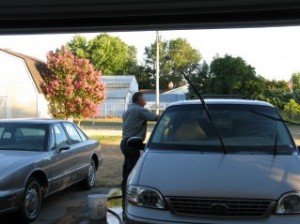 My husband spent the last bit of his day off washing both of our cars this evening.  The boys helped some, but  then they were off to enjoy the trampoline with Dani.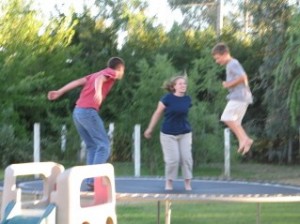 They had a great time out there!!!  These late summer evenings are the times that family memories are made that will last a lifetime!  It thrills my heart to see my children playing like this!!!  Ages 8 – 23 all playing together and having a blast!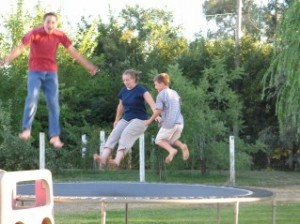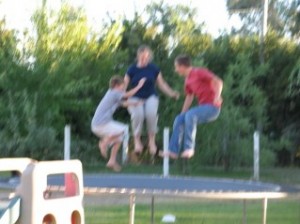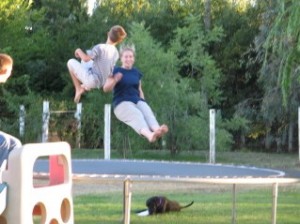 I need to purchase another package of bias tape to finish the apron I started last week.  It is a belated birthday gift for a friend, and I do want to finish it for her this week.  In the meantime, I've almost finished my basket weave wash cloth by working a few rows in the car last Sunday and a few more last evening.  I love knitting with this all cotton yarn!  I love the feel of it in my hands, and I really do like the way that it is working up.  The yarn I am using is made by Lily and is called Sugar'n Cream
.   I used to use wash cloths instead of a sponge to wash my dishes, and I'm beginning to think that I might like to do that again.  It will certainly give me a reason to knit up a bunch of lovely, all cotton cloths for my kitchen!
Maybe if I start now, I can finish this first one before bed tonight!
God bless you as you look well to the ways of your households!
Proverbs 31:27