I don't plan anything major or extra on Monday so that I'm available to do things with my husband on his day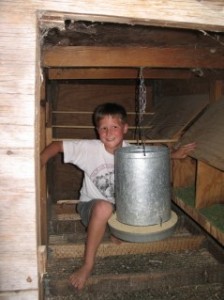 off.  Monday is my "slow" day.  All I can think of tonight is that if this was my slow day, this is shaping up to be a very full week!
We enjoyed a very wonderful Sunday.  Church, of course, and then staying for our weekly fellowship lunch and visiting with friends there until well into the afternoon.  A lovely family invited us to their home for the rest of the day and then served us a lovely meal followed with homemade ice cream.  The food was wonderful and the fellowship was sweet.  The hour's drive home was passed quickly with lively conversation in the car, but it was almost 10:00 p.m. by the time we were home and the car was unloaded.
Before we left yesterday morning, the son of the uncle of a friend of a former neighbor (I kid you not, I think that's actually the connection!) came by to pick up our nine old hens.  I know, we could butcher them and use them for stew hens, but I just cannot bring myself to eat a hen that has served me so well by faithfully laying eggs for my family for three years.  Fortunately unfortunately…..providentially, the Lord has given me a husband who is not so sentimental about his chickens, and they were on the road yesterday morning well before we needed to be!
This evening the young hens, who will be laying for us soon, were moved from their temporary quarters to the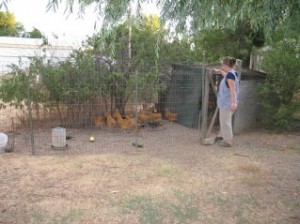 official chicken coop.  Over the years we've found that it works best to move the birds in the evening, and then lock them into the coop overnight with plenty of food and water.  The best case scenario would be to leave them in there for the night, a full day and then a second night so that they know where they are supposed to roost at night.  However, we are again experiencing temperatures over 100° and it will just be too hot for the birds to be closed up that long.  We will leave them until late tomorrow morning, but then they will experience for the first time the wonderful world of being a free range hen!  We have 22 birds remaining from the original 25; but they all look very healthy and beautiful.
The kids ferried them, one by one, from the temporary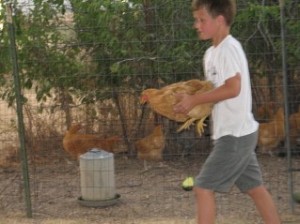 shelter (that we've always called the old hen house) to the coop.  My husband counted heads and closed the door behind each one.  Oh, how those birds cackled and hollered and carried on as the kids picked them up and carried them!!!  Except for Will.  When William captured his birds, and carried them, there was nary a peep out of them.  I am amazed at that boy.  Daily.
My day was filled with the normal Monday stuff…..laundry, of course, and the normal daily straightening and cleaning.  I especially enjoy tidying and tending to my morning kitchen routine on Mondays.   The hot weather meant that the laundry only hung on the line a short while before drying.  There was also the watering.  These high temperatures mean that I must be extra diligent at keeping up with the watering and irrigation schedule.  Today I watered our small citrus orchard, our small stand of weeping willow trees that shade and beautify our sheep pen.  The three long rows of grapes in the vineyard were irrigated, requiring a trip out there every hour and a half or so to change the water from one row to the next.  The sprinkler was run for several hours in our little goat yard to keep the clover grass there green for the goats to nibble, and the poplar trees that shade their pen were soaked well, too.  Dani helped me keep the sprinkler moving in our little side yard to keep the grass  and flowers there green, and Aaron drug the hose way out by the road this evening to water the new trees we've planted along the ditch.  Dani and Aaron share the responsibility of watering our garden twice a day.   It's a lot of work, but it is so worth it to live in the country and have the opportunity to grow some of our own food and to have our animals and such lovely trees and things around us.
My husband and I did make a quick run to town this afternoon to refill the propane tanks for the barbecue and to buy some wasp spray.  The paper wasps are especially bad this year, and they are especially vicious.   My husband sprayed several very large nests this evening, and even had to spray inside the tubes of my clothesline as they've been building nests in there!!  It's so interesting to me to watch, year by year, how the weather all year brings about changes in God's creation around us.  We had a very dry and unusually cold winter.  I'm seeing that we have very few frogs this year, but oodles of paper wasps.   We've seen very few snakes, but this is the first year we've actually seen skunks.  There are far more hawks than usual, and the wild turkey are thriving.  We haven't heard coyotes since early spring, but Kay, my neighbor and friend, saw a fox crossing the road during the day last week.  It's amazing to me to watch and observe these changes year by year and to just wonder and appreciate it all.  And yes, I do appreciate seeing the skunks!!  They are really and truly very beautiful.
I also had the wonderful opportunity today to share by telephone and e-mail with some ladies about homeschooling and books and building their own family libraries.  It's such a blessing to me to be able to share with other moms the joys of living books and homeschooling without textbooks.  It's such a treat to me to encounter a mom who shares my vision for building a family library, what I call a heritage library, that will pass on to our children and our grandchildren and perhaps beyond.  I was thankful that today was my "slow" day and that I had plenty of time to spend sharing about these things with these moms.
I caught my family all pursuing things that they enjoyed this afternoon.  It was so hot by late afternoon, and we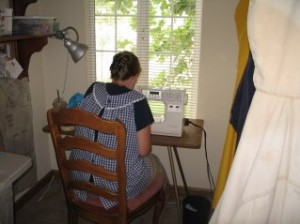 had quite a bit of humidity to boot, so we all enjoyed the comfort of our air conditioned home!  Each one of us was working on their own thing, but all of us were together in the cool of our home.  Dani worked some more on her skirt, and she is just doing so well with it.  I am so pleased that she's taking her little set backs in her stride and not letting them discourage her!!  She did not choose a necessarily easy skirt pattern, but she's just humming right along with it.
Aaron has been in Lego mode for awhile now.   This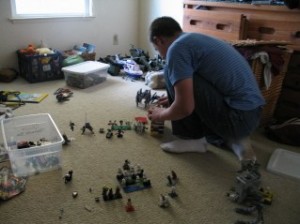 might look like a messy room to some moms, but I was careful to notice that what appeared at first glance to be….well, a mess!  was actually an intricately designed and laid out battlefield.  He spent hours in there working and playing with this during the afternoon, all the while listening to a book on tape.
Will was engrossed in a video game.  He tackles this with the same fervor and intensity that he tackles most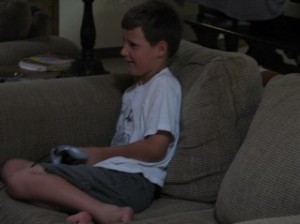 things, especially the challenging ones.  Our old, old, old Nintendo 64 had been stored in the master bedroom for several years.  It was only recently brought out and rediscovered.  We only own two games, so I know the fascination will quickly pass again.  Maybe.  As I type this, and though the boys have long ago gone to bed, Copper and Dani are racing with the Diddy Kong game!! 
The sound effects the two of them are making are cracking me up!!!
My husband spent some time this afternoon drawing.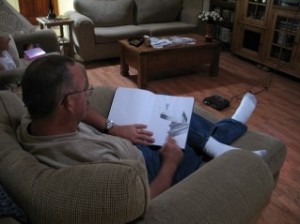 My husband is an artist.  He was, once upon a time, a graphic arts major in college.  Along the way his hoped for art career was set aside and a career in law enforcement came about.  He has worked for almost three decades as a deputy sheriff to support his family, and I appreciate his sacrifice and hard work for us so much.  It's been quite awhile since he's really done much more than draw the ocassional sketch or cartoon, and that usually to amuse one of the kids.  However, a couple of weeks ago when he saw me writing and doodling a bit in my journal, he asked where I'd purchased it.  It's actually a nice sketch book that I bought at Jo-Ann's with a 50% off coupon.  When I told him where it had come from, he mentioned that he wouldn't mind having something similar to sketch in.  Dani went to town the next day and I made sure to ask her to pick up a sketch book!  I put a little "to and from" note on the cover with a post-it-note and left it on his chair.  It's been so fun to watch him picking up that sketch book and drawing again.  The other night he had both boys leaning over the back and arms of his chair watching him draw.  It was a wonderful site for this wife and mama's eyes!
Tomorrow will be a full day, not a "slow" day.  This is the fourth week of July and the fourth week of each
month is the time I tend to those scheduled, longer term homemaking tasks in my living room, school room, sewing nook and back porch.  I actually have a couple of bigger projects I hope to get to right here in the school room once the scheduled tasks have been completed.  I'll have to work quickly as I've plans to be away later in the week, so my work week here in my home will be a short one.  I do very much enjoy having these projects to look forward to, and I also love knowing that the scheduled tasks are getting done, too.  I'll share some of these things, of course, as the week progresses.
The evening has cooled off some.  I know that we will be lulled to sleep by the sound of the huge diesel powered pumps running in the commercial vineyards that surround us for miles in all directions.  The sound of the pumps used to bother us a bit, but now it is just as common and homey sounding as the sounds of the crickets and night birds.
God bless you as you look well to the ways of your household!
Proverbs 31:27