We awoke this morning to much cooler temperatures and overcast skies.  Not long after breakfast my husband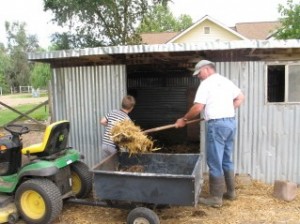 declared that this would be a great day for he and the boys to muck out the goat and sheep barns, so out to work they went!!  Oh, it really was a good morning for this kind of work.  The temperature stayed in the upper 70's all morning, and the sun stayed hidden behind a thick layer of clouds.  We even noticed a drop or two of rain here and there throughout the morning.
We use a composted bedding system for our goats and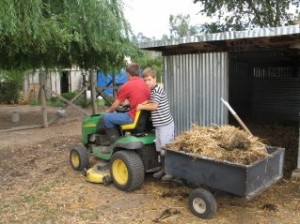 sheep.  This works really well for us.  Not only do the layers of composting bedding keep our animals warm all winter long, but the layers also give us a great start to a new compost pile every year.  It's one of William's jobs every Saturday to make sure that the top layer of straw in the barns is dry and relatively clean.  If not, he adds a new layer of clean, dry straw to the top.  It's a yucky dirty job once a year to clean the barns out, of course; but the three guys all working together made fairly quick work of it today.  It is so nice to have these two big strapping boys that can do so much in the way of hard work.  My husband was able to take a breather as the boys took each little trailer load out to dump at our composting site.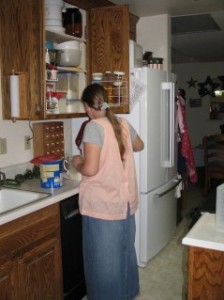 Dani made a pot of her wonderful homemade tomato soup and a pan of cornbread for lunch.  She baked the cornbread in the roaster oven in the garage and cooked the soup on the burner attached to our gas barbecue, which kept the house so nice and cool all day.  My husband was so cute calling it "barbecued soup".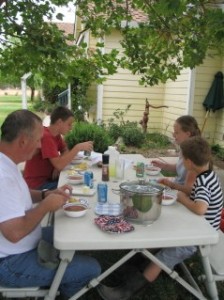 We ate our lunch picnic style at the table out under our big front yard Sycamore tree.  It was so cool and lovely out there, it was hard for the guys to get motivated to go back to work, but of course they did.
There was plenty to keep me busy in the house, of course, and even though today started out cool it was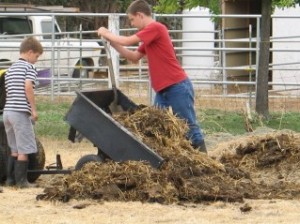 important that I kept up with the watering and irrigating.  What didn't get watered yesterday was pretty dry, and there is more hot weather in the forecast.  So I tended to my daily chores inside, cleaning and straightening a bit throughout the day,  and I made periodic trips outside to move sprinklers, or change hoses from one drip line to the next.  It was such a delight to pass by the compost area on my way out to irrigate the orchard and see all of that wonderful stuff that will next year be such rich, fertile soil to till into our garden.
Composting is a year round job that comes right into my kitchen.  I have a plastic bowl with a tight fitting lid that sits right next to my kitchen sink all the time.  This is my compost bowl and it is filled with all of our non-animal kitchen waste.  It's about a two quart bowl and it is filled to capacity every day or two.  It is one of Aaron's jobs to run the full bowl out to the compost pile and dig it in a bit.  Having the compost bowl out and handy reminds us to put our compostable waste into the bowl, and it also reminds us when it is time for the bowl to be emptied.  It might not be the prettiest thing in my kitchen, but it is certainly one of the most practical!
I work on the monthly and longer term homemaking tasks in my living room, schoolroom, sewing nook and back porch during the fourth week of each month.  With that in mind, I took some extra time today to clean out a big wicker basket in my school room.  I remember filling this basket up sometime last year, just before Christmas I think.
I, of course, meant to deal with all the stuff in there right after Christmas. Well, here it is July and the end of July at that!  Today was definitely the day to empty that basket and find a better use for it!  Guess what?  I ended tossing 98% of the stuff!  Most of it was catalogues and sales flyers.
You see, even with all of my routines and schedules in place, I can still get off track sometimes. I do have a system in place for dealing with catalogues, etc., but my system only works when I do!!!  I'm glad to have all that mess out of the basket and the basket repurposed for more valuable work.
The only things I kept from the basket were a lovely wooden double desk tray that came from my mother-in-love's house, a short string of white twinkle lights, a log cabin model kit, two big note pads, two New Year's banners, three books that had somehow gotten into that basket, and the instructions for our treadmill.  I took the cloth liner outside and shook it out really well and then tied it back into the basket.
My boys' school stuff has been spread out over three mismatched baskets for way too long.  I used my freshly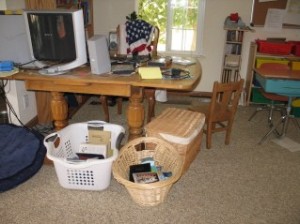 cleaned out, lidded basket for all of Aaron's things.  It sits nicely next to his chair and under the edge of the table.  I then took the smaller lidded basket that had held Aaron's pencils, notebooks, etc., cleaned it all out and put all of William's school things in there.  It looks very nice sitting in front of his little desk.  The net result is that both boys have nice, lidded baskets that hold all of their school things, and I yielded one lovely open wicker basket and a much needed extra laundry basket in the process.
By and by, I'd like to get Will out of his little desk.  He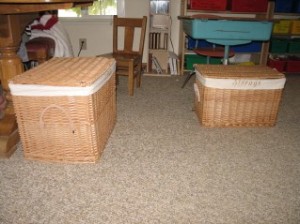 loves it very much, but it has been at its tallest settings for some time now, and he has just about outgrown it.  In reality, the boys do very little of their school work actually sitting at a desk or table.  Most of it is done just wherever they land, and that's just fine with me!
As the guys continued to work outside during the afternoon, the cloud cover burned off and the sun broke through.  The temperature climbed quickly into the mid 90's, and they were pretty uncomfortable out there in the heat and humidity.  They were finished mucking out the barns by 3:00.  After they were all cleaned up, at around 4:00, my husband told everyone to load into the car and he drove us to a little town just to the south of us for milkshakes.  Milkshakes!!!  Milkshakes, just a couple of hours before dinner!  What a treat!
Of course that meant we all came home not at all interested in the barbecued chicken I had planned for dinner!!  I went ahead and put it all on the grill anyway.  My husband still wanted dinner and Aaron said he could still eat a little something.  Whatever is left over can be used for lunch tomorrow.
It has really been a good day.  Lots of hard work done outside, and one long neglected job done inside.  All of the daily tasks are behind us; and my best boyfriend has complimentary tickets and says he is going to take me to the movies tonight.  Sharing a big ol' coke in the dark with my husband sounds good to me!
God bless you as you look well to the ways of your household!
Proverbs 31:27