I make my Scalloped Potatoes just like my mom did. No real recipe, of course. However, they are quick and easy and just as good for a company dinner as they are for an everyday family meal. The number of servings is easily adjusted, you'll just need to use a big enough pan for all the potatoes you need.
I made ours tonight with six potatoes in a 1 1/2 quart casserole dish. We had plenty for our supper, with enough for left overs another night. Here are the basic directions:
Scalloped Potatoes Just Like My Mom Made 'Em
Butter a baking dish. Cut potatoes into quarters lengthwise, and then slice about 1/4″ thick. Place a layer of potatoes into the baking dish. Sprinkle with salt and pepper to taste. Dot with butter. Sprinkle flour lightly over all. Repeat layers until dish is full, ending with the flour layer.
I generally sprinkle the top layer with either Lawry's seasoned salt or a bit of paprika for color. Pour milk into baking dish to fill it just about half way. Bake, covered, at 350 degrees for about an hour (time will vary depending on how large your dish is). Remove cover during the last 10 – 15 minutes of cooking time.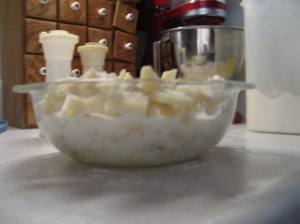 NOTE: All original written material, photographs, recipes and tutorials on this blog are the sole property of the author and may not be copied, in whole or in part, or re-printed elsewhere, without the express written permission of the author.   You may, of course, copy recipes for your own personal, in-home use!