I made the most amazing discovery today!  Another one of those light bulb, er….DUH moments.  I have those a lot!  Dani made Panini for lunch.  She always uses our cast iron grill pan, and then a cast iron skillet on top to press the sandwiches.  Most all of my cast iron pieces were my mom's.  They are all quite old and very well seasoned.  I love old, well-seasoned cast iron!  There's just nothing like it for non-stick cooking.
Today, while I was washing up the pans after lunch, I wiped my sponge filled with mild dish soap over the  bottom of the skillet she'd used to press the sandwiches onto the grill.  The white soap suds revealed writing on the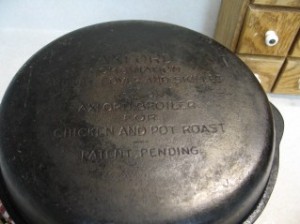 bottom of the pan!!! Here is what it said,
AXFORD
COMBINATION
SKILLET COVER AND SKILLET
——-
USE ON
AXFORD BROILER
FOR
CHICKEN AND POT ROAST
—–
PATENT PENDING
Say what??  I quickly sat the skillet down and then picked up the piece that we've always called the cast iron grill.  Guess what it said on the bottom?  Yep, you guessed!  "AXFORD BROILER".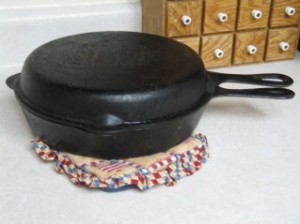 In all of the years that I've owned these pans (my folks passed away in 1993), and in all of the years that I  watched my mom use these pans, she never once used them this way!  I am so jazzed; I wish I had a pot roast or roast chicken on my menu for this week so that I could use the pans together!!  Don't they look wonderful put together in this manner??  Several months ago the glass lid to my big, deep Wagner cast iron skillet broke, and I've not been able to swing a replacement yet.  I've so missed using the cast iron pan and lid in the oven and on the stove top; and now, I have an incredible replacement already in my hand!  I'm so thankful!!  This was just so much fun; I had to share it with you.
Copper took Will out this afternoon.  My son needed new tennis shoes, and he desperately needed new church shoes.  My husband's dress shoes were in pretty sorry shape, too.  My husband's overtime pay enabled them to go shoe shopping together, just the two of them!  They came home late in the day with new tennies and dress shoes for the boy and new dress shoes for my husband.  May I say, my husband found his brand new Florsheim's (!!!!!!!) at a factory outlet store for less than what he saw at the deep discount shoe stores.  It seems the shoes must have had the size mis-marked at the factory.  The factory's mistake is certainly our gain!  What a wonderful bargain!!  He would never have gone out looking for Florsheim shoes, but the Lord  provided him with a great pair of shoes for the price of a cheap pair.
It has been a slow and easy kind of day today.  I really got off to a very slow start this morning, but I kept steadily working on things and accomplished a great deal by the end of the day.  We had a borderline hot day today, with the thermometer reading 95° around 3:00.  The weatherman says that things will be HOT for the fourth of July and will be even hotter the next day, with temperatures reaching well over the 100° mark.  Slow and easy might be a good way to be all week!
Dani and I have, we think, hit upon the best way to keep the house cool without the air conditioner.  My husband installed a whole house fan a few years ago, and it really has been a wonderful investment.  Even though it is really too small for the square footage of our home, it still really pulls in that cool air in the early morning.  The trick is having the right combinations of windows opened and closed while the whole house fan is running to bring in the most cool air before we close the house up for the day.  We've done pretty well with our new system, and I'm hoping we can make it work for most days this summer.  We'll see how it goes!
I experimented a bit today with the new cleaners I bought on Friday.  I mentioned then that I'm hoping to do away with as many chemical cleaners as I can.  Non-toxic is good, but ingredients lists that I can pronounce are even better!  This morning I washed my kitchen counters and kitchen sink with some unscented Dr. Bronner's castile soap.  I especially wanted the unscented variety so that I could add my own essential oils to vary the scents.  When I bought the bottle of soap the other day, I picked up some lavender essential oil at the same time.  I thought that the lavender would be a good scent to start with as it's so soothing and smells so wonderful.   I used a drop or two with the soap this morning and my kitchen smelled so lovely!   After I washed the sink really well with the soap, I sprinkled a bit of baking soda on my sponge and scrubbed a few stained areas with that.  After I shined my faucets dry, my sink just sparkled!
I also bought a box of good ol' Borax on Friday.  I don't know why I ever stopped buying it, but somewhere along the line I did.  I used about 1/4 cup and then swished our toilet clean and fresh with it this morning, and then left it to sit for about half an hour while I did some other things. I swished again before flushing and, it was just sparkling!  I also added about 1/4 cup of Borax to my load of bath towels this morning to keep them smelling fresh in this warm weather.
So far, so good with my back-to-basics cleansers!  This will be a slow process, though, because I do want to finish up the cleaners I have on hand and not have any waste.  My steps today were done to replace the Comet cleanser we just ran out of.  We'll start using the Dr. Bronner's, Borax, etc. for more and more uses as our other cleaners are used up.
There were lots and lots of little ordinary, everyday tasks today.  It felt so good to have my full attention back on my primary duty, and first love, again.  Laundry for the day done and hung on the line, but the bath towels and jeans were dried in the dryer.  Changing outdoor drip lines and irrigation throughout the day.  Petting the lazy cat sprawled out in a sliver of shade.  Picking up.  Straightening up.  Just little ordinary, everyday, LOVELY things!
Toward the latter part of the afternoon I pulled out five dress shirts and one pair of my husband's slacks that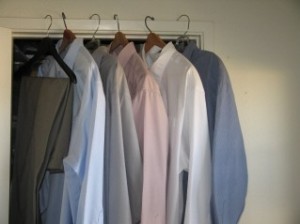 have been languishing in the ironing pile.  They were all steamed and pressed in about thirty minutes.  I took the time while I was ironing to thank God for the overtime that allowed my husband to take Will out shoe shopping today.  I also thanked Him for my wonderful husband who not only willingly works all that overtime to provide for his family, but also spends his days off edging lawns, repairing lawn mowers and taking his son out for new shoes and a soda.
Now, why was it that I hated ironing?
God bless you as you look well to the ways of your households!
Proverbs 31:27