Wet throw rugs in front of the washing machine are never a good thing.  Ever.  Finding them with your bare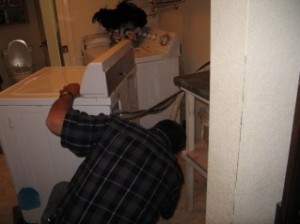 toes first thing in the morning is even worse.  It seems our washing machine is on its last legs.  (Dani has a lovely obituary posted on her blog
)   Copper has checked it out thoroughly and the verdict is – It's repairable, but a new high efficiency machine would actually be the more frugal thing to do at this point.  That always seems so weird to me, but there are times when being overly frugal actually costs more money.  Something about being penny wise and pound foolish.  My husband has jury-rigged things in the laundry room so that we can limp along until the new washer is delivered on Monday.  I am thankful that we will be able to keep doing at least the highly necessary laundry.    sigh………I hate spending money.  I hate using credit even more.  Sometimes, though……….
…..Once the decision was made today to purchase a new washer, Copper and I headed to town to do some comparison shopping.  We checked out three big stores, but found an incredible deal at Home Depot, of all places.  Because we have managed our credit well for the last almost thirty years (ie – borrowed infrequently, paid all of our debts on time, etc.) we were able to purchase the washer for 12 months no interest no payments.  That will give my hard working husband plenty of time to work a few overtime shifts to pay for the washer!  The machine we bought was on sale for about $100 off the normal price.  There was an in-store 10% further discount for using our Home Depot card.  The machine qualified for a $100 Home Depot gift card with purchase.  Our local utility is currently offering a $175 rebate on new Energy Star washers if you also own an electric water heater, which we do!  Even the delivery & haul away charges will be rebated!  We were so excited to be able to buy such a nice HE washer
with so many discounts and rebates. (The price we paid even before discounts and rebates wasn't as high as in this link, but I wanted to show you a picture!)
The new machine will use less energy than our old machine.  It will require smaller amounts of laundry soap, which means that expense should be less as well.   It will also use far less water, which means our well pump will have to run less often.  The lower water usage also means good news for our septic system. The clothes will come out of the washer far less wet than with our old machine, which means that our dryer will have to run for a shorter time as well.  I am using the clothes line for most everything now, but it means that the clothes will dry out there more quickly, too!  I'm pretty excited.  I'll have to do some reading up to learn how to best use my new machine; and I need to take a brand new bottle of laundry detergent back to Costco and exchange it for HE detergent.
Speaking of laundry detergent, I know a few of you use Charlie's laundry soap
.  I would welcome any and all comments you might have about the Charlie's laundry soap; good, bad or indifferent.  I would be most interested in those of you that use the liquid type, as we prefer this for the septic system (no caking of undissolved powders); but any reports on Charlie's soap at all would be appreciated.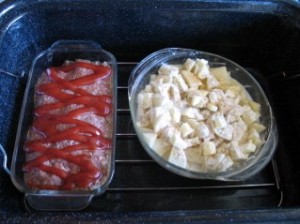 We came home just in time for me to fix dinner and get it into the roaster oven in the garage.  I didn't want to  heat up the house with the range oven, so the roaster was fired up.  The meat loaf and scalloped potatoes fit in there nicely.  I like dinners that are prepared awhile before mealtime and then just cook in the oven until dinnertime.  I always feel like such a lady of leisure doing other things until just a few minutes before mealtime!
So, what did I do with my before dinner leisure time?  Laundry!  The whites were done and hung on the line, and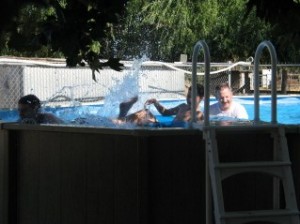 then a batch of towels were washed and put in the dryer. Copper and the boys enjoyed the pool while dinner was cooking.  Things were pretty wild and crazy out there!
Today's chores will be done with tomorrow's chores.   We will not homeschool tomorrow because of the holiday, so that will give me quite a bit of time to take care of not only the Tuesday and Wednesday tasks, but hopefully to catch up on a few other things, too, before we head to the park for the evening.  I may even have a chance to take care of some much needed blogkeeping in the archives and sidebar.  Maybe.
My husband will be working until 7:00 p.m. or so tomorrow.  The kids and I will pack up a picnic supper, chairs, blanket, etc., and head to a beautiful park in the city closest to us around 4:00 or so.  There will be booths and entertainment until dark, and then a very big fireworks display.  My husband will stop by the park on his way home and meet us there for the rest of the evening.  I'm looking forward to some nice down time, people watching and relaxing in the park.  Do you have any special plans for tomorrow's holiday?
God bless you as you look well to the ways of your household!
Proverbs 31:27