This is our everyday bread.  I love the taste, the texture, the ease of slicing, and especially that it is made in the bread machine! This makes a 1.5 pound loaf.
Copperswife's Everyday Whole Wheat Bread Machine Bread
1 cup water
3 Tablespoons olive oil
3 Tablespoons honey
1 egg
1 teaspoon salt
3 Tablespoons wheat germ
1 1/2 Tablespoons sesame seeds
3 cups whole wheat flour
1 1/2 teaspoons yeast
Add ingredients, in order, into the bread machine pan.  Set machine for a 1.5 pound loaf, and use the whole wheat bread setting.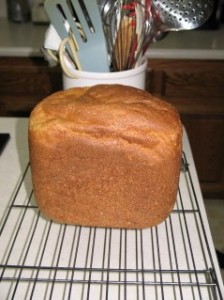 ( Please note: All original written material, photographs, recipes and tutorials on this blog are the sole property of the author and may not be copied, in whole or in part, or re-printed elsewhere, without the express written permission of the author.  Recipes, of course, may be copied for your own personal in-home use!)