I try to do most of my heavy cleaning and/or outside work in the cool of the morning during the summer. However, there are days when the thermometer starts its climb quite early in the day.  There are other days when there is just more to be done than will fit into those cool morning hours.  Today we had a bit of both here – lots of things on the "to do" lists, and temperatures flirting with the triple digits by early afternoon.   The end of the day found us all sweaty and tired, but with a good deal of work under out belts, which made the sweaty and tired feeling well-earned!
My husband spent most of his day off working outside.  Trees were trimmed all around our property.  The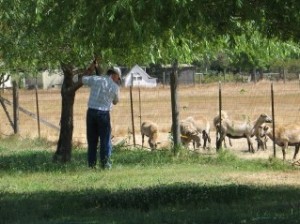 weeping willows need frequent haircuts from spring through fall, and my husband does a wonderful job of keeping them looking neat.  I had to laugh this morning…..he was trimming the three weeping willows that are along the front of our sheep pen.  Our little flock of sheep, normally quite shy of us, was right there next to him gobbling up any willow leaves or branches that dropped onto their side of the fence.
My husband also trimmed all of our neighbor's trees that grow along the road.  They have the most beautiful, lush trees along the road in front of their property, but they do have the tendency to block our view of traffic when we're pulling out of our driveway.  The speed limit on our road is 55 mph, so we need to be extra careful pulling out and be sure that we have a clear view of oncoming cars (or farm machinery!)   They are such great neighbors, and have given my husband free reign to trim anything that obstructs our view.  My husband does such a wonderful, neat job of trimming, that I'm sure they are blessed by his work as much as we are!
The largest of our weeping willow trees was the only willow here when we bought the place.  It's in our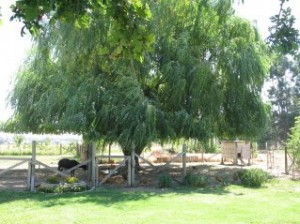 chicken yard, but it overhangs into our goat pen.  It's a really large tree, as you can see, but can you also see that the left hand side of the tree is very evenly trimmed?  The left side of that tree is always trimmed at exactly that level, and always perfectly maintained.
Here's the trimmer of that tree!  Harley is our best boy,
he really is.  He is a neutered, pure bred Nubian goat. He was born here and was one of our very first goat kids.  He is absolutely huge for a Nubian goat, but he is as gentle as they come.  I love going out and talking to him.  I love rubbing his nose and scratching under his chin (which he loves receiving even more than I enjoy giving!)   I love those weird goat eyeballs, too!  He's an absolutely beautiful goat.  (Pardon the hay on his head; he had apparently been rooting through the manger for the tastiest morsels just before I called him out to have his picture taken!)
My husband also drug out all of our "junk" to the road today.  Once a year the county allows us to put things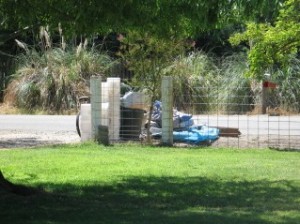 too large for the trash cans out onto the road for pick up.  It's nice to be able to avoid the expense of a dump run when we can.  It's always fun, though, to see how much is salvaged by the time the county trucks come by!  I will admit that we have brought home our fair share of stuff from other people's piles as well.  As they say, one man's trash is another man's treasure!  I may go for a drive this evening to see what I can see.
The boys, of course, worked on school this morning and into the afternoon.  I came in from turning on some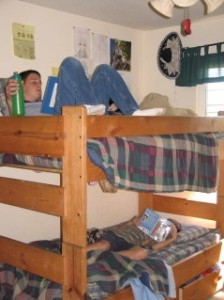 sprinklers and irrigation and wondered where they were.  Math books and all of their reading was done from the comfort of their bunks today.  It's not unusual for Aaron to read there, but it was a surprise to find them both working in there together all day today.  It was such a pleasure to see them working so quietly and diligently.
Tuesday is the day that I do my weekly cleaning in my parlor.  It only takes about 20 minutes for me to hook up the vacuum and attachments and thoroughly dust, web and clean it.  I have been so pleased using my vacuum to dust these last few weeks.  There is so much less dust resettling onto the furniture this way!  I don't know why I didn't think to do it this way sooner.   I re-scented my potpourri in the parlor, too, with a bit of rose oil;  and I settled into one of my rockers to relax and write a bit at my lap top before finishing up dinner.
Since today was the fifth Tuesday of the month, we did a bit of the  monthly, quarterly, etc. chores in our garage.  Aaron's recycling business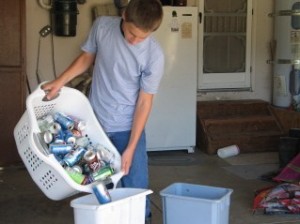 is run out of our garage, and the deal is that he must keep things neat out there or give up the recycling.  Of course, he has no way to run his cans and bottles to town for redemption when they begin to pile up, so I made him a deal today.  He used our old Webster and got all most of the cobwebs down from the walls, ceiling and windows of the garage.  In return, I told him to get his cans and bottles organized and I would take him to town tomorrow to redeem them.
He also took down the mini blinds from the garage windows, and Dani used the spray nozzle to rinse them off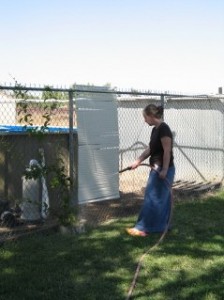 really well.   I shook out the throw rugs in front of the freezer and at the bottom of the steps and then swept down the steps and the entire garage floor.  For a garage, it looks pretty good out there!
It was nearly 100° today, and working in the garage made it feel even warmer.  By the time I was sweeping out the garage, though, the roast chicken cooking in the roaster oven (which we keep in the garage for cooking during the summer months) smelled so good!  I rubbed it with a bit of olive oil on the outside and then rubbed the inside with some garlic salt.  Then I liberally sprinkled the outside with garlic salt and basil.
Earlier today, Aaron took the grain mill off the top shelf for me, and I ground a hopper full of wheat.  I love
having a tall son to come to my rescue!  I'd prefer to grind my wheat just before I make each loaf of bread, but I am short and my baking center has the grain mill and wheat on a high shelf.  Since that is my arrangement, it just works better for me to grind a full hopper of wheat and put it into the freezer to use.  I can make about four or five loaves of whole wheat bread with one hopper full of ground wheat.
I put all of the ingredients for our favorite whole wheat bread into the bread machine right after lunch time, so now it smells just as good in the house as it does in the garage!  Sometimes I can be pretty thick.  Our bread machine will make up to a two pound loaf of bread, so I always made a two pound loaf.  The problem with that is that the bread was just too tall!   Too tall for the toaster.  Too tall for normal sandwiches.  Just too tall!  One day the light bulb came on and I started making loaves that were a pound and a half instead.  Perfect!  The bread is just the right height for the toaster and sandwiches.
I played around with the recipe for our everyday bread a bit over the months until we got it just right.  The original recipe called for part bread flour with the whole wheat, but we've tweaked it until we get a lovely loaf of whole grain bread.  The taste and texture is really good.  I'll post the recipe tonight for any who might like to try it. I have before, and will again, make bread my hand. However, I am so blessed now to have a wonderful bread machine
in my home.  It is one of the servants that I have come to depend upon, and it does not heat up my house the way the oven does.  Using the bread machine takes only about 5 minutes or so of my time, and 3 ½ hours later, I have a lovely loaf of fresh bread!  Check thrift stores and garage sales and give making bread in a machine a try!
I took a chance today and washed a piece of carpeting in my new washer.  It worked!  Oh, I'm so glad!  I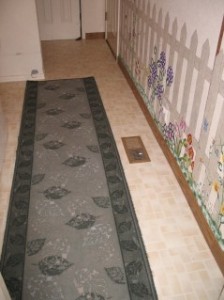 have had this carpet runner in my laundry room, but when the old washer started leaking it got wet a few times before we realized it.  The carpet was stained from where the dirty wash water had gotten on it and it looked awful.  I don't plan on washing it in the machine often, but it's sure good to know that it can be done once in awhile!  I hung it in the shade on the clothes line this afternoon, and it dried in just a couple of hours.
There was plenty of the ordinary, day to day stuff going on here today as well.  There is always laundry, of course; but I enjoy hanging out on the line so much!  The scent of the fresh air wafting through the still wet clothes as I hang them is almost intoxicating it is so sweet!  I did all of yesterday and today's ironing, and even pulled a few more things out to iron from the backlog.  It's all about the attitude of the heart when it comes to doing those things we'd just as soon not do.  I am, after almost 29 years of marriage, enjoying doing my ironing!  The Lord continues to grow me and work on me and change my heart daily!  I don't mean to sound trivial by saying that the Lord has helped me to learn to enjoy my ironing; but all of our lives with the Lord are a process of growth and heart changes and learning to die to ourselves daily in whatever areas we are desperately trying to cling to.  The ironing is just one evidence of this process and His work in my life recently.  I am thankful!
Dani waters the garden for us every morning, and Aaron in the evening.  Those of you who have rain to water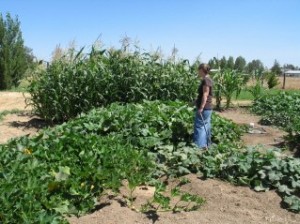 your gardens during the summer are blessed!!!!  Our garden was late going in this year, but it is thriving now!!!
We have tons of pumpkins coming onto our vines.  They are not the sugar pumpkins that are good for pie, but we do enjoy decorating our porch with a harvest theme every fall,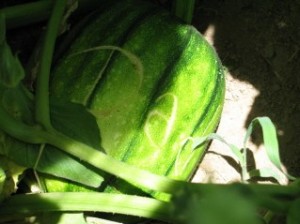 and the pumpkins fit right in!  Dani started carving pumpkins for us last year, and she's already carved quite a few this year.  We love to carve as many as we can for the grandkids and sometimes, if there are plenty, for friends as well.  You can find the instructions for carving your pumpkins here.  This is a picture of "Dad"'s carved pumpkin.
Dani and I splurged on our shopping day and bought ourselves each a new pair of fake Crocs at Wal-Mart!   We've been sharing a pair all year, but at just $5.00/pair we decided to treat ourselves to a pair for each of us.  Dani's are so cute in the tie-dyed yellow and pink.  Mine are fire engine red!
We had to close up the house and turn on the air conditioning by early afternoon.  I really do try to keep the a/c off as much as possible to help out as I can with the electric bill, but when the temperatures soar I am thankful that I have the ability to keep my home cool and comfortable for my family.  I'm sure that the cool house felt especially nice to my husband when he finally came in from all of his outside work late in the afternoon.  And that, my friends, is as it should be!
I want to thank all of you who stop by to visit with me here and a special thank you to so many of you who have taken the time recently to e-mail me, or to send me a message in other ways.  Your sweet words this last week or so have been especially encouraging to me; and I thank God for each of you and your kindness.  If you have written or sent a message, please know that I will reply to you just as soon as I am able.  It is something I look forward to doing!
God bless you as you look well to the ways of your household!
Proverbs 31:27