Bad days.  Everyone has 'em.  Lord willing they don't happen often in your home.  I thought a lot about "bad days" today.  What constitutes a bad day for you?  How do you handle a bad day when it does happen?  What can you do to redeem a bad day?  Can you meet that bad day head on and turn it around?  Yes, yes you can!
I could tell you that we had a bad day today, but I'm not going to do that.  In reality, we just had a different sort of day.  There was no official home schooling in my home today, but there was a lot of child training.  And at the end of the day the fruit borne from that was very sweet.  Boys, who were struggling to be friends in the morning, were cheerfully helping one another in the afternoon.  My list of household chores was not completed, but we all had a pleasant, quiet afternoon, each of us working a bit on a project of our own, redeeming the balance of the day.
Days that don't come out of the box in quite the way you expect can either become bad days, or they can just become different sorts of days.  I prefer having a different sort of day rather than a bad day, so I always do what I can to make that happen when a day begins to unravel.  The first place I head, of course, is to the Lord.  Casting my cares upon Him relieves the burden from my shoulders.  Asking Him for wisdom in facing whatever lies before me is far superior to trying to muddle through on my own brain power.  The circumstances of my day may not change much when I pray, but my heart changes and that most times is a major step in the right direction.
It usually never fails that I get a good dose of perspective along about that time.  Today the perspective came when I received a phone call from my husband.  He is the release officer for the main jail in our county.  He shares a teeny little office with three other shifts.  It is a busy and often stressful job.  It's a two man position that he almost always works alone.  The county has decided to "remodel" his little office, so today he was completely uprooted from his office and placed in some little dark hole in the jail to do his job.  Nothing was where he was used to it being.  He wasn't even in a place he was used to being.  He couldn't access things on his computer that he could normally access.  Things were pretty much a mess.  He hadn't called to complain about any of this, mind you; he had just called home to give us the phone number that we could use to reach him if we needed him.
My day was going great by comparison!  I was in my own home, surrounded by my three still-at-home blessings.  Everything was where I could find it.  Well, William was usually where I could find him!
That one phone call helped my perspective quite a bit.
It's always a good idea to look for the humor on a bad different sort of day, too!  Dani mentioned this morning that she wanted to make a run to Jo-Ann's.  I told her that I'd love to go, too, just to browse a bit.  We made our way out the door right after lunch.  Ummmmm……make that, we made our way out the door right after we closed up all the windows to the house which happened just a couple of minutes too late because a skunk had sprayed very near by and the odor was filling our house!  Yuck!!  What was funny was that for some strange reason, neither of the boys recognized the smell.  They both kept asking me, "What's that smell?", as if I'd added that fragrance to the house on purpose!  We all left holding our noses, but we were laughing, too.  Find the humor!
I did tend to a few things here today, of course.  Just the bare necessities.  Laundry was done, albeit a bit late. There were a few things drying on the line still by dinnertime.  Beds were made and I tidied up a bit here and there as I moved about.  I did my usual morning kitchen routine – I just did it after lunch rather than after breakfast.  It got done, that's really all that matters.  It is soothing to me to take care of certain things in my home.  Settling. Peaceful.  My morning kitchen routine has become one of those things.
My first order of business is to put all of the dirty dishes into the dishwasher.  Second, I pull out a clean dish towel and hand wash any items that cannot go into the dishwasher – my good kitchen knives, the griddle, that sort of thing – and then place them on the dish towel.  As they drain and air dry, I use my soapy dish sponge to wash up the outside of the hand soap dispenser and then the outside of the olive oil bottle that I keep my dish soap in, and then they are placed on the dish towel.  I have two stainless steel sponge holders that attach to my sink with suction cups.  Both of these come down next to be washed in my hot soapy dish water, rinsed and left to drain on the towel, too.  The dish sponge is well rinsed and set aside.
Next up, I sprinkle my kitchen sink with baking soda and scrub it out well.  I let that set for a few minutes while I walk around the kitchen wiping crumbs and spills from the counters and from the area around my stove.  I also check to see if the table cloth needs to be shaken out or changed, and tend to that too.  When I return to my kitchen sink,  I rinse all of the baking soda out of the sink, and then fill the sink with hot water and a squirt or two of  Dr. Bronner's soap
.   I add a couple of drops of lavender essential oil as well.  I then use this soapy water and work my way around the kitchen wiping down all of my counter tops.  I move things aside and clean back into the corners and under where things normally sit, too, before replacing them.  Sometimes I'll wipe off the countertop items as well, as they need it.   I return to the sink to rinse my sponge with clean water and dip it into the hot, soapy water frequently.  After the counters are done, I clean the top of the stove and polish it dry with my hand towel.  As the sink empties, I use the last of the sudsy water to thoroughly wash my sink, all around the edges, the faucets and the area behind the faucets, down into the basins, and also the drain plugs and the drain openings.  I polish my faucets dry, dry off the two soap dispensers and replace them, replace the sponge holders and sponges and I am done.  The lavender scent lingers in my kitchen all morning!
Just doing that little bit today before leaving my home brought me such pleasure and satisfaction!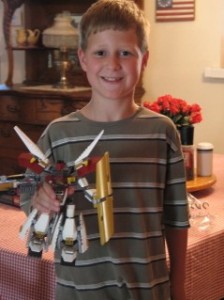 The boys each did a bit of their own shopping with their own funds while we were in town today, each  purchasing a new Lego set.  They are quite happy with their new toys and spent the better part of the afternoon working on putting them together.  The little one bought a very complicated set, but he worked away steadily at it. He asked for help from time to time, which Aaron cheerfully provided.  He was very proud of his accomplishment when he was done.
Whenever possible, I try to use just such a diversion on a day like today.  It's not always possible, and  sometimes it's not advisable.  Had  the problems we'd encountered earlier in the morning continued, I would have stayed home with my boys and sent Dani to town alone.  Instead,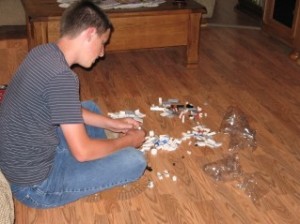 things were looking up by the time we left, and continued to improve while we were gone.  In fact, I gave Aaron my watch and allowed he and his brother to browse a bit alone in the toy store (which is right next door to Jo-Ann's), while Dani and I started our shopping. They joined us promptly at the time specified, and I happily accompanied them back to the toy store to make their purchases.  Diversion today was not only called for, but worked wonders!
Dani brought her shopping list to buy fabric and notions for a new  skirt pattern she recently bought.  I encouraged her to buy something she'd like and wear, but that wasn't too expensive for this first try with the pattern.  When I learned to sew, we were taught to always make a "muslin" of the pattern the first time it was made.  That is still good advice, but it just doesn't seem terribly frugal to buy fabric to make something which you will never, ever wear!  The idea is sound, but just not terribly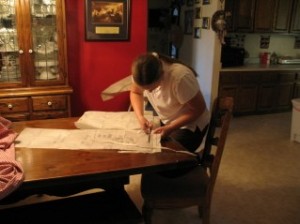 practical.  I like that Jewels and her daughters always make their muslins from fabric that will result in something wearable until they perfect their patterns.  Dani found gorgeous embroidered linen for 60% off that will work wonderfully!  She will be making a few alterations to the pattern as she goes, so the outcome might not be quite what she wants on the first try.  Still, this fabric will make for a lovely summer skirt in any event!  I can't wait for her to get started!   (By the way, I am praying for a larger size adjustable dress form.  It would be so lovely to have to use, but they are so pricey!  I'm praying that I will find one someday at a thrift store or garage sale.)
I only needed one package of double fold bias tape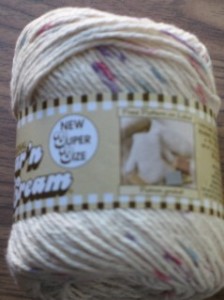 from the store today, but I picked up another skein of the Sugar'n Cream yarn, too.  This linen color yarn with the long flecks of magenta, turquoise and purple (called Potpourri) was just too beautiful to leave behind.  I think it will make a couple of beautiful wash cloths!
I did finish the basket weave wash cloth last night.  I had no problem alterning the pattern to leave out the stockinette stitch area, and to just work the whole cloth in the basket weave design.  I'm looking forward to altering and working the other patterns the same way.   I loved this yarn  (Sugar'n Cream – Sunkissed) and its beautiful blend of blues, yellow and cream.  I think, though, that the basket weave pattern might have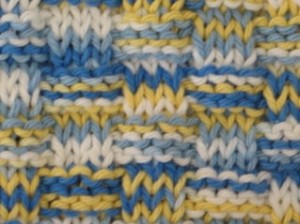 been prettier in a solid color.  Each skein is sufficient for two wash cloths, so I'll try a different one of the patterns the next time I used the Sunkissed skein.
I am almost done with the apron I've been working on.  I applied the bias tape to the ties today, and attached those to the apron.  I started applying the bias tape to the pocket before I needed to move on to something else. That one pocket is all I have left to complete the project, and I should have time to finish it up Friday.  My sewing machine will be busy now with two of us sewing away!  How great is that?!?!?!  I'm looking forward to keeping the machine humming along for the rest of the summer and well into the fall.
We have almost finished the entire set of Charles Dickens movies
we picked up at Costco awhile back.  We will be finishing up Oliver Twist in the next couple of evenings.  Some have been excellent.  All, save one, have been quite good.  The only one that we didn't feel was quite up to snuff was Great Expectations, and there was really nothing wrong with it.  It simply seemed more of a stage production that had been filmed, and the quality of the filming wasn't as good as the others.  The movies are each several hours/episodes long, and for the most part are about as faithful to the novels as can be expected.  All in all, though, it was a tremendous bargain and we will definitely watch most, if not all, of them again and again.
Tomorrow we are, Lord willing, expecting Corin and the grandbabies out for the afternoon.  The read aloud picture books will come off the shelf and this grandma is eagerly looking forward to reading to the three older grandbabies and having a good long time of cuddling with the baby while visiting with my daughter.  Tomorrow morning will have me bustling about, working more quickly than usual, in anticipation of having my big girl and her children for the afternoon.  Oh, I can't wait!
God bless you as you look well to the ways of your households!
Proverbs 31:27