I'd hoped that this would be the rare Wednesday that my husband would have off.  I know that he does very much appreciate being able to pull an overtime shift on his every-other-Wednesday off, and I am thankful that the Lord has made so many of these overtime shifts available to him.  I'm so appreciative of my husband's willingness to work these full twelve hour shifts on days that he would otherwise be able to be at home.  As of last night, he was not going to be needed today.  I went to bed knowing that he'd be home on a Wednesday, and I was very much looking forward to it.
I sleep with ear plugs.  Did you know that?  Well, I do and I have for two or three years now.  My hard 
working, twelve hour shift pulling, working his days off husband snores.  Like a big, hibernating bear!  How to sleep with his snoring was one of those things that just seemed almost insurmountable.  I ended up, most nights, on the couch.  I love it when the Lord brings some little passing comment into a conversation that is life changing for someone listening.  That happened to me when a sweet friend mentioned that her husband had a dairy allergy that caused him to snore.  She bought ear plugs for the nights that he'd eaten too much dairy and snored.  Ear plugs!! What a concept!  Ear plugs were purchased the next time I went to town, and I have happily remained all night in my own bed, where I belong, ever since!   I buy them by the gross now.  Well, not quite, but this big container is only about $5 at Wal-Mart and lasts for several months.  They filter out just enough of my wonderful man's snoring that I can fall asleep and stay asleep all night.
Now, why on earth am I telling you all of this today?  Quite early this morning our phone rang.  My husband is a VERY sound sleeper, so the phone is kept on my side of the bed.  I can still hear the phone and the alarm clock with the ear plugs in place.  It rang once and I picked the phone up.  As I held the phone in my right hand, it rang for the second time.  I reached up with my left hand to remove the ear plug from my left ear, but I couldn't feel my left hand!  It was numb and asleep!  The phone rang for the third time.  Our phone recorder is set to pick up once our phone has rung four times, so I knew I was running out of time.  My sleepy brain sent the urgent message to my left hand to pull the ear plug from my left ear, but my left hand, apparently, sleeps just as soundly as my husband because it just fumbled around fruitlessly around the side of my head!!  Frantically, as the phone was beginning its fourth ring, I pushed the "on" button and said, "Hello", all while holding the phone up to my still plugged right ear.  I'm sure the person on the other end responded to me, but I didn't hear a thing.  Fortunately, I was now awake enough to transfer the telephone to my left hand (sleepy hands can hold phones) and reach up with my right hand to pull the ear plug from my right ear!  Good grief!!!!  "I'm sorry, hello", I said, in time for the day shift sergeant to ask to speak to my husband.  His services would be needed today after all.
I had hoped that Copper would be home today to help me pick out the frames for my new glasses.  Since he wasn't, I took all of the kids along to assist.  Believe me, I REQUIRE assistance when picking out glasses frames. In the first place, trying on new frames requires that I remove my current glasses.  I can do that just fine and dandy, the problem is that I cannot see what the new frames look like on my face without my prescription lenses!!!  It didn't matter how close I stood to the mirror, or how far away I stood, or how much I squinted. I couldn't tell what they looked like on me.
Dani offered suggestions and brought me a few pair to try on.  I pulled some off the wall to try on as well. She'd offer comments such as, "those bring out the brown in your eyes" or, "those look nice with your hair" or, "Wow. Those are pink!"  She almost talked me into a pair that was a pink, blue and lavender swirl!  Now that sounds pretty wild, but they were actually quite pretty.  They just didn't make the final cut.
Now, I'm not quite sure about the fact that Dani says that the frames I finally chose are "fun".  "Fun" could be a good thing in a 50 year old woman and grandmother of four, or it could be a scary thing!  The color is called "espresso", and there are rhinestones involved.  Oh, yes!  Yes, indeed, there are rhinestones on my new glasses. Teeny tiny ones, but they are there!  Twelve of them to be exact.  I have ordered eyeglasses with bling!
The frames are actually quite pretty off of my face, which is the only way I can see them.  On my face, well, how they look on my face is something only my family can tell you, which is the second reason that I like to take my husband with me.  You see, I am not the one that needs to look at me in the silly things for the next two years. My husband and children are the ones that will need to look AT the glasses every day for the next two years.  Me?  I just look THROUGH them, and it really doesn't matter much what the frames look like from that point of view!  I should be able to pick my new glasses up in a couple of weeks.
While we were in town we made a stop by Jo-Ann's.  It is right on our way home, and Dani had a handful of 50% off coupons.  She's about done with her beautiful turquoise skirt, and she has already ordered a really cute peasant blouse pattern to make up to pair with it.  She found some lovely white embroidered cotton that will look so summery and cute with the skirt.  She had 50% off coupons for both her cut of fabric and her thread!  She shared two more 50% off coupons with me and I bought two more skeins of the Sugar'n Cream all cotton yarn. One skein is a pure white and the other a self-striping red, white and blue!  I should be all set for dish cloths when I have all of my cotton yarn knitted up.
I finished the third dish cloth Sunday afternoon as we traveled between church and the home of some friends.  I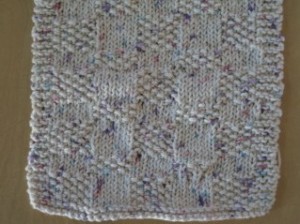 worked the third cloth in the "plaid" pattern , using an off white, speckled yarn.  It turned out kind of cute, but it really isn't a pattern I'm crazy about.  I think I prefer the basket weave pattern over the plaid in both appearance and pleasure of knitting.
I started a fourth wash/dish cloth today, working it in the yellow Sugar'n Cream yarn
.  This time I'm doing the "seeded diamonds" pattern (see the above pattern link).  As before, I am not going to do the duplicate stitched words over the stockinette knitting in the center.  Instead, I will just work the eight patterned rows, repeated seven times to make the dish cloth.  These have been a lot of fun to knit and they are finished very quickly.  Each successive pattern becomes increasingly difficult, and I am looking forward to the challenges that lie ahead.
Thank you all so much for the sweet comments that you have left here lately.  Your words encourage me every day!  Several of you have asked questions in the comments, or have sent me messages through xanga or e-mail, and I hope to answer all of your questions soon.  This has been a silly busy week, and things are ramping up for the remainder!  If you've asked a question or sent a message or e-mail, please do be patient with me just a bit longer.  I am hoping, Lord willing, to answer all of those questions early next week.  I'm usually able to answer within a day or two, but this week has just been exceptional.  Please do not think that I do not welcome your inquiries or notes because I do!
My children are outside running and playing with the dog and I think I will take my knitting out and watch them for a bit.
God bless you as you look well to the ways of your household!
Proverbs 31:27