The last couple of days have been days of tending to just the basics in my home – feeding my family, keeping up with the laundry, that sort of thing.  Just the necessary stuff.  You know what?  That's okay!!  There are times when other things are more important.  Spending extra time on child training.  Strengthening friends in time of need or illness.  Helping a homeschool mom planning for the fall.  All that, and more, has been happening here the last couple of days.  It's been good!
This afternoon I attended the funeral of a woman I have known for more than 40 years.  I know I was in the third grade when her daughter Carolyn and I became fast friends.  Good friends.  Best friends.  Carolyn was my maid of honor, and I returned the favor when she was married.  Carolyn's mom has suffered from Alzheimer's for the last several years, and it's been a difficult time for her family.  Friday evening the Lord called Mrs. W home.
My mom was always a full time working woman.  Mrs. W. worked outside the home for many years, but I always remember her being a stay-at-home mom.  Carolyn and I always walked or ride our bikes to and from school, but if it was raining, it was Mrs. W who was there with the car.  When my grandmother died in Missouri, my parents made the decision to make the drive alone and leave me behind.  Mrs. W. took me right in while they were gone.  She was our Girl Scout leader.  She was really almost a second mom to me during my growing up years.  My eyes still burn with tears remembering the times she scolded me.  Oh, I had it coming, too!  She was stern in her rebuke, but loving all at the same time.
I pondered over the many wonderful things that were said of Mrs. W today.  From my seat near the back of the chapel, it was wonderful to see folks nodding in agreement when she was remembered for her politeness and quiet ways.  I thought over what a perfect match the Lord had made between she and her husband – she the quiet woman and he the outgoing conversationalist.
Mrs. W and her husband were married for almost 60 years.  The minister today spoke of their most recent anniversary, their 59th.  Mr. W had arranged with the care home that assisted his wife to have her dressed up and ready to go out for lunch to celebrate.  When he arrived she looked lovely, but he realized that a restaurant meal would be difficult.  He, instead, called ahead to a restaurant and arranged for take out.  After picking up their food he took her back to their own home, set the table and then fed her, bite after bite.  Spoon by spoon.  At one point in time he looked into the eyes of his bride of 59 years.  Despite the toll that Alzheimer's had taken, he saw in her eyes a deep love for him.  A love that shone through the fog of lost memories.
The minister who provided the services for today's funeral is the same man who married my husband and I twenty-nine years ago this coming Sunday.   My mind has been reflecting all afternoon on the kind of love that lasts for a lifetime.  Love that rejoices in triumphs, births, marriages and accomplishments.  Love that endures through trials, illnesses, deaths and eventually the death of a spouse.  I am so blessed that the Lord has given me a marriage, a love, that has known both times of rejoicing and times of  trial.  It's a love for a life time!
*****************************************************************************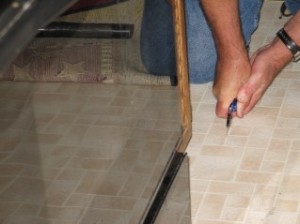 The fan has been running to dry the area under the dishwasher for a couple of days now.  The wet smell is  gone, but the sub-flooring remains damp.  My husband's concern for the condition of the sub-flooring and getting it dry prompted him to come home from work tonight and cut out a section of the kitchen floor.  He was trying to be so careful to not interrupt the pattern on the floor, but the pattern really did not help him.  None of  the long stretches of straight lines were where he wanted to cut!
Please keep in mind that my husband was up at 4:30 a.m., left for work before 6:00 a.m. and didn't come back in the door from work until 7:30 p.m.  He worked such a long day and still came home to work on the kitchen floor.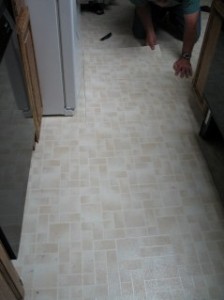 Once the cuts were made, the flooring lifted right up off of the sub-floor.  The moisture had caused the glue to  let go.  It was obvious where the wet sub-flooring ended because the linoleum was still firmly stuck down over the dry ares.  There is an area in front of the refrigerator where the floor has buckled a bit from the moisture. The rest of the sub-floor looks okay, and we are hoping that it will dry out without warping or buckling anywhere else.
We have mentioned between us the fact that the sub-floor is most probably wet behind the dishwasher, too.  That area is our living room and we have a floating laminate floor in that room.  The thought of tearing out all of those planks of laminate to expose the sub-flooring is daunting.  For now, I'm just giving that part of the floor over to the Lord in prayer.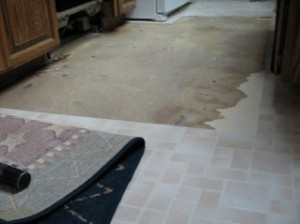 The cut out piece of linoleum is now lying upside down in my parlor with a fan blowing across it to help dry it out.  Even though we are putting up with the smell of wet wood in the house, I am thankful that the leak was discovered before the damage was more extensive.  Temperatures here have been running in the 90's so that is certainly helping dry things out faster.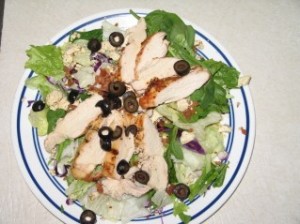 Summer weather is such a good time to enjoy a main dish salad.  Tonight I mixed together some spinach leaves and other salad greens.  I crumbled seasoned feta cheese over the greens and sprinkled a few bacon bits overe the tops as well.   I grilled three chicken breasts, seasoned with garlic pepper.  Those I sliced and arranged over the top of each plate of salad and then sprinkled sliced olives over it all.  Oh, they were good!  The only thing lacking was tomato, but there were no ripe tomatoes so we did without.
I've still been knitting dish cloths, but I have taken a bit of a break from knitting the basket full for my kitchen.  I have instead been working on a set of six for an exchange with a blogging buddy.  I should finish up the last one this evening.  I love knitting with the cotton yarn and working the different patterns has, I think, really improved my knitting skills.
I am looking forward to a day of catching up a bit with things in my home tomorrow.  It will be so wonderful to have a full day at home to do the things I love best – tending to my family and my home.
God bless you as you look well to the ways of your household!
Proverbs 31:27