I'm sitting down with a tall, cool glass of water, and taking a break for a few minutes.  It's been a busy,  catching up sort of day.  I've had the normal Monday laundry and straightening, of course.  There were some e-mails from late in the week that needed answers, and a few new ones to write.  I'm still not quite caught up there!  The boys are finishing up with their summer term of homeschool work, and I am trying to find some time to sit down and organize things for the fall term.  It will come together if I just keep plunking away at it.  I'm a pretty good plunker!
I worked on a few little jobs from the second week of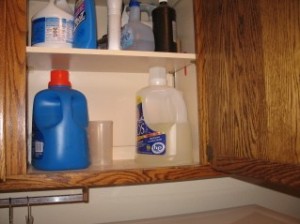 the month list, which concentrates on the longer-term cleaning jobs in my kitchen, back hall and laundry rooms.  The shelf where the laundry detergent sits was a bit gooey from the drips that fall from the bottle.  It took just a minute to spray and wipe that shelf clean again.  I pulled out the hamper baskets from under the counter and sprayed and wiped the shelves and floor there, too.  I used a clean surface of the same white towel to wipe down the door sills and the tops of the doors in the back hall area, too, as well as the fronts of the doors.  I sprayed and wiped down the washer, dryer and counter.  All of this took just under 15 minutes, and allowed me to cross quite a number of monthly tasks from my list for that area!
I've had a few questions left in the comments section lately, and I thought that today might be a good day to try to answer some of them. Carmon asked,(concerning using coffee grounds to discourage tom cats from spraying)  "Can you tell me if the coffee grounds are good for all kinds of flowers? How often do you put them on the soil? Do you just put them on the top of the dirt? I love flowers, but I have a brown thumb. I wonder if the grounds would discourage deer, too, or is that just wishful thinking?"
The short answer is, I don't know!  I haven't a clue if the coffee grounds would discourage the deer or any other critters for that matter.  I just happened to read about using the coffee grounds in potted plants to discourage tom cats from spraying awhile back when we were having nightly visits by a tom.  It worked great!  The article said that the grounds would help the plants, too; but I never really noticed any difference.  When the current tom decided to pay us a visit a couple of weeks ago, I remembered the coffee grounds and tried it again.  Just one day's grounds sprinkled on the top of the soil have done the trick.  He's not been back.  I think I might make a note on my calendar to put sprinkle some new grounds in about a month and see if that keeps him at bay.  The thing that's strange to me is that the coffee grounds don't discourage our female cat.  She is still able to come to the porch to enjoy her meals.  I think you'd want to be careful using too many coffee grounds, or using them too often,  as it might upset the pH of your soil.  Our normal practice is to put the coffee grounds, as well as the tea bags, into the compost pile.
Dawn asked for my recipe for the Lavender Linen Spray.  I use the recipe found in this post at Brocante Home, which I wouldn't want to reproduce it here without her permission.  I made it up using her proportions and the maximum number of drops of lavender essential oil she suggested.  Oh, it smells so wonderful!  We've just about used up our first batch, and I'll be making more later this week.
HisHomemaker asked about our church basket, and how long our drive was to church is.  Dani surprised my husband and me by treating us to this terrific thrifted basket.  It was immediately put into use as our church basket. Every Saturday evening the basket is filled with the following:   All five of our Bibles, my notebook, any items that need to be returned to someone at church, notes or cards to be delivered to folks at church, Will's Tangle Toy
to help keep his hands busy during the service, assorted pens and pencils.
The basket keeps things from sliding around in the car on our way to church, and keeps all of our belongings in one place after our church service.  Having everything in one basket insures that nothing is forgotten in the van.  It fits perfectly at the end of our row, right next to my husband's seat.  When our worship service is over, we put all of the Bibles, etc., back into the basket, along with anything we're taking home that others have brought for us (cards, books, etc.).  Since we stay at church for a fellowship meal following the service, the basket keeps all of our things together then as well.  It also serves as a sort of "home base" after church for us to park purses, sweaters, etc., until time to head to the van to go home.
We drive just a hair over an hour to and from church every week (or a bit longer if we miss our off ramp like we did yesterday!
)   The drive passes quickly as I usually take my knitting along for the ride.  We've made this drive most every Sunday for a bit over a year now.  We are so thankful that the Lord led us to such a wonderful family integrated church.
*********
That little break I mentioned earlier is long over.  The clothes have all been brought in from the line, folded and put away.  The days ironing has been done (five shirts, one jumper, one skirt and a dozen everyday napkins) and all of the pressed clothing and linens are neatly hung or put into the napkin basket.
Tonight's dinner is cooking in the roaster oven in the garage, and I'll need to put some pasta on to boil soon and make a nice, green salad.  The bread machine is kneading a loaf of our favorite whole wheat bread for tomorrow's lunch.  I have a package of turkey bacon, several packages of short ribs, and a container of chocolate-zucchini muffins all brought in from the freezer and thawing for meals tomorrow.
Do you use a menu plan?  It's such a wonderful tool!  With just a glance this afternoon I could see that the bacon and muffins needed to be brought in to defrost so that they'd be ready tomorrow morning for breakfast. That same glance reminded me that I'd need to have the short ribs defrosted by morning, too, so that they'd be ready to pop into the crock pot right after breakfast.  It also reminded me that we'd need bread for sandwiches tomorrow.
I've used menu plans, off and on, for years and years; and I can honestly tell you, we eat better and less expensively when I am using a weekly menu plan!  No wasted food.  No forgetting to thaw something out ahead of time, or forgetting to make bread.  We use what's in the freezer, and I plan around the things I was able to purchase on sale the last time I shopped.
Oh, I didn't tell you!  We are having guests for dinner – the three older grandbabies!!!  Corin and Rob are out for dinner this evening with the other adults from their church.  My husband read stories and read stories.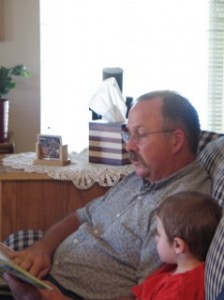 Uncle William worked several puzzles with his younger nephew, and played a game with his older nephew.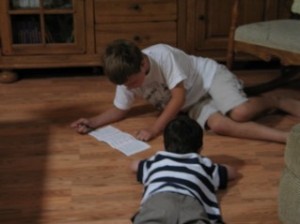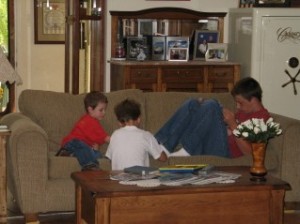 Uncle Aaron, somehow, managed to read through it all.
The tea party that my granddaughter and I started quickly became "tea for two" for her and her oldest brother!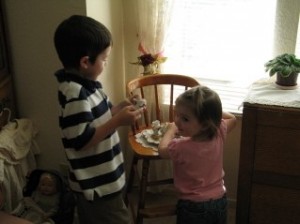 The lovely little tea set was a gift to me from Copper's step-mother before we even knew that there would be a third grandbaby.  She just "knew" that Corin's next baby would be a girl, and she was right!  I kept it "up" for a season, but the season for it to be carefully enjoyed by my sweet granddaughter has finally arrived.  I placed it on a sweet, vintage toddler's high chair several weeks ago in my parlor and she discovered it for the first time today. Oh, she had such a wonderful time in there pouring and serving tea!
All of my family is outdoors, enjoying the gentle breeze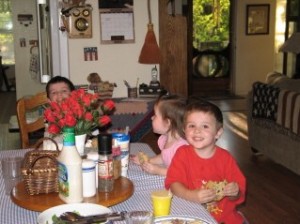 that is beginning to cool things off for the evening, and I am headed out to join them!  Oh, yeah…..the babies had cookies for dessert, and I'm not saying one way or the other if they ate their dinners all gone first.  I'm taking a don't ask-don't tell position on that one!
God bless you as you look well to the ways of your household!
Proverbs 31:27