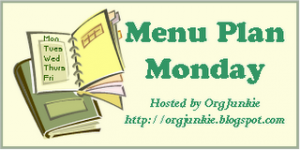 It struck me, as I was making up our menu for the week and putting it onto a cute calendar for the front of our fridge, that we were going to be eating out a lot this week.  With a trip to town tomorrow mid-day for doctor's appointments, and two special day trips, I guess it can't be helped.  Weeks like this don't come about very often, so we'll enjoy it.  I'm sure we'll all be tired of fast food by the time it's over, though!
The new chore lists have Dani's nights to make dinner moved to Monday and Saturday (from Wednesday and Saturday).  She is going to try a new recipe from Everyday Food Magazine (July/August 2007 issue) tomorrow night that sounds absolutely great!  We're doing pizza-type dinners a couple of times this week; but with my husband working both nights, the kids and I will find the Foccacia and Barbecued Chicken Pizza different enough, and we always love both.  We can never make pizza too often around here!  The lasagne is a carry over from last week, and will easily feed us a dinner and a lunch.
Funny story about Sunday's cookies – Last time Dani made these for our church fellowship lunch, one of the elders bit into one and said to another gentleman, "mmmm, these just melt in your mouth".  I guess that means that the name of the cookie fits!
Be sure to head over to Laura's blog and check out this week's Menu Plan Monday.  It will inspire you to try some new things and will surely give you some great menu ideas!
MONDAY
Breakfast:  Dad's Monday Mornin' Waffles
Lunch:  Out after the boys' doctor appointments
Dinner:  Shells with Grilled Chicken & Mozzarella, Green Salad
TUESDAY
Breakfast:  Cold cereal
Lunch:  Cold cheese sandwiches, chips, peanut butter bars & snacks (in the mountains fishing)
Dinner:  Fast food on the way home from our fishing trip
WEDNESDAY
Breakfast:  Turkey Bacon, eggs, English Muffins
Lunch and Dinner:   At the State Fair!
THURSDAY
Breakfast:  Oatmeal
Lunch:  Hot dogs, macaroni & cheese
Dinner:  Focaccia, green salad
FRIDAY
Breakfast:  Pancakes
Lunch:  Grilled cheese sandwiches, fresh grapes from the vineyard
Dinner:  Lasagne, green salad, homemade garlic bread
SATURDAY
Breakfast:  Bagels & cream cheese
Lunch:  Planned-over Lasagne
Dinner:  Barbecued Chicken Pizza, salad
SUNDAY
Breakfast:  Audrey's Coffee Cake
Lunch:  Fellowship lunch after church.  We'll take baked chicken thighs, a big bowl of fruit, and melt-in-your-mouth cookies
Dinner:  Wild Dinner (Left overs, popcorn, whatever – every man for himself!)
God bless you as you look well to the ways of your household!
Proverbs 31:27